By Spy Uganda
Kampala: According to the letter by Ministry of Health's permanent secretary, Dr.Diana Atwine, Uganda is dealing with a spike of COVID-19 virus something that has seen a couple of hospital filled to the fullest with patients.
TheSpy Uganda, has also learnt that all vaccines that were sent to other districts for vaccination exercise are to be recalled for Kampala metropolitan due to surging numbers.
Our sources at the Ministry have also revealed  that additional doctors and nurses are to be pulled from country wide to support Kampala  hospitals whereas committes and emergency budgets are to be instituted.
As a result therefore, Dr.Atwine has called for an emergency national COVID-19 task force meeting in a bid to design mechanisms of controlling the virus before spreading national wide.
Atwine's letter reads,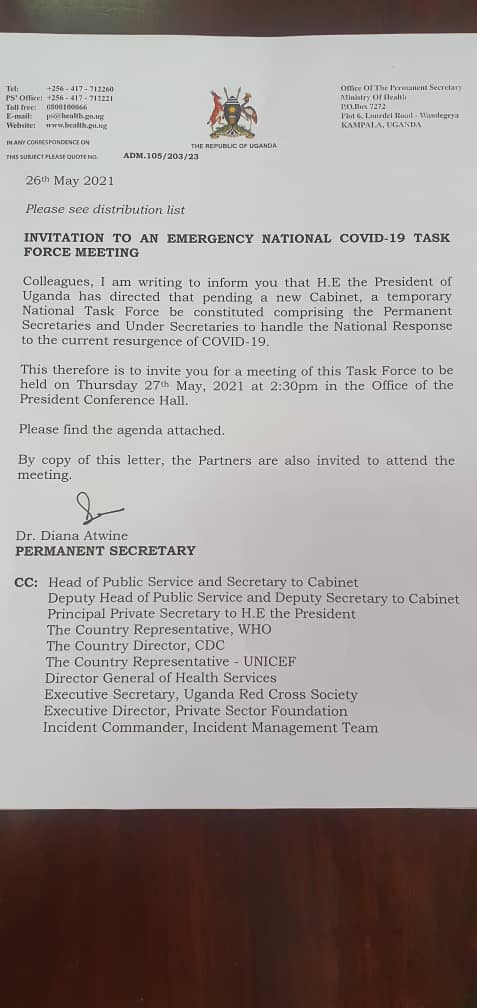 "Colleagues, I am writing to inform you that H.E the President of Uganda has directed that pending a new Cabinet, a temporary National Task Force be constituted comprising the Permanent Secretaries and Under Secretaries to handle the National Response to the current resurgence of COVID-19.
This therefore is to invite you for a meeting of this Task Force to be held on Thursday 27th May, 2021 at 2:30pm in the Office of the President Conference Hall.
Please find the agenda attached.
By copy of this letter, the Partners are also invited to attend the meeting."