By Denis Turyahebwa.
Buttered, deformed and incarcerated Kyadondo East legislator Hon.Kyagulanyi Ssentamu aka Bobi Wine will not seat for end of semester LAW exams at Cavendish University where he is pursuing a law degree, TheSpy Uganda can exclusively report.
This follows his arrest and detention in a military facility at Makindye military prison following the Monday melee in Arua municipality by-election where Bobi Wine was chief campaigner for the now newly elected MP Kassiano Wadri.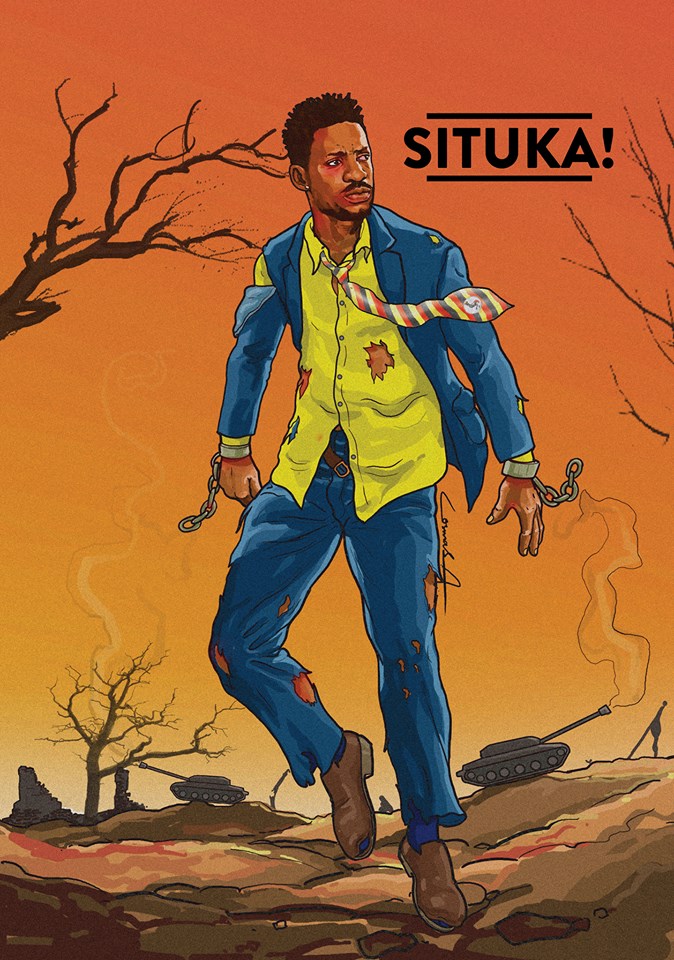 Bobi's bad news of missing out on exams was revealed by one of his Law class mates at Cavendish University Mr.Richard Baguma at the weekly Pan-African Pyramid show on Friday evening at Fairway Hotel, Kampala.
Fellow Pan-Africanists gathered on Friday in solidarity under the topical discussion; "Progress & Challenges of Liberal Democracy in Africa-(Uganda's Case study):Evaluating Bobi Wine's Pan-African Ideals". The show that was mainly attended by Pan-Africanists inspired by Bobi Wine's musical activism saw different speakers give testimonies about their encounters with Bobi Wine and how either his music or physical encounters changed their mindset.
"We're left with only about 12 hrs from now (Friday night) to seat our end of semester law exams and one of us, Hon.Kyagulanyi is still illegally incarcerated and unable to seat for his exams. Mind you, this was a special exam set for those who missed out on the general ones in May, Bobi and I, and many other colleagues for one reason or the other missed out in May, so this was the last chance. It means Bobi Wine will have to repeat and pay another UGX 2.9m for another semester," submitted Baguma as he picked his handkerchief from his left pocket to clean teas that were already rolling down his cheeks.
Baguma said it was wrong to deprive such a young ambitious man of his Right to Education which is even expensive and as difficult as carrying water in a basket.
"Bobi Wine's Right to Education is also being violated, it's guaranteed under article 30 of the 1995 constitution where every citizen shall have right to Education. That's why you see sometimes even inmates in upper prisons doing exams, because it's a Right. We plan to demonstrate as his classmates to demand for his Rights to be respected," said Baguma.
Richard Baguma said Bobi wine is not only an inspiration to the youth but also a passionate man about the law and a person who feels proud defending the defenceless.
"A member of Parliament being detained, beaten up to the point of being hospitalised in black out is so a shaming in a country that claims to be practicing democracy, Right to life, Right to Association and Liberty all means nothing in this country," disappointed Baguma said.
Hon Kyagulanyi was presented to the court martial in Gulu on Thursday and remanded to Makindye Military prison until 23rd August 2018 on allegations of illegal possession of guns and bullets that are only a preserve of the UPDF according to the police spokesperson Emilian Kayima.