By Andrew Irumba
Students from Kamwenge District studying in various universities in Uganda under their umbrella Association Kamwenge District Inter University Students Association (KADIUSA) were almost treated to free drama when Fdc's James Birungi Ozo cum FDC District C/Man Kamwenge and  LC V Aggrey Natuhamya clashed over a red ribbon Ozo tired around his head on arrival to identify himself with FDC's former party president and 4 time presidential aspirant Rtd.Col.Dr.Kizza Besigye's new campaign slogan – "Identify with the hostages or hostage taker" !
This happened on Sunday evening at Makerere University staff canteen where students from Kamwenge studying in various universities had gathered for their official hand over of power from the old leadership to new team. The occasion also was used to welcome freshers (new students) that joined campus this intake.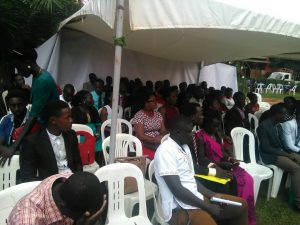 According to our snoop,the Fdc honcho created anxiety as soon he was invited for a photo opportunity with the outgoing/incoming students Association leadership together with the District Chairman Mr.Aggrey Natuhamya.
The ever antagonistic Ozo deeped his hand into his coat pockets and pulled out the red ribbon and wrapped it around his head and strategically stood behind  Chairman Aggrey,a strong NRM. According to analysts,Ozo would have nailed it if the photo had been taken as he wanted because it would depict the Kamwenge boss as part of the NRM group that oppose lifting of age limit in darkness and talk good about it during the day. "You see when we are talking to some of these people outside camera, many leaders in Kamwenge agree that the age limit shouldn't be tampered with but on the surface they fear to speak, so I wanted  to help some of them" Ozo confirmed on phone before
When Natuhamya took to the floor to speak, he accused Ozo of turning every function into a defiance platform of sort. "We came here on development issues of our District, not anyother thing,you should invite us for your defiance campaign if you like but not to way lay us" Nahamya fumed.
Ozo who accused Nahamya's NRM Gov't of stealing their DURA company limestone materials and sold them to Hima cement said he does that because they block him from talking in the district even on funerals and Churches and added that he has to use every opportune time he gets a chance to speak.
On a lighter note,over UGX  10m was realized in cash and pledges from local leaders and civil servants from the district that graced the occasion.
Most donations came from James Ozo, District Chairman Aggrey Natuhamya, Mugumya Faminus, ministry of Internal Affairs Principal Asst.Secretary Mr. Munyambabazi Adrian, Abaine Jonathan of Abaine Bulegeya & Co.Advocates among others.