By Andrew Irumba
Even he who dances well leaves the stage,….so they say……
If you're a frequent visitor at Britania's Sales and marketing desk, from last week you must have noticed something is not usual on every marketer's face! The reason is hard to believe but it's the hard truth- their 'headmaster' shall be leaving the stage after 22 yrs of controlling the 'Class'!
Mr.K.R.Sridharan, head of Sales and Marketing who joined the then Britania Foods Ltd (current Britania Allied Ind.Ltd) on 29th January 1995 like any other small sales man at the time and rose through the ranks to become  head of Sales and Marketing for now 22 uninterrupted years will with effect from 14th November take up 'a nap'!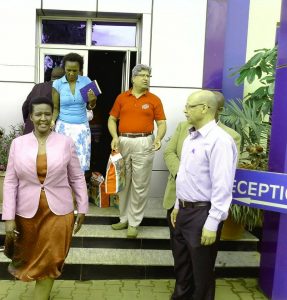 At the time of his joining, the then Kawempe based company was only producing 2 products; Bread and Biscuits. Under Biscuits section there were only 3 varieties namely; Tariata, Tea-Tariata and New Maria Biscuits.  The now tested, proven and certified marketing guru is leaving behind 40 varieties of Biscuits and over 100 item products under Britania including their trade mark Splash.
"Britania started around 1990 in Kawempe,by the time I joined, it had been in existence for only 5yrs manufacturing only Bread and three varieties of Biscuits, today I'm very very glad and proud that I'm leaving behind about 40 varieties of Biscuits and over 100 items of products all together in the name of Britania Allied Ind.Ltd. I have seen it grow from scratch to Splash courtesy of nothing else but dedication, passion and desire for excellency (which has been C/man Dawda's slogan by the way)" Sridharan said in an exclusive interview with this reporter at their head offices in Ntinda last week.
"Sridharan has been part of the foundation of Britania especially Splash. We will surely miss his experience and wisdom, not only in the Sales department but in overall management and strategic planning of the company's progress" said the company's Managing Director Mr.Vinay Dawda when contacted for a comment on phone last night.
Not 'a lone'player
Sridharan,clad in his usual signature 'flowered'shirts and clear eye lenses, wearing a smile  kept on emphasizing on team work as part of Britania's key success stories. "Even when I mention all these achievements, the entire staff, from the cleaner, a tea girl who served us tea as we worked to management, we have all walked this journey of success together, it's not mine alone,I couldn't do it alone. I thank all management headed by MD Vinay Dawda for accepting to work with me" Sridharan said.
According to Sridharan, the company decided to start production of juices and Top-Up sauces to compete with Kenya and to add value to local farmers. "There was a time we sat in a meeting and agreed that we needed to do something about the fact that all juices and Top-Up sauces in Uganda are from Kenya and that local farmers in Uganda will never benefit from their sweat unless we add value to their produce. We also agreed that we needed to generate more income for both ourselves as a company if we were to compete favorably and also add to Gov't tax base. So that's how Splash, Top-Up sauces and Sun-Sip came up! And can I add that now,not only are we listed by URA among the top most revenue tax payers, but we now export Splash to Kenya instead,this is the change we pioneered!" boasted Sridharan.
When asked about his next move in his career, the Indian cum Ugandan marketing guru, with a smile answered; "I'm taking a leave to India with my family for 3 months,so it's during those months that I will ponder on my next plan, this is a plan already!"
In his ending remarks, for the second time Sridharan thanked the Company's Managing Director Mr.Vinay Dawda, C/Man Hasmukh Dawda and all the staff for believing in him and allowing him to develop his career. "Even at the beginning of those products, the C/man made it clear that we should insist on 'Quality product, Affordable prices', that has been his slogan all the way. I have learnt a lot from the father and son" Sridharan said.
Well, the writer of this piece is a direct product of you Mr.Sridharan and the duo (MD and C/Man), the rest we've talked privately, but here my only word is……God bless the works of your hands.