By Ronaldo N Kalangi
There was a scuffle in Nansana on Monday morning after a local businessman who was ably identified as Gerald Kayondo,driving in a prado Land cruizer car number plate UAM 617 D survived lynching by an angry mob after he allegedly hit a taxi driver with a hoe on the head almost sending him to his creator prematurely.
Eyewitnesses said that Richard Seruga, the taxi driver scratched Kayondo's posh Prado motor vehicle and refused to apologize or to repair it.
They started quarreling until the matter attracted other onlookers.
After bitter Kayongo's demand for Seruga to apologise and repair his car went un heeded, he turned in his car boot, picked a hoe and hit the Taxi driver on the head in a move to pump sense in him! It's this action that incensed the by-standers and ended upsetting the posh Prado ablaze as the owner escaped in thin air.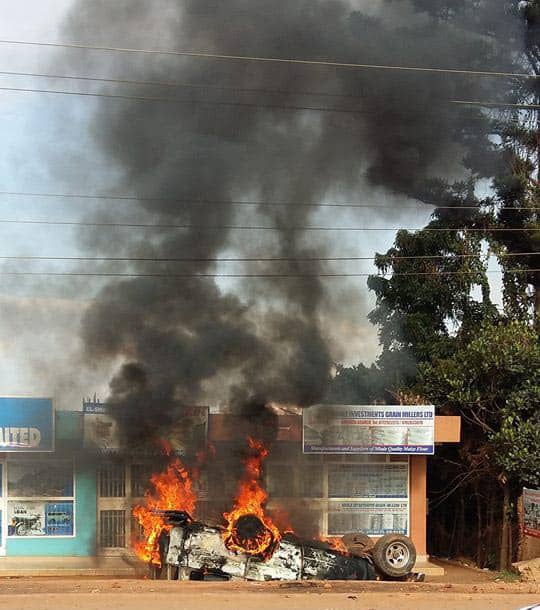 Kampala Metropolitan police spokesperson, Luke Owoyegyire revealed that the angry mob burnt Kayongo's Prado to ashes. "police rushed to the scene early and saved Kayongo from being lynched but his vehicle was torched," he said.
Richard was rushed to a nearby medical facility.
Police arrested Kayongo and whisked him to Nansana police station where he is still detained.
UPDF spokesperson Brig.Richard Karemire later came to deny the allegations that the burnt vehicle belonged to the Army.
"No UPDF personnel or vehicle got involved in an accident in Nansana this morning as is circulating on social media. M/V Prado Land Cruizer UAM 617D driven by civilian Gerard Kayondo is the one that was involved. Details are with Police," Brig Karemire said.