By Andrew Irumba
The days of dfcu bank illegally occupying tycoon Sudhir Ruparelia's buildings, which Crane Bank Limited had leased from Meera Investments Limited, are soon ending.
The latest we have is that dfcu Bank has fled another building owned by tycoon Sudhir, this time round in Iganga town, along Main Street in Iganga.
Our Spies reveal that dfcu Bank officials fled the building on Friday afternoon and by Saturday morning they were setting up offices in a simple structure nearby, which doesn't even befit their much-hyped corporate.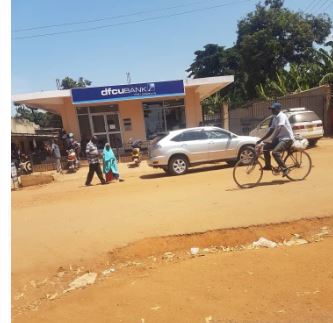 Ever since this year began Dfcu Bank has been relocating most of its branches from buildings they had illegally grabbed after they bought Dr Sudhir's defunct Crane Bank from Bank of Uganda.
Dfcu Bank acquired the buildings, which number 48 in total, after being ill-advised by their former lawyers of Ssebalu, Lule and Company Advocates, thinking the buildings belonged to Crane Bank, only to be shocked later after court ruled that the properties actually belong to Meera Investments Limited and that dfcu Bank was thus illegally occupying them.
Dfcu later rescinded a contract it had entered into with Bank of Uganda of buying all the properties that initially housed Crane Bank branches across the country and they have since embarked on a move to relocate all their branches from Sudhir's properties.
Bank of Uganda in its annual report 2018/2019, revealed that on September 12, 2019, dfcu told them about its decision to rescind its interest in purchasing the 48 properties belonging to Meera Investments Limited pursuant to clause 8.7 of the agreement.
They started by evicting themselves from the former Crane Chambers in Kampala, then later they quit the building in Entebbe, before evicting themselves from Sudhir's building in Kabale and now they are out of the Iganga building.
One wonders when they will finally evict themselves from all Sudhir's properties.
However, despite evicting themselves from the buildings,  dfcu Bank is liable to compensate tycoon Sudhir and Meera Investments Limited billions of shillings in losses they incurred during the time they have been illegally occupying all his buildings across the country since 2017.