By Spy Uganda
Amidst the escalating COVID-19 cases, the Ministry of Health says it won't be vaccinating children above 18years of age without parental case.
This has been revealed in a statement inked by the Director General of Health Services, Dr.Henry Mwebesa, who says, "The ministry would like to reiterate that no child will be vaccinated against Covid-19 against their parents', guardian or caretakers' consent. This will be upheld during the vaccination of children."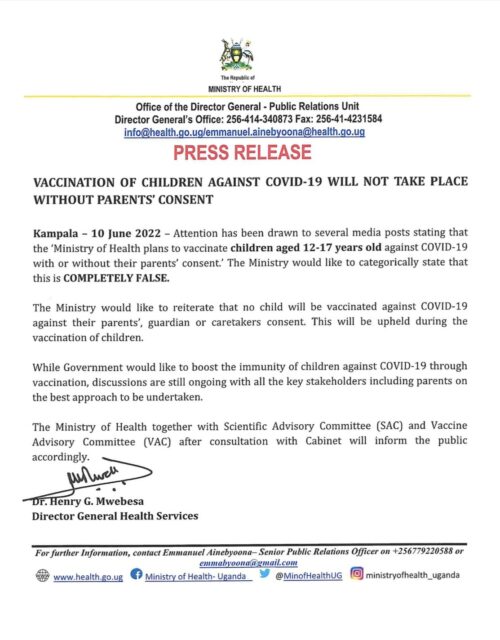 He explains that while government would like to boost the immunity of children against Covid through vaccination, discussions are still ongoing with all the key stakeholders including parents on the best approach to be taken.
"The Ministry of Health together with the Scientific Advisory Committee and Vaccine Advisory Committee will after consultation with cabinet inform the public accordingly," he said.
These come at a time when COVID-19 cases in Uganda have shoot higher again. Last week, the Health Minister, Dr.Jane Ruth Aceng warned that the country has started experiencing an increase in the number of daily infections, just like it was last year in January when the deadly Omicron variant hit the country, killing several people.
In results of COVID-19 tests done on 9 June 2022 confirmed 75 new cases bringing the cumulative confirmed cases to 166,121.
The breakdown of the new cases is: 75 Alerts and Contacts: Kampala (62), Wakiso (2), Jinja (2), Mbarara (1), Arua (1), Kabale (1) Isingiro (4), Mbale (1) and Mityana (1).
Results of COVID-19 tests done on 9 June 2022 confirm 75 new cases. The cumulative confirmed cases are 166,121.

The breakdown of the new cases is:

75 Alerts and Contacts: Kampala (62), Wakiso (2), Jinja (2), Mbarara (1), Arua (1), Kabale (1) Isingiro (4), Mbale (1) Mityana (1) pic.twitter.com/HbmWQtjKbc

— Ministry of Health- Uganda (@MinofHealthUG) June 11, 2022