By Andrew Irumba
Rukiga: The government of Uganda has handed over the corpse of a Rwandan national who was shot dead  Rwanda Defence Forces (RDF) soldiers over the weekend.
John Batista Kyerengye, a Rwandan, was shot dead  on Ugandan soil, together with Alex Nyesiga a Ugandan, by RDF soldiers who crossed over to Uganda, accusing the deceased of smuggling goods into Rwanda.  It is said that prior to the shooting, Karengye, 25, a resident of Nkoma Cell, Ntarabwe Parish, Burasirazooba Sub-county in Nyagatare, attempted to cross back into Rwanda on a motorcycle loaded with merchandise from Uganda. He turned back upon seeing Rwandan security across the border. The Rwandan soldiers pursued him and intercepted him about 50 metres inside Ugandan territory at Hamisavu Trading Centre, where they shot him dead, before turning the gun onto Nyesiga.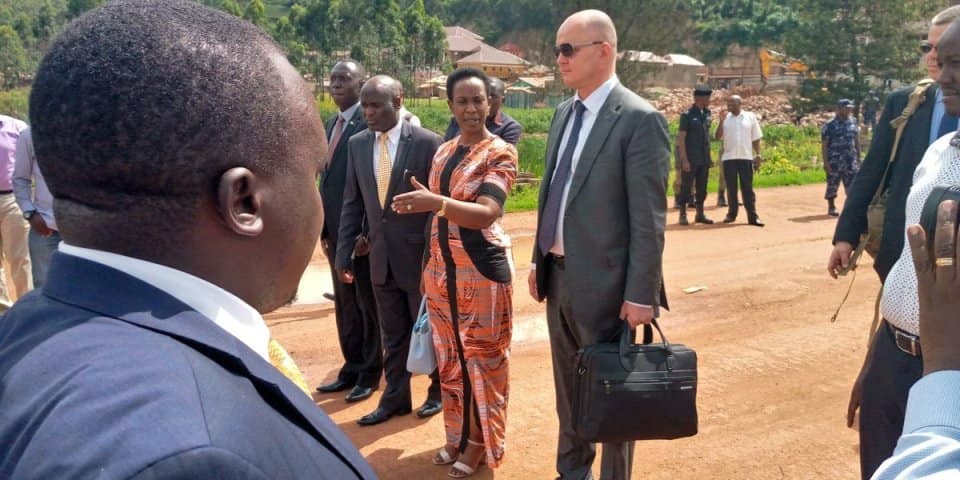 However, the Rwandan government has since denied the allegations that the deceased had been shot on Ugandan land and maintained that the smugglers attacked RDF soldiers with machetes. Several diplomats from Tanzania, United States, France, Russia, Burundi, South Sudan and Britain attended the handover of the body which was done in Rukiga district.
Those present are Katuna border were; Ambassador  Aziz Mlima from Tanzania, Ambassador Jean Bosco Barege from Burundi, Simon Tucker, the First Secretary Britain, Edward Talyzin, from the Russian embassy, Clement Noutel (First Secretary France), Michael Gygrymus (US), and Simon Micheal Duku (South Sudan) and Rukiga Woman MP Caroline Kamusiime Muhwezi. The diplomats landed at Kabale airfield at midday and moved to the border post of Katuna for the ceremony.