By Spy Uganda 
Aware of the current digital world, innovative Victoria University has announced that it now offers laptops to students who are joining for September intake 2022 calendar.
The university says that new students will be given brand new machines to ease their studies but will be required first to subscribe to laptop loan scheme.
"We rock in a new style. Did you know that joining Victoria University also means securing a laptop!? Yes, apply and we will show you how this works. Registration for September intake is on going. Apply Now. https://t.co/KKypZ5cPYH," says the University.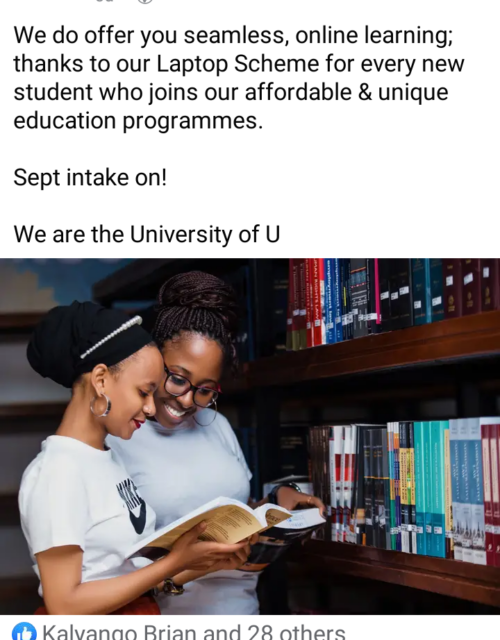 The university adds,"A laptop is an essential part of every student life at the university. Join Victoria University for September intake and subscribe to our new laptop loan scheme."
For a couple of years now, Victoria University has registered a name not only in Uganda but in the entire region as a unique university with outstanding education models that help students acquire and create knowledge through Experiential Learning.
Victoria is the only university in East Africa that is implementing an experiential learning model through work integrated learning program; the priority of this program is to make sure that every student of the university is placed in a real job to gain real experience needed in the labor market.
Victoria University is the only higher institution of learning that offers its students the opportunity of; study anywhere, anytime, access to free textbooks and graduate with work experience.
The University has the capacity, facilities and determination to revitalize higher education in Uganda and in the region.
It is also committed to playing a leading role in bringing and developing high-quality education, student-centred learning opportunities based on standards of excellence that are unique, innovative and difficult to match.
The University is centrally located in the heart of Kampala City and on the main public transportation routes coupled with ample parking space.
Victoria University is part of the Ruparelia Group of Companies, which has a strong presence in the education sector in Uganda and has under its portfolio, Kampala Parents School and Delhi Public School International.