By Spy Uganda
Even when we inject billions of tax payers' money every year to fight against corruption, ladies and gentlemen, the elephant seems to be bigger than we anticipated. Otherwise how would it appear in your ears when you're told, that the Head of Anti-Corruption Court in Uganda, His Lordship Justice Lawrence Gidudu, has also become a suspect of the very crimes he's supposed to fight.
In an exclusive interview with our Spy Chief on Monday, South Africa-based South Sudanese business tycoon, Lawrence Malong, commonly known as 'Young Tycoon' has accused Justice Lawrence Gidudu, for sending him to 6 yrs in jail, for refusing to pay him a bribe of USD400,000 (approx. shs1.52Bn)!
Malong, to the utter shock of our Spy reporter, narrated that, the Honorable justice told his lawyer, a one Steven Nelson that his client (Malong) had no case to answer since the prosecution had brought no iota of evidence of the alleged crimes, but that he needed to pay the judge and his court assessors a total of USD400,0000 if he needed his freedom!
Malong, in return, when his lawyer delivered the 'good news' to him, instead of paying the money, when he was delivered in the dock, he looked straight into the Judge's eyes and told him off, that he wouldn't pay the said money because he was sure he was innocent and would appeal his ruling if he wrongfully convicted him. Malong, in front of the justice also fired his lawyer who had brought the information to him and immediately hired another one, whom he used to appeal against the case.
"I will not pay the bribe to you because I'm sure I'm innocent. You've even told my lawyer that I have no case to answer but you need a huge bribe to acquit me which I don't agree with. Those people have never brought any evidence in this honorable court to pin me, so why would I pay all that money? In fact, you lawyer (Nelson), you're fired in front of this court as well," the extremely annoyed Malong charged in Court against his lawyer and Gidudu.
Malong Quoted Verbatim Below In His Own Video Clip'
"Justice Lawrence Gidudu, the judge who was trying me asked for money from me, he talked to my lawyer Nelson and said I didn't have any case to answer, but  I needed to pay $400,000; $200,000 for court assessors and $200,000 for him (Justice Gidudu). He asked for that money through my lawyer. When I raised my hand and told him, he didn't even deny it, he simply laughed, because he didn't expect me to say it publically.
I raised my hand in court and told Gidudu that ever since i was born, I have never committed a crime and I will never commit a crime until I die. If those people bring any proof of payment of just $100 dollars they claim they paid me, I will pay them $1 billion".
Video: Watch Malong pinning the Judge Watch Below👇👇👇
Meanwhile, our efforts to get a comment from the Judiciary spokesperson Jameson Karemani proved futile as our repeated calls went unanswered. We also tried to reach out via WhatsApp chat, but the spokesperson answered some and left out the most important questions on the matter after blue ticking them 👇👇👇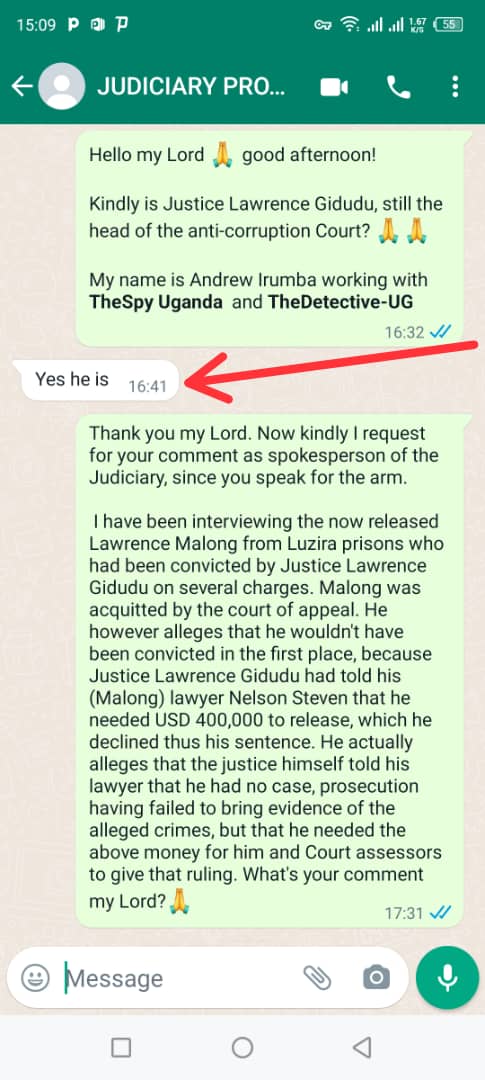 Background Of Malong's Woes
Malong was in 2021 jailed for six years after being found guilty of obtaining $1,092,000 by false pretence.
He was charged alongside two others, Mike Lota and Gavana Zhikusoka after investigations by the High Court Anti-Corruption Division found them guilty of a conspiracy to defraud two Ethiopian nationals and five counts of using false documents.
The fraud case was first heard in the High Court before His Lordship Lawrence Gidudu in September 2019 and dragged on for two years before he appeared back in Court and was handed six years jail term, his accomplices; received each two years imprisonment for obtaining money by false pretence and a year each for conspiracy to commit a felony and forging documents.
Court also ordered them to refund USD 1,092,000 to the complainants, a judgment that Malong appealed and after almost four years in jail, the Court of Appeal on January 13th, 2023 exonerated him after confirming that he was indeed innocent.
In a release order exclusively seen by mighty, TheSpy Uganda, the Court of Appeal Registrar, Henry Twinomuhwezi stated thus; "The Appeal succeeds; The appellant's conviction is hereby quashed and sentence set aside and order that appellant is set free unless held on other lawful charges."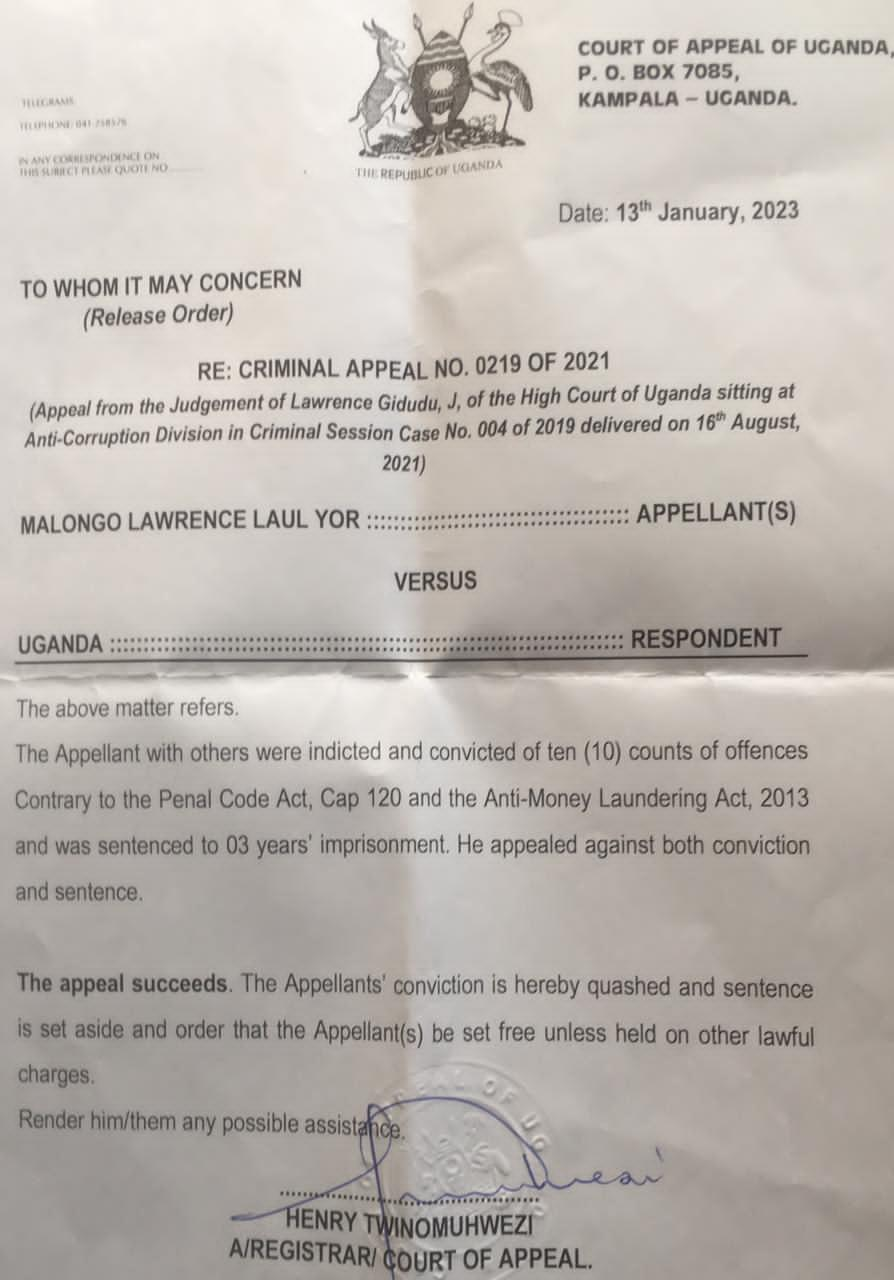 Malong has attributed his woes to business rivalry with his competitors in the USD1Billion worth oil refinery project in South Sudan.
"The Government of South Africa gave our company an oil refinery contract deal worth USD1billion which our company was supposed to build in South Sudan. But my competitors did everything to foil us so they could take the contract. So they stage managed this gold scam, so that as I go to jail they wanted to take advantage. That's why complainants who turned at court as witnesses for Government failed to bring to court any transaction evidence atleast in terms of communication on phones, emails, tax returns, the bank where such moneys passed, contract for the transaction etc. They just wanted to spoil my name so that the contract is awarded to them," added Malong.