By Spy Uganda
Kampala: Licenced by the Ministry of Gender, Labour and Social Development for both Internal and External Recruitment due to its efficiency in service, Premier Recruitment Limited has sourced 200 jobs for Ugandan youths drivers who can drive automatic cars in UAE.
READ ALSO: Job Slots! Premier Recruitment Ltd Announces Interview Dates For Cleaners To Work In Qatar
The company also confirmed that these drivers have not only a chance to step outside their country to work in Abudhabi and the United Arab Emirates, but they will also be paid fat salaries of three million shillings (3,000,000) and above per month.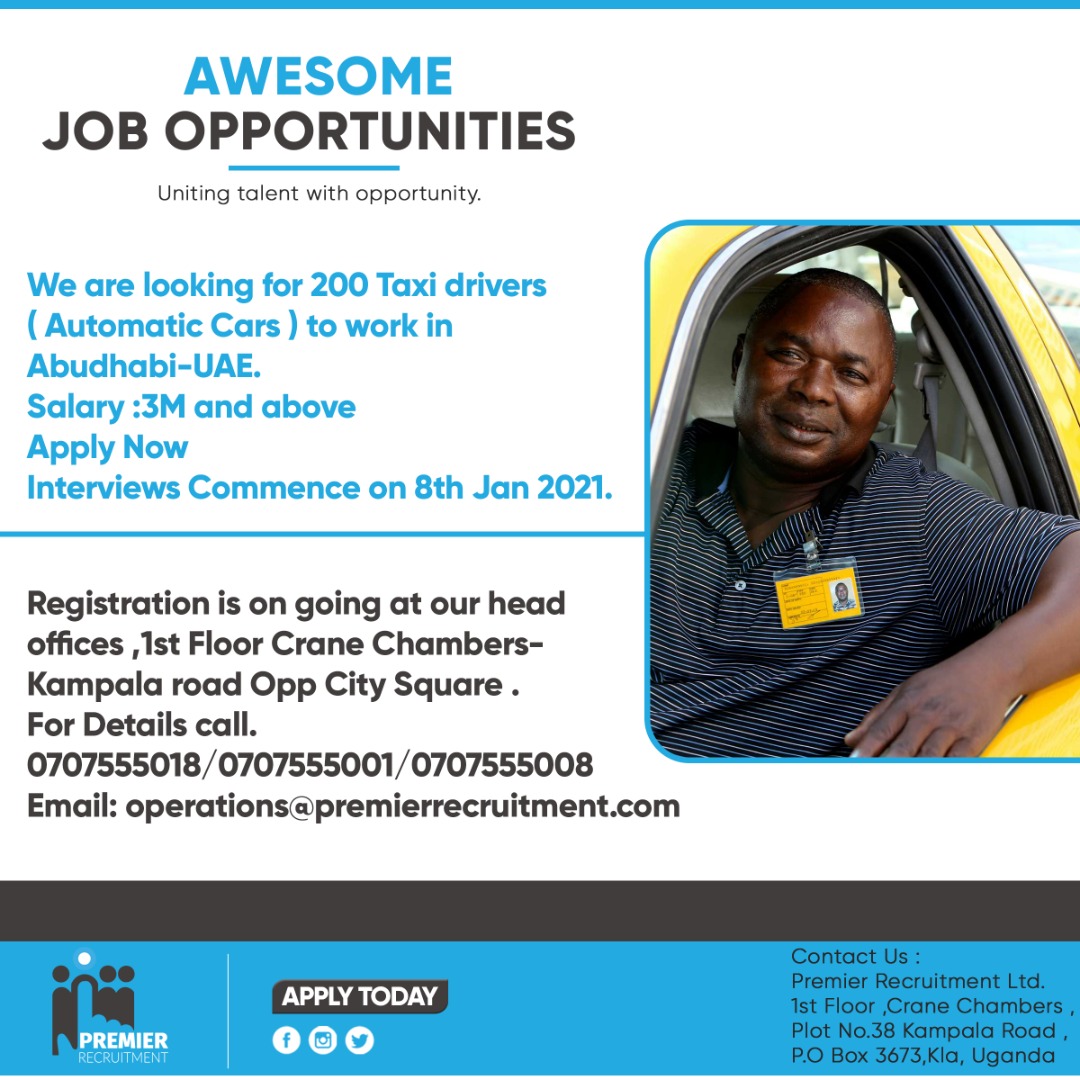 Meanwhile, as we report this, registration is in progress and we have since learnt that there are very few vacancies remaining for late applicants as interviews are slated to commence on January 8, 2021.
READ ALSO: Ministry Of Gender, Labor & Social Dev't To Commence Inspection Of Recruitment Companies Tomorrow Ahead Of Re-opening
"Yes, of course, all applicants should know that it's on 'first-come, first-serve' basis, therefore if you delay applying you will probably take longer to go, meanwhile registration is in progress at our head offices, 1st floor at Crane Chambers located-Kampala road opposite City Square," said a staff.
An applicant can contact the company via 0707555018/0707555001/0757555008, he added.
About Premier Recruitment Ltd
The company is licensed with the Ministry of Gender, Labour and Social Development for both Internal and External recruitment and work with clients in various industries.
According to the management, the committed company provides a superior level of customer service, compliance, integrity and honesty to both its clients and candidates. 
The company is committed to helping reduce the high employment rate in Uganda by providing suitable job opportunities to unemployed Ugandans by partnering with reputable organisations and agencies in Uganda and internationally to ensure it offers its candidates empowering compliant and suitable roles.
The company is also committed to providing a high quality, customer service driven and efficient service to both its candidates and clients with the utmost integrity, honestly and compliance processes and procedures by ensuring it maintains and grows a team of ambitious, hard-working and driven staff who can deliver effective service.