By Spy Uganda
To begin with, Fort Portal City MP Alex Ruhunda, while talking to our spy on phone the other day over Uganda Airlines CEO Jennifer Bamuturaki's qualifications saga, intimated that he was going to parliament to engage the speaker and other legislators to change the rules of procedure in accountability committees to bar members from addressing/briefing media amidst investigations. Ruhunda contends that Parliament handles a lot of sensitive national information whereby giving public half-baked information before the completion of the process could jeopardize the intentions of the whole process.
READ ALSO: Focus Your Energies On Promoting Uganda Airlines-Transport & Works Minister Gen. Katumba Wamala Scoffs At Ugandans On Social Media Attacking Jennifer Bamuturaki Over COSASE Probe
"We're not in showbiz like artists and socialites whom I see competing for media attention. I think parliament handles very sensitive documents and assignments, and reducing those public accounts committees chaired by opposition members, to a meagre show of might rather than substance is to undermine their importance. Why does a whole chairperson of a committee first of all want to start and end investigations with the media? Is that how other Government agencies, for instance, Police, ISO and ESO do their work? Why can't the committee address the press while releasing their final report? or at least monthly or whenever they are through with the report?" Ruhunda, who's also a member of the COSASE committee but chose not to attend their mele, citing several matters of concern which we shall not divulge into today, explained.
This was at the backdrop of speculation by the Committee on Commissions, Statutory Authorities and State Enterprises (COSASE) chairman, also Nakawa West MP Joel Ssenyonyi that Uganda Airlines CEO Jennifer Bamuturaki lacked minimum education qualifications to run the airline. Ssenyonyi deviated from discussing the auditor general's report that had raised issues of income and expenditure of the airlines asking Jennifer to produce her academic papers which she said she hadn't picked from school yet. That angered Ssenyonyi to the point of declaring her uneducated. But now, Makerere University had Kyebambe SS in Fort Portal have come out and rubbished the 'mighty' Chairperson's unresearched outbursts. "How can someone water down someone's sacrifices she endured for over 19yrs struggling to study from Nursery to University in one minute, all in the name of showing might in a committee that is supposed to exercise the presumption of innocence till proved guilty as per the constitution?" One of the school heads Jennifer studied from angrily commented on Friday via phone interview.
READ ALSO: This Is Witch-Hunt Not A Probe: MP Ruhunda On COSASE-Bamuturaki Saga
The University has released a copy of Bamuturaki's certificate showing that she graduated on 21st January 1994 with a Bachelor of Arts in Social Works & Social Administration (second class with honours).
To put the last nail in Ssenyonyi's unsubstantiated claims, Kyebambe Girls' Sec. School, Fort Portal also released an introductory letter confirming that Bamuturaki was its 'bona fide' student from 1984-1987 and requested UNEB to produce for her a copy of the O level certificate having lost her documents.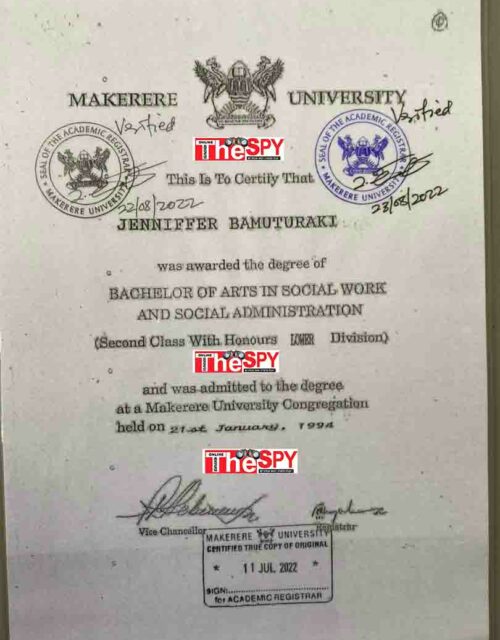 You may remember that while appearing before COSASE on 18th August 2022, Bamuturaki noted that she lost her O'level pass lip and was in the process of getting a new one from the Uganda National Examination Board (UNEB).
READ ALSO: Full CV: Here Is The Shocking Experience That Makes Bamuturaki The Fittest Uganda Airline CEO
Bamuturaki told the already judgemental and biased Joel that she had only carried a police letter showing that she lost her documents and a certificate indicating she was awarded a degree from Makerere but was quick to add that given time she would produce them.
However, Ssenyonyi was quick to judge that there is a possibility that the CEO doesn't have the qualifications. Poor boy Ssenyonyi happily added, "this could be the cause of the challenges at the airline."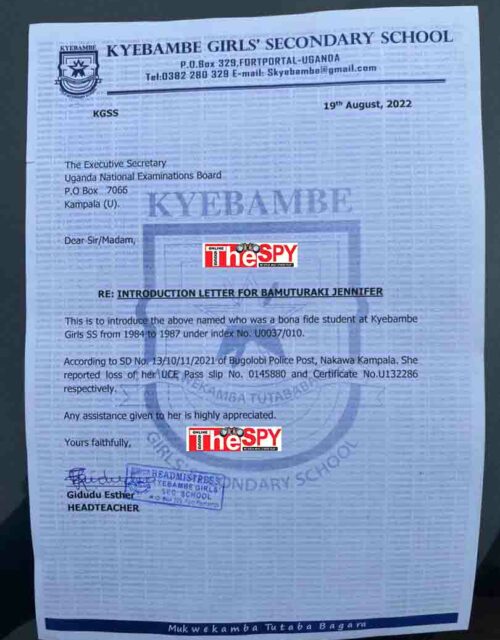 READ ALSO: I'm One Of Most Experienced & Skilled CEOs Uganda Airlines Has Ever Had-Workaholic Bamuturaki Assures Parliament
"According to SD no.13/10/11/2021 of Bugolobi police post, Nakawa Kampala, she (Bamuturaki) reported the loss of her UCE pass slip no.0145580 and Certificate no.U132286," states Kyebambe SS in a letter signed by Gidudu Esther as Head Teacher.
About Jennifer's 'Fat' Salary Higgy Hagga
To begin with, Hon Joel either by mistake or deliberately quoted a 'fat' salary figure for Jennifer and cast it into the public for whichever reasons. But as Chairman of COSASE, he should desist from talking without proof when all state apparatus is at his disposal to get facts. Joel quoted salaries from the BUSINESS IMPLEMEMNATION PLAN (BIP), which was a salary scale plan structure done by the National Planning Authority (NPA) and the task force, which was approved by the cabinet in 2016 even before the airline was in place. This paperwork, after being organized by NPA was then handed over to the then Minister of Works and Transport who presented it to the cabinet and it was approved. The shs 87m, according to plan was to be the gross salary scale for Uganda Airlines CEO in the 5th year of the airline and by then by thought the airline would have started making profits.
So the question is; does Jennifer earn this shs 87m money today? the answer is no. Because she is a few months old at the airline as substantive CEO. secondly, the airline is not yet 5 years old to start paying that salary as per plan. And this cuts across all the already publicized salaries of pilots, cabin crew members, and engineers to mention but a few.
Another key scenario to pay attention to is the fact that, with the above arrangements in the plan, Jennifer's predecessor, Mr Cornwell Muleya, a Zambian was earning a whooping shs 127m per month at the time of his dismissal from the company. In fact, Muleya was complaining that the salary was little, he was negotiating for shs200m a few months before he was kicked out!
Now, let's assume that Jennifer is earning shs87m, which is not also true, but compared to shs 127m which Muleya was earning, which one is big according to COSASE honourable Chair?
Let's Talk Education Also Since You Brought It
With all the fat salary extended to Mr. Muleya, a consultant, Government didn't so much dwell on how many degrees and PhDs Muleya carried along with him into Uganda, Government considered his vast experience in the airline. In fact, to shock Hon. Joel, Mr Muleya doesn't have a master's degree. Muleya is not even an aero engineer or anything related to that. He's a chemical engineer and an accountant. That's what he studied. But, make no mistake, he has vast experience in aviation as his choice of career, and he has excelled in his previous projects.
On the other hand, Bamuturaki, who holds Bachelor's degree from a prestigious University, International Air Transport Authority (IATA) certifications and is now back to Makerere for a Master's degree, her performance is being pegged on academic qualifications, not experience and achievements.
One also has to take an interest in how COSASE behaved while handling Muleya last week compared to Jennifer. and yet the audit queries raised by Auditor General, 97% were actually during Muleya's reign. So Muleya and Jennifer who had more questions to answer?
"Muleya was given time to explain himself. He actually came to get a platform to explain his problems whereas Jennifer was called 'roasting', a committee member who attended but remained silent the whole session wondering what was going on told our Spy.
Our Spy has chanced on classified information that shows Jennifer currently earns less than shs40m per month, contrary to what the honourable member sold to the country last week.
Now, with all the above, can you trust Ssenyonyi's Committee's conclusions against Bamuturaki who has since revived the Airline into a world-class before she even spends 1 year in office both as acting and full CEO?