By Spy Uganda
The Minister for Gender, Labour and Social Development Hon. Frank Tumwebaze has thanked President Yoweri Museveni for rolling out the 'Engaging the Youth for Global Action' initiative, which is aimed at mitigating the effects of Coronavirus on the global economy.
During his speech, while marking the International Youth Day last Wednesday August 12, 2020, Museveni announced that government had rolled out a programme to engage the youth all over the country so as to help them overcome the adverse effects of the Coronavirus (COVID-19) pandemic.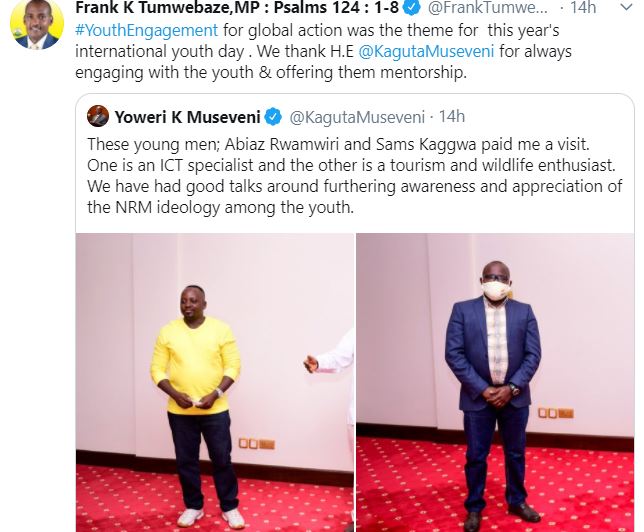 As part of this initiative dubbed 'Youth Engagement For Global Action', President Museveni on Saturday met two enterprising youth engaged in Information and Communication Technology (ICT) and Tourism.
"These young men; Abiaz Rwamwiri and Sams Kaggwa paid me a visit. One is an ICT specialist and the other is a tourism and wildlife enthusiast," Museveni tweeted shortly after the meeting. He added that; "We have had good talks around furthering awareness and appreciation of the NRM ideology among the youth."
Commending the President for this great initiative, Minister Tumwebaze tweeted pictures of Museveni after meeting the two innovative youth, which he captioned; "YouthEngagement for global action was the theme for  this year's international youth day . We thank H.E @KagutaMuseveni for always engaging with the youth & offering them mentorship."