By Samuel Opio
After cancellation of Bobi Wine's Kyarenga concert for the second time by FUFA and Mandela National stadium – Namboole management, Fred Mukasa Mbidde, the East Africa Legislative Assembly (EALA) MP has threatened to boycott any Uganda Cranes Match at the stadium until Bobi Wine's concert is free.
In his perplexing Facebook post, Mbidde said the Kyadondo East MP's concert is suffering a Convulsive and fitful ban by the powers. Read his full message bellow…
"UGANDA CRANES? WHOSE UGANDA IS IT ANYWAY? I WILL NOT WATCH THE CRANES GAMES UNTIL KYARENGA IS FREE. While Kenya's opposition Leader is appointed AU's high Rep on IDA with assistance by H.E Uhuru ,Bobi Wine's Kyarenga music concert is suffering a Jercky,Convulsive and fitful ban by the powers. Such reprobation is being done by Trick and bunco though visibly real. Ugandans will not kowtow to the degree of prestidigitation and wizardry exhibited as the subject of the intermittent bans by chicanery e.g security of weddings and football. Ugandan government should free Kyarenga and stop this skulduggery,hanky- panky and jiggery-pokery lest we shall forget nationalism and begin a fresh search for our country" the flamboyant legislator posted on his Facebook page on Sunday".
FUFA Cheif Executive Officer Edgar Watson Suubi issued a warning note to the management of the Mandela National stadium – Namboole stating that the stadium is under 'red flag',
He added that the Confederation of African Football [CAF] is keenly observing the conditions as the key competition factor for the forth coming 2019 qualifier football match against Cape Verde.
"It has come to the Federation's notice that Mandela Stadium management has entered into an agreement to have a public event on 9th November 2018 within the stadium. In our opinion, any public event within the International football match period can put the Stadium into an unacceptable standard," read part of Edgar's letter.
Following the complaint by FUFA, Namboole stadium resolved to halt the agreement they had entered into with Emma promotions and marketing agency, a company in charge of organizing Bobi Wine's concert.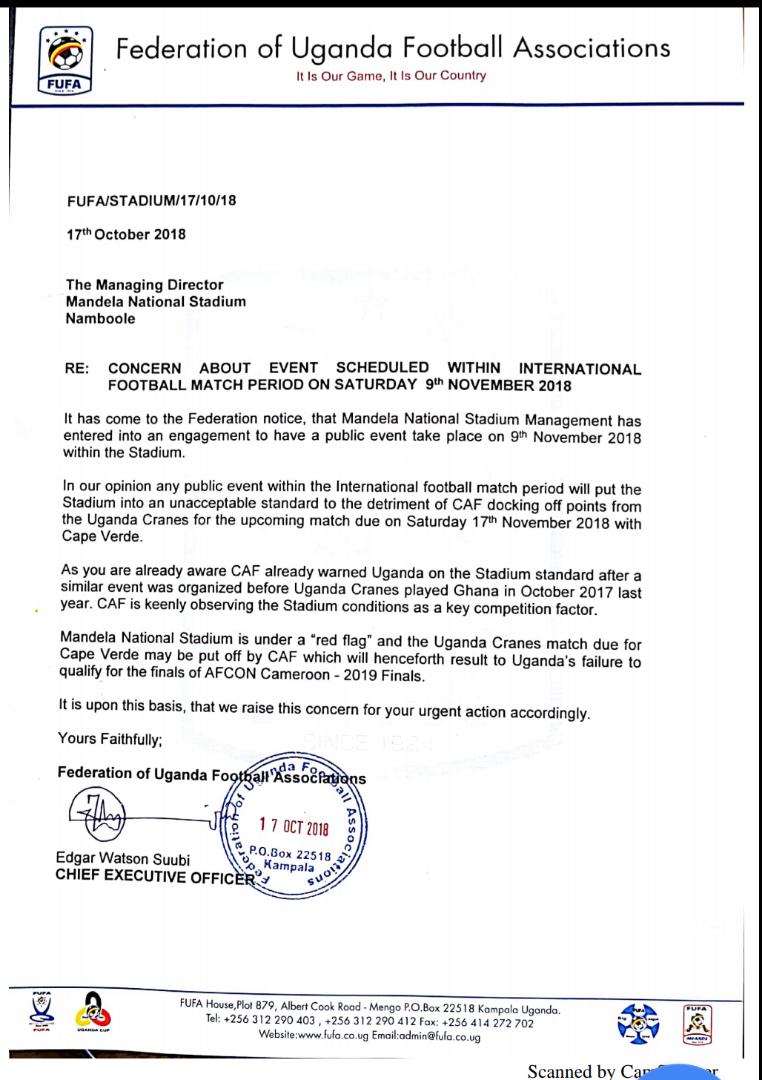 According to the agreement signed by Ssewanyana Emma Sserugo and the concert promoter, the concert had been cleared to be hosted on November 9, 2018.
However, in the new development, Sewanyana informed Bobi Wine that should the event be hosted, the stadium will be put into an unacceptable standard that may result into CAF docking off points from Uganda and hence failing to qualify for the AFCON Cameroon -2019 or even being banned from hosting international matches.