By Andrew Irumba
Joe Kigozi, the NBS TV Chief Strategist, on Sunday officially launched a soccer academy whose name is derived from his name-Joel Kigozi thus JKA Academy.
Spy Uganda reveals that Joe Kigozi Academy (JKA) was officially launched at Lugogo amidst glamorous entertainment at a ceremony that was attended by high profile guests, among them city tycoon Rajiv Ruparelia,the Managing Director of Ruparelia Group.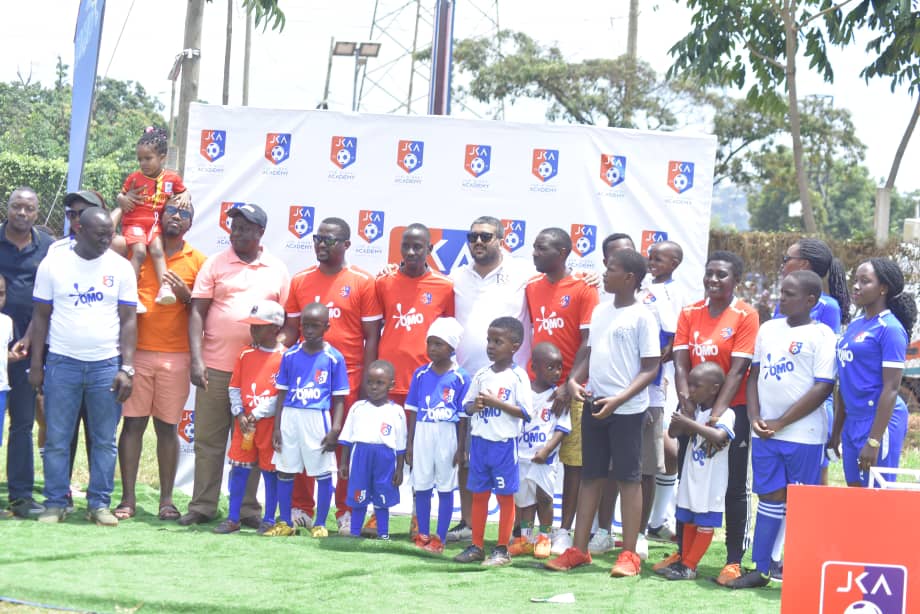 While speaking to hundreds of prominent Ugandans who were at the event, Kigozi told parents the Academy would admit boys and girls between 3 and 16 years old to groom them for ten years, nurture, mentor, train and later produce them as Uganda's finest footballers.
He added that his vision was to create one of the biggest Soccer Academies in Africa with unique skills that are beyond football, and that JKA was to lead that.
The launch was officiated by city businessman Rajiv  Ruparelia as guest of honour who donated shs5 million to boost the academy.
Rajiv thanked Kigozi, the founder of the Academy,  for the great initiative and emphasized the need for discipline and hardwork.  He talked about his love for sports and most recently motor sport.
The event was well attended by over 200 guests including children who registered for the first intake.

Some of the prominent Ugandans who attended the event included the Chairman of Kampala Capital City Authority ( KCCA) Aggrey Asaba, founder Corporate Games Ian Rumanyika , current Uganda Sports Press Association ( USPA) president Patrick Kanyomozi , chairman Next Media Baguma Rogers, Humprey Nabimanya, the CEO Reach A Hand, among others.
During the launch which was organized by Bullion Van Events, celebrated dancehall singer Alexander Bagonza aka Appas was also unveiled as JKA Good Will Ambassador
The guests were entertained by several artistes among them Apass, Stella and performances from Triplets, a team of three young musician
This will go down in history as a spectacular launch and all parents just can't wait for the academy to start
The Academy has already attracted partnerships from OMO, NBS Television who offered live coverage of the colorful event, among other sponsors
Spy Uganda has learnt that JKA will be tasked with scouting for talented youngsters of all ages and nurture their talent until they become international football stars.