By Our reporter
Uganda President Yoweri Kaguta Museveni,together with first lady Janet Kataha Museveni on Sunday landed on information tracing his 'real' birth date,our reporter can confirm!
According to records obtained from St.Luke Kanoni Church of Uganda Rwampara,Mbarara District, president Museveni was born in 1947,as opposed to 1944 as earlier documented in all his official documents.
"I will take oath to correct this mistake, this is a small matter" Museveni was quoted earlier today.
If this happens, it means president Museveni will still be eligible to stand for president in 2021 without amending the constitutional article 102 clause (B) that bars one to stand for presidency after clocking 75yrs.
Although his wider family was still predominantly aligned to traditional beliefs, Museveni's parents were pioneer Christians in their area.
Consequently, the registered obtained on Sunday now reveal that he was baptized on August 3, 1947 by Rev.Eric Sabiiti, who later became Archbishop of Uganda, Rwanda, Burundi and Boga Zaire.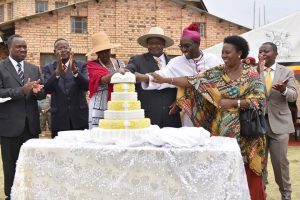 President Museveni who will be 74yrs in 2021,has lead Uganda for 31 yrs,he is in his 2nd year of his 5yr term which  ends in 2021 summing up un interrupted 35 yr rule.