By Spy Correspondent.
Washington, United States: Former US President Barack Obama on Monday said that people protesting in US deserve support and called for political solutions to address their grievances about criminal justice.
"The protests represent a genuine and legitimate frustration over a decades-long failure to reform police practices and the broader criminal justice system. We should condemn the few who resort to violence-not the overwhelming majority who deserve our respect and support," Obama tweeted.

"The point of protest is to raise public awareness, to put a spotlight on injustice, and to make the powers that be uncomfortable. But eventually, we have to translate those aspirations into specific laws and institutional practices," he added.

"The more specific we can make demands for criminal justice and police reform, the harder it will be for elected officials to just offer lip service to the cause and then fall back into business as usual once protests have gone away," he said further.
President Donald Trump has meanwhile defended his controversial decision to pose with a bible outside a historic church in Washington, he tweeted "You got it wrong! If the protesters were so peaceful, why did they light the Church on fire the night before? People liked my walk."
However Washington's Catholic archbishop on Tuesday strongly criticized President Donald Trump's visit to the Saint John Paul II National Shrine. Tuesday's visit "manipulated" the shrine, Archbishop Wilton D Gregory said, following democratic presidential hopeful Joe Biden who also criticized President Donald Trump for using the crisis to appeal to his supporters, saying he was "serving the passions of his base".
One of the biggest protests, joined by Floyd's relatives, took place in his hometown of Houston, In Atlanta, police fired tear gas to disperse a demonstration near Centennial Olympic Park, reports said while traffic was blocked in New York's Manhattan district as protesters ignored a night-time curfew, which had been extended for a week.
Video footage showed some protestors surrounding police vans, many defied curfews in several cities, imposed after violence and looting in some districts on Monday night while in central Washington DC police fired tear gas late into the night and the military were again on the streets of the capital and helicopters hovered above protesters marching towards the White House.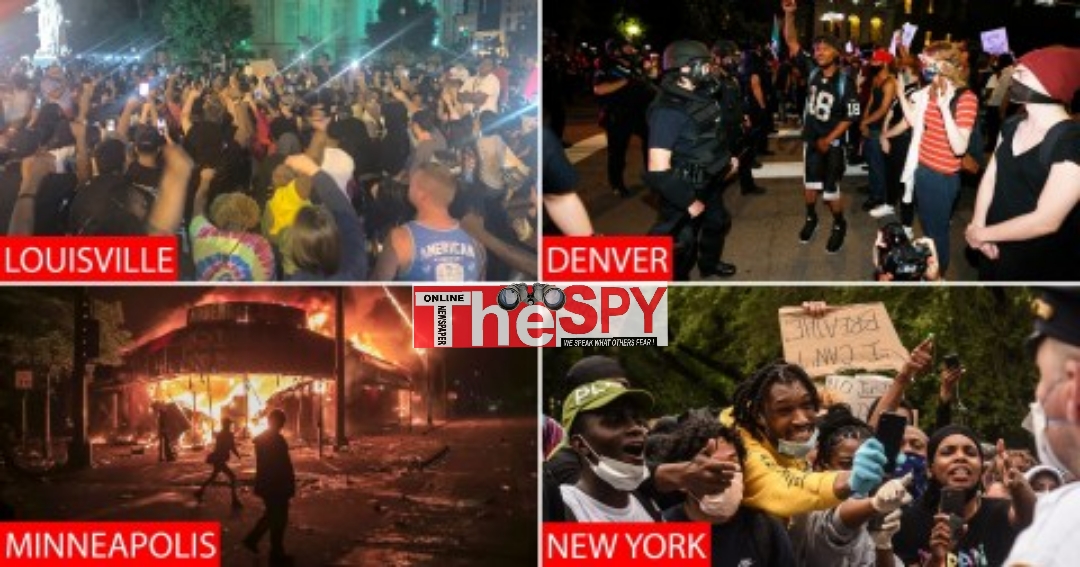 Big rallies were also held in Los Angeles, Philadelphia, Atlanta and Seattle. Minneapolis, where 46-year-old Floyd died, was reported to be relatively calm, however In Houston, where Floyd is due to be buried, Mayor Sylvester Turner, told the crowds' people should know that he "did not die in vain".
Monday night saw some of the worst unrest with widespread looting and arson as previously peaceful protests saw a minority resort to violence. In Las Vegas, a police officer was described on Tuesday as being in a grave condition after being shot.
Separately, an armed man was shot dead by police in the same city while other four police men were also shot in St Louis, though their injuries were not described as life-threatening. But a retired officer was shot and killed outside a looted store.
Demonstrators across United States have been protesting since May 25, when George Floyd, a 46-years-old African American man, died under the police custody in the city of Minneapolis.