By Spy Uganda
The Leader of Opposition Hon Mathias Mpuuga has vowed to squeeze millions out of Daily Monitor for what he called a 'defamatory' article.
The article published by Monitor newspaper on Tuesday claimed that Mpuuga was involved in backdoor deals that culminated into the bail of embattled Members of Parliament Allan Ssewanyana and Muhammad Ssegirinya, which he said was false and intended to defame him.
The publication is said to have also claimed that Mpuuga first met State prosecutors and Speaker of Parliament, Anita Annet Among, her Deputy, Thomas Tayebwa, and an unnamed team of security officials and after a long talk, negotiations were made and the MPs were released.
"Our investigations reveal a complex web of secret talks powered by Parliament's top leadership and in which the Leader of Opposition played a key role reportedly outside of [NUP President] Bobi Wine's purview leading to a deal-making meeting last month between the accused lawmakers and a senior government executive, expected to soon result in the freedom of National Unity Platform party supporters being tried by the Army Court," Monitor is said to have reported this adding;
"Despite the official denial, the role of Mr Mpuuga in the talks manifested in public when it emerged that he had attended a closed-door meeting that Mr Tayebwa convened with security and intelligence chiefs. The fate of the incarcerated lawmakers and other NUP supporters was a top agendum, multiple sources said."
In an intention to sue notice inked by Lukwago & Co.Advocates, Mpuuga accuses the Paper for tarnishing his name and labeling him as an incompetent leader through 'fabricated stories' against him.
As a result of the above, Mpuuga wants Daily Monitor to retract the story and issue an apology to him on the same but also cough to him over Ugx200 million.
"TAKE NOTICE THAT, by reason of the said defamatory publication, our client who has at all material times been a highly respected person, whose record in public service is beyond reproach, has been greatly injured in his credit, reputation and generally subjected to untold psychological torture," the notice states in part adding;
"Our Client demands that you apologize to him and retract the said fallacious and malicious publication in your Newspaper and in the same way highlight it as you published the defamatory story and pay damages of UGX. 200 000 000/. (Two hundred Million Shillings) with 10% thereof on account of costs."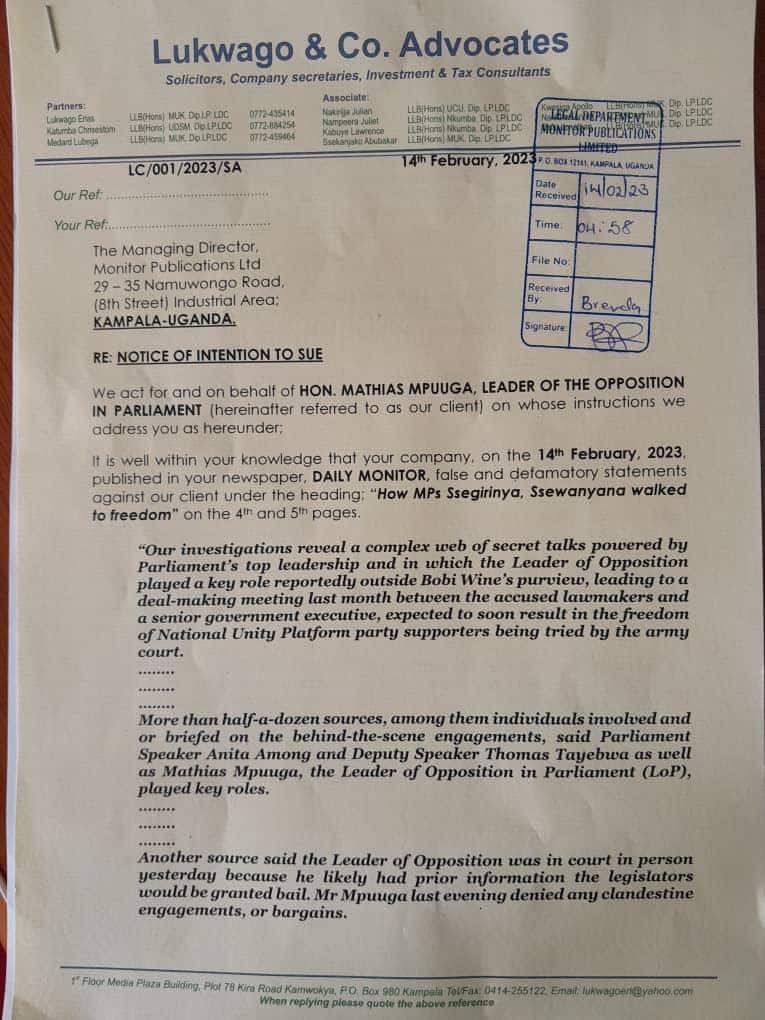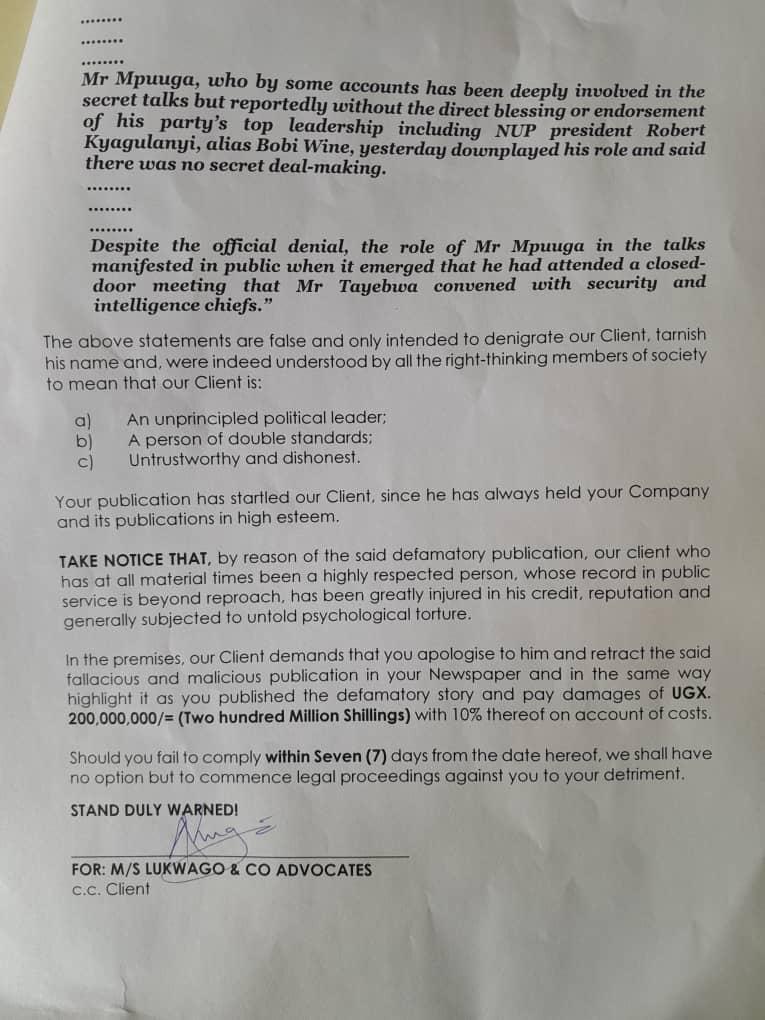 Mpuuga has given the Newspaper a week to heed his warning or otherwise he institutes legal proceedings against it.
"Should you fail to comply within Seven (7) days from the date hereof, we shall have no option but to commence legal proceedings against you to your detriment."