By Denis Turyahebwa
Continuous problems in African societies should not be seen as a disadvantage but rather a call for invention of African solutions to African problems. This was revealed by Kenya based International motivational and inspirational speaker H.E Gerishom Ambunya Okonda last week at the weekly popular Pan-African Pyramid at Fairway Hotel, in Kampala.
''I pray to God that if we have problems in our African societies, the problems multiply because that is when we shall wake up and come up with measures. I assure you in trying to get solutions we shall find ourselves making money,'' Mr Okonda said.
Okonda said African Youth have failed to make themselves relevant on the job market because, partly, they've not had a chance to learn from those who have succeed but also have not opened up their minds fully to learn at every stage in life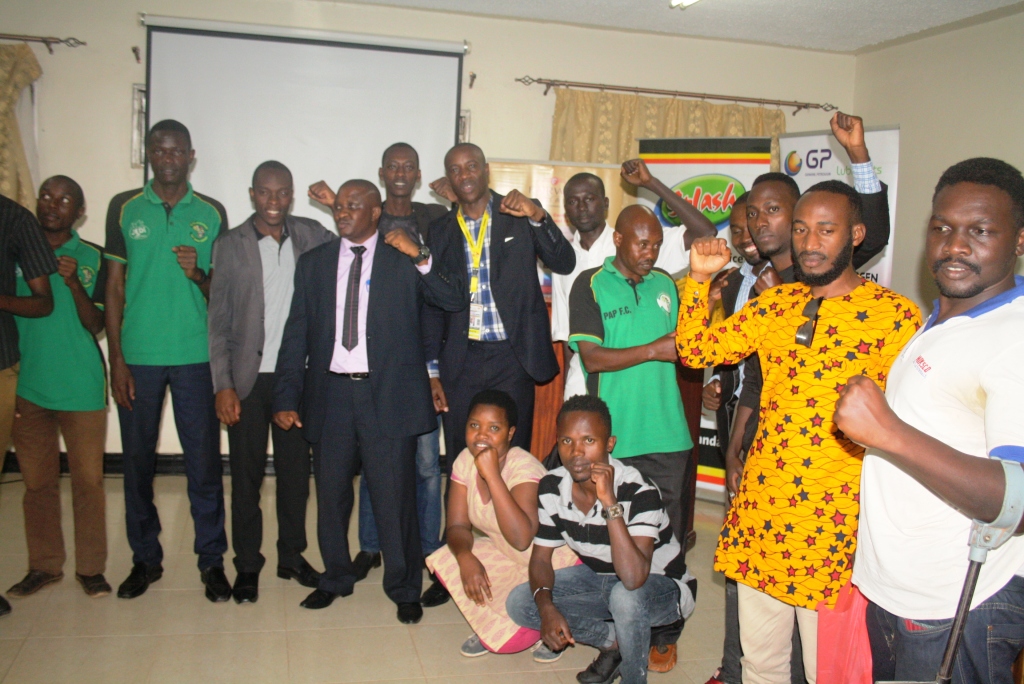 ''It is true our Education systems are still lacking, but if we involve ourselves and transfer,skills we can be part of the story.  Work on your character, use your Head, Hand, and Heart and invest in your health, because it would be of no meaning if you did all that with a bad health," Okonda added.
Mr Okonda, who was among the few key note speakers at the just concluded 2018 Global peace conference at Munyonyo  resort said that the youth should value the law of attraction and Association as this will be a great step in the success equation.
''We don't get what we want but attract what we are. If you want to be of value, just hang out with people who add value to you. So from today clear your contacts, those who add nothing to you have no reason to be in your phone book.  I assure you billionaires don't think like ordinary people, they think big so when you hang out with billionaires, you think like them. If you join 11 fools, you make a dozen," he said amid cheers from the audience.
On digital World, Mr Okonda said youth must utilise the available opportunities gainfully especially the new era of digital world. "Use Facebook, twitter and other platforms to advertise your goods and services instead of spending time posting useless staff,"he said.
He added that Africans should fight the spirit of consumerism and think on how to produce, stop the employee mindset and think like employers that will foster development of this resource endowed continent.
Okonda challenged the African youth to lookout for successful individuals they can emulate and look up in order to get a sense of direction so they can be able to realise the potential within them.
He also challenged African Governments to learn to sponsor young people to go abroad and study to enable them acquire skills from Experts so that when they return, they can apply those skills in different sectors to better our continent.
But Who Is HE Geriishom Ambunya Okonda?
Gerishom Ambunya Okonda, Managing Director of GO TRAINING CONSULT, is a refined Corporate trainer, an experienced Team Building facilitator and International Motivational speaker that has been moulded through the years and won various Awards.
He is regarded as a pioneer of the executive coaching and transformational learning fields of the new millennium.
He has trained thousands of participants in over 150 Corporate Companies/Organizations and Government Agencies in more than 17 countries since 1997.
GO TRAINING CONSULT',(derived from Gerishom Okonda Training Consult) has trained thousands of individuals and worked with hundreds of Organizations, Corporates, and Government Agencies to challenge traditional thinking and create stronger leaders navigating the anxiety and turbulence facing our global community.
With loyal followings in Africa, America, Canada, and Europe, his platform is a rich bilingual tapestry of weaving learning with relatable stories from his dramatic life experiences, clients and travels. His global perspective makes him an in-demand trusted adviser of companies, governments, and high-profile individuals. The largest following being the youth.
In March 2008, Gerishom was recognized with An International Peace Ambassador AWARD, for Empowering over 63,000 young Entrepreneurs at IYLS Summit held at UNITED NATIONS, Gigiri Nairobi, Kenya.
He was later appointed the President of World Youth Parliament at the Global Youth Assembly.
Gerishom is an effective Youth Mentor and Character Coach.
Gerishom Okonda is a 'MUST LISTEN TO MOTIVATIONAL SPEAKER', addressing audiences worldwide on the topics of leadership, coaching, transformational learning, Education, and emotion.