By Andrew Irumba
Kampala: The Minister of Trade, Industry and Co-operatives, Hon. Amelia Kyambadde has applauded Dr. Ben Manyindo for his diligent service during his tenure at the helm of Uganda National Bureau of Standards (UNBS).
READ ALSO: UNBS Executive Director Dr.Ben Manyindo Quits After 20 Years Of Quality
"UNBS was engrossed in many challenges and irregularities at the time I became a Minister, I expected Ben to solve all the quality issues overnight. I expected miracles! But Ben didn't let me down," said Minister Kyambadde.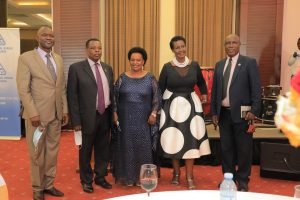 Hon. Kyambadde made the remarks during the official send-off ceremony of Dr. Ben Manyindo at Serena Hotel in Kampala Wednesday, December 9, 2020.
Kyambadde also thanked all the UNBS staff for supporting Dr. Ben Manyindo in bringing stability to UNBS and called for more efforts to promote standardization as a key pillar to our safety and health, socio-economic development and the protection of the environment.
The Acting UNBS ED, Mr. David Livingstone Ebiru said it was a privilege to work with Dr. Manyindo and thanked him for his exceptional leadership and the great relationship he built with his subordinates.
Dr. Ben Manyindo urged the incoming leadership to invest in human resource and hardware of quality infrastructure for faster acceleration of economic growth in Uganda.
UNBS acknowledged Dr. Ben Manyindo's great contribution made to the growth of the Standards body in terms of infrastructure and service delivery.
Dr. Manyindo joined UNBS in 1998 as the Deputy Executive Director in charge of Technical Operations before assuming the position of the Executive Director in 2012 where he has been at the helm for last 8 years.
Uganda National Bureau of Standards (UNBS) is committed to continue performing its critical mandate of developing, promoting and enforcing national standards in order to protect the safety and health of consumers and the environment against dangerous and substandard products.