The opposition Democratic Party president has congratulated the Uganda people's deference forces upon its 37th Tarehe Sita celebrations at Boma grounds, Butaleja District today with a call to stop being a 'partisan' army.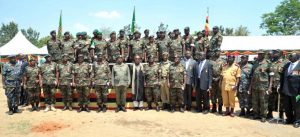 Addressing a press conference at the party's Headquarters in Kampala on Tuesday, Norbert Mao, without mincing words said UPDF should be respectful to every Ugandan because it is a national army not a partisan force. He said that the army should clean its image and serve the people of Uganda instead of serving National Resistance Movement (NRM) regime.
At the same conference, Mao turned his 'gun' against Uganda Police and asked Parliament to institute an investigation team to investigate criminal gangs in Uganda police force and those found to have committed crimes under the cover of Police uniform should be punished according to the law.
"How come the criminals like Abdalla Kitatta are more powerful than DPC's?", wondered Mao.