By Andrew Irumba
Kampala: Through Omongole & Co Advocates, Jena Herbals (U) Ltd a company registered in the business of inventing herbal remedies that also owns Covidex medicine, Prof. Patrick Ogwang Engeu, has warned that he intends to sue Mbarara University of Science and Technology (MUST) that claims to be the "holder of the intellectual property rights" for the product, if they don't stop using the company's products to conduct 'dubious' deals with the government.
According to Jena Herbals, Mbarara University has been using "illegally without company's authorization" three of its products including; Jena DS Xtra, Artemune and Covidex to solicit funding from the Ministry of Science, Technology and Innovation (MOSTI).
"You further went ahead to evaluate the products of Jena Herbals (U) Ltd without our client's consent," reads Jena Herbals' warning letter.
According to the letter, the contract between the Mbarara University of Science and Technology and the Ministry of Science, Technology and Innovation was formed on three Jena Herbals (U) Ltd's products yet they were neither involved nor informed.
"We deem this as illegal and fraudulent action by the University and urge the university not to go ahead with said action without the authorisation of our client or Professor Ogwang personally," reads the letter.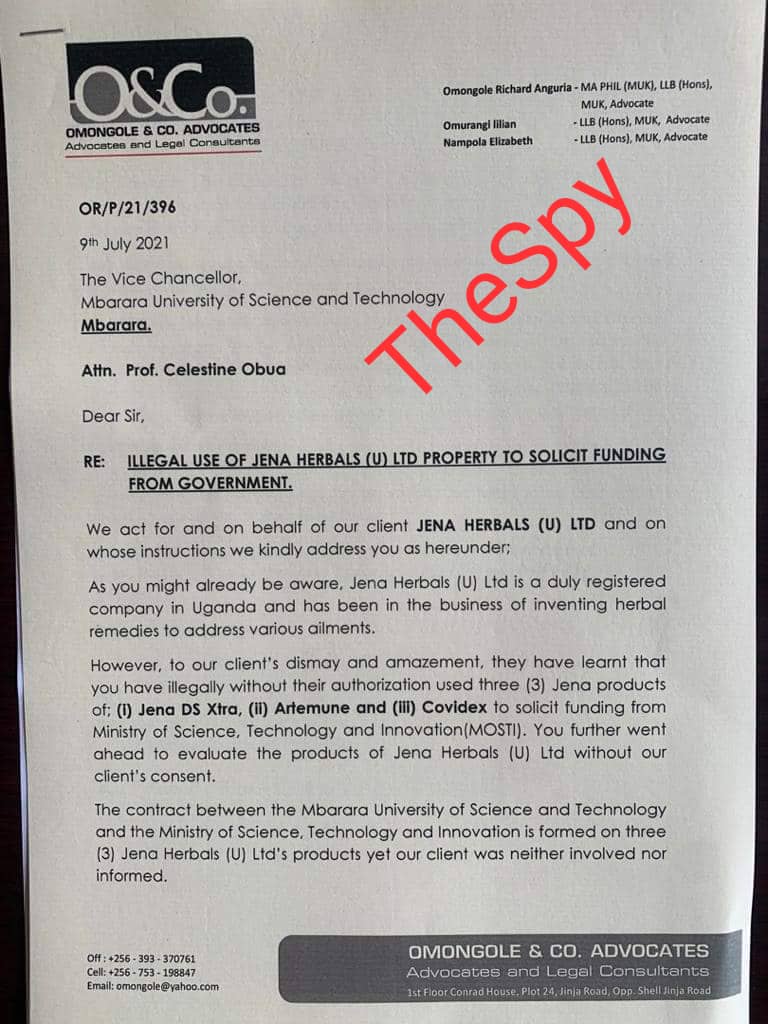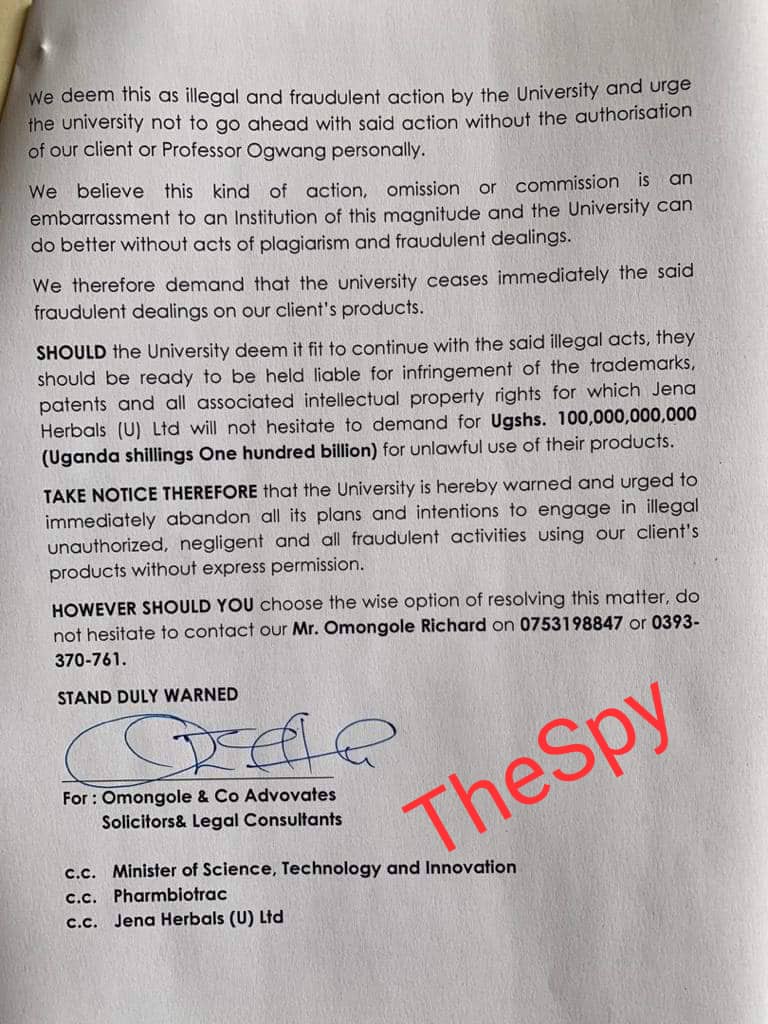 The letter adds, "We believe this kind of action, omission or commission is an embarrassment to an Institution of this magnitude and the University can do better without acts of plagiarism and fraudulent dealings. We, therefore, demand that the university ceases immediately after the said fraudulent dealings on our client's products."
Jena Herbals further warns that should the University deem it fit to continue with the said illegal acts, they should be ready to be held liable for infringement of the trademarks, patents and all associated intellectual property rights for which the company will not hesitate to demand Ugx. 100,000,000,000 (Uganda shillings One hundred billion) for unlawful use of their products.
"Take notice therefore that the University is hereby warned and urged to immediately abandon all its plans and intentions to engage in illegal unauthorized, negligent and all fraudulent activities using our client's products without express permission. However, should you choose the wise option of resolving this matter, do not hesitate to contact our Mr. Omongole Richard on 0753198847 or 0393-370-761," adds Jena Herbals.
It is worth noting that ever since Prof.Ongwang announced that he had manufactured COVID-19 drug, he has battled pressure from a couple of corners among them including Mbarara University and some government officials matters that have since reached into President's office according to our sources.
The same could be confirmed by an incident that happened a few days ago when Professor Ogwang snubbed NBS TV's Covidex interview which according to his P/A, only identified as Rebecca, he had received a call from 'above' who directed him not to take the interview.
"I'm very sorry to be telling you this but again I have to. The professor will not be taking the interview as per directive from 'above,'" revealed his P/A to the NBS TV crew that was set to interview the professor. Meanwhile, stay logged on TheSpy Uganda for our continuous reports on this saga!!!!!!