By Spy Uganda
Pro homosexuality US government has revoked the visas of Uganda's Speaker of Parliament Anita Among after President Yoweri Kaguta Museveni assenting to the Anti homosexuality law.
This has been revealed by Bugiri Member of Parliament Hon Asuman Basalirwa who noted that "Anita Among is the first victim" of likely sanctions.
He said Among has been banned from traveling to the United States of America until further notice following her involvement with the anti-homosexuality act.
"If in their wisdom and democracy, they don't want us in their country it is their right and I don't want anybody to blame America or UK for cancelling visas… My only problem with these people is single-picking. This law here was signed by the president of the Republic of Uganda. May I invite America, Canada, Britain, and the entire European Union to also cancel visas of Mr. Museveni? May I also invite them to cancel visas of all MPs except for two?" Basalirwa told journalists in a press conference on Monday.
Before revoking her visas, Anita had earlier happily announced the signing of the law.
"I thank His Excellency, the President, Yoweri Kaguta Museveni for his steadfast action in the interest of Ugandans. With a lot of humility, I thank my colleague Members of Parliament for withstanding all the pressure, in the interest of our Country. By their action, we have lived by our motto: For God and our Country.
We shall always stand for and promote the interests of the people of Uganda.
I now encourage the duty bearers under the law to execute the mandate bestowed upon them in the Anti-Homosexuality Act. The people of Uganda have spoken, and it is your duty now to enforce the law in a fair, steadfast, and firm manner," said Anita.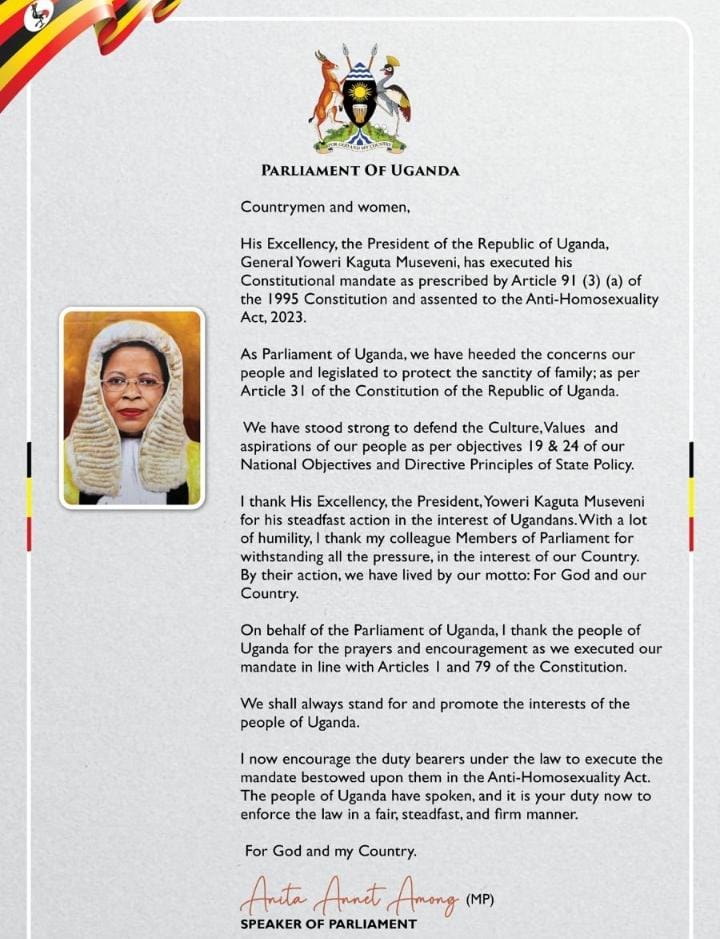 Museveni, a strong opponent of LGBTQ rights, had sent the original bill, which parliament passed in March, back to lawmakers, asking that they tone down certain provisions.
On May 2, parliament passed a revised bill that made minor amendments while leaving most of the original legislation intact.
The U.S. government condemned the looming law then and said that it was assessing the implications for activities in Uganda under its flagship HIV/AIDS programme, but all this didn't threaten Ugandan unshakable leaders.