By Spy Uganda
Former Director Crime Intelligence Col Ndahura Atwooki must now be a student of a saying which states that 'never bite what you can't chew', this is after taking Col. Kiiza Besigye to Court, a case he lost and now on verge on losing his home after he failed to cough over Ugx300m Court Costs to Besigye's lawyers.
For those who don't about the genesis of this saga, in 2012, Col Atwooki sued Besigye and his sister Oive Kobusingye accusing them of defaming him in a 213-page book: The Correct Line? Uganda Under Museveni authored by Kobusingye.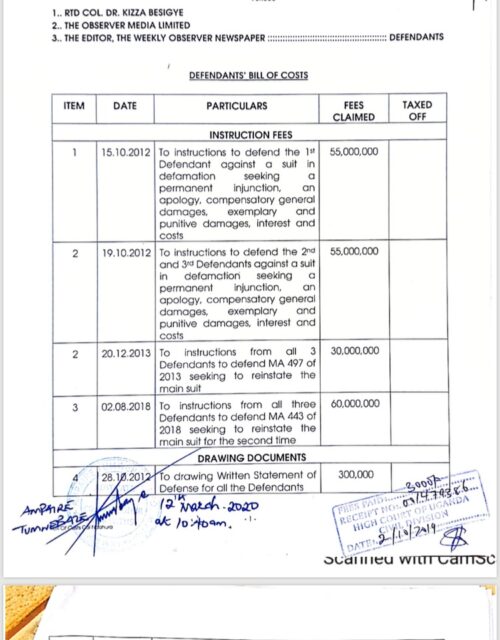 Also, Atwooki sued Observer Media Limited, and the editor of the Weekly Observer newspaper accusing them of reviewing Kobusingye's book he says portrayed defamatory statements against him.
Atwooki alleged that Kobusingye in her book put it on him that he was behind the killing of three people during the 2001 General Election in Rukungiri District and that after the incident, he was promoted to the rank of Lieutenant Colonel in 2011 and also decorated with the Luweero Triangle medal.
In his Court documents, Atwooki noted, "The allegations were and are false, libelous and defamatory of the plaintiff as they have exposed him to ridicule, odium and contempt and lowered his reputation as a military officer in the eyes of the right thinking members of the society, especially the Ministry of Defence."
Click To Read Besigye & Sister Kobusingye Court Costs
The case stalled for years till 2019 when the High Court dismissed it after Atwooki was no where to be seen during the trial in court. TheSpy Uganda understands that this is the time Atwooki was jailed alongside his former police boss, Gen Kale Kayihura at Makindye Barracks on allegations of failure to protect war materials and interfering with the process of law contrary to Section 166 of the UPDF Act 2005.
Anyway the above could not stop court to award costs to the defendants. Lawyers of Besigye, his sister and Observer Media Limited have demanded over Ugx300m from the Atwooki.
According to the court documents intercepted by our spies, AF Mpanga Advocates, the lawyers of Besigye, Observer Media Limited and the editor of the Weekly Observer newspaper, demand Shs240.8m in costs while a separate document by Kobusingye's lawyers, AF Mpanga Advocates want Shs104m.
Our source has revealed that Col.Atwooki has since failed to pay the above fee and now Besigye is eyeing his home located in Nansana.
"The man has failed to get that money Besigye's lawyers are demanding him to cough, and they are now aiming to attach his house. He has also cried to the army council and the president but still no help," a source reveals.
Click To Read Besigye & Sister Kobusingye Court Costs
Meanwhile, Ndahura, while talking to one of his closet buddies about the whole matter, he decried what he calls 'mafiarism' in the court process. He condemned court for hearing and passing judgement without bothering to know what blocked him from attending the court.
"I lodged this case in 2011. They sat on it and waited till 2017 when I was arrested and detained under military detention in Makindye then hurriedly resurrected the file, started hearing in few months and made ruling while I was incarcerated in military detention! They never heard my side and they knew I was under detention. Is that Justice I went to them to seek?" Ndahura wondered.