By Spy Uganda
The Ministry of Health on October 14th sent UGX 305,560,000 (Three hundred five million five hundred
and sixty thousand shillings) to Kassanda district to curb the spread of Ebola disease.
However, earlier today our spy received information from its sources in Kassanda district that PS Ministry of Health Diana Atwiine had stormed the council and squeezed the district political leaders for asking bribes on the money meant to fight the disease.
The source revealed that LCV chairman Mr Kasirye Zzimula Edward had refused to call for a council meeting to plan on how to spend the aforementioned funds not until he gets a kickback of Ugx50m.
When called for a comment on this matter, Mr Zzimula instead said as the head of the district he knew nothing about this money and wondered how he could demand a kickback on money coming to save the lives of his people.
"Am hearing about this money for the very first time, I am a district head but no one has told me about this money. Secondly, how can I demand a kickback on money that is coming to save the lives of my voters? take that as an allegation," said Zzimula before he referred our reporter to the district accounting officer, the CAO.
CAO in response to this saga put the blame on the Ministry of Health saying it sent the money without guidelines on how to spend it.
"Yes, it's true I received the money but I couldn't take it to the District Executive Committee (DEC) before getting guidelines from the Ministry of Health on how to spend it. Because I knew if I take it there, the council will start planning on how to spend it, then you find their plan contradicting that of Ministry of Heath, so we had to wait till we get the guidelines which we have just got," said Kassanda CAO Mr Eswilu Donath.
We also talked to RDC Ms Namulindwa Phiby who said would get back to us in ten minutes but by the time we filed this article she hadn't.
An email seen by our spy shows that the money was sent last week and the breakdown on how it's should be used also attached. However, we understand that District leadership up to Monday afternoon had been negotiating for their 'cut' from the money, hence the delay in implementation. Now PS Diana Atwine wants heads to roll.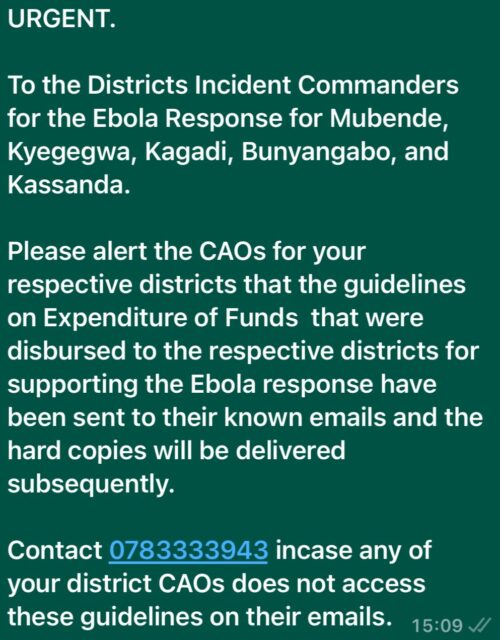 According to a letter seen by this site, the MoH sent clear guidelines to the district CAO on 14th October 2022 on how to use this fund and some of the guidelines are;
1. The District authorities will form a District Task Force to respond to the Ebola Virus Disease Outbreak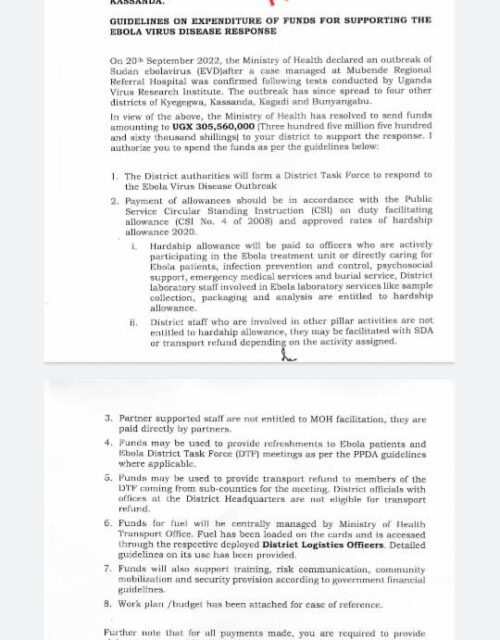 2. Payment of allowances should be in accordance with the Public Service Circular Standing Instruction (CSI) on duty facilitating allowance (CSI No. 4 of 2008) and approved rates of hardship allowance 2020.
i. Hardship allowance will be paid to officers who are actively participating in the Ebola treatment unit or directly caring for Ebola patients, infection prevention and control, psychosocial support, emergency medical services and burial service, District laboratory staff involved in Ebola laboratory services like sample collection, packaging and analysis are entitled to hardship allowance.
ii. District staff who are involved in other pillar activities are not entitled to hardship allowance, they may be facilitated with SDA or transport refund depending on the activity assigned.
3. Partner-supported staff are not entitled to MOH facilitation, they are paid directly by partners.
4. Funds may be used to provide refreshments to Ebola patients and Ebola District Task Force (DTF) meetings as per the PPDA guidelines where applicable.
9. Funds may be used to provide transport refunds to members of the DTF coming from sub-counties for the meeting. District officials with offices at the District Headquarters are not eligible for the transport refund.
6. Funds for fuel will be centrally managed by the Ministry of Health Transport Office. Fuel has been loaded on the cards and is accessed through the respective deployed District Logistics Officers. Detailed guidelines on its use have been provided.
7. Funds will also support training, risk communication, community mobilization and security provisions according to government financial guidelines.
8. Work plan /budget has been attached for ease of reference.
Pictorial Of PS Atwiine, MoH Minister Aceng Among Other Health Officials In Kassanda District