By Andrew Irumba
HE Yoweri Kaguta Museveni has today met broadcasters under their umbrella body, the National Association of Broadcasters (NAB) at State House, Entebbe, to curb the impasse that was brought by his directive that all government adverts go to state media Uganda Broadcasting Corporation (UBC).
The meeting that was chaired by Museveni himself was attended by the Prime Minister, Rt. Hon.Robinah Nabbanja and the Permanent Secretary, Ministry of Finance, Planning and Economic Development and Secretary to the Treasury (PSST), Mr. Ramathan Ggoobi, the Minister of ICT and National Guidance, Hon. Dr. Chris Baryomunsi and NAB members.
NAB informed the President that the private broadcasters were failing to pay staff salaries and taxes as a result of his directive to the Prime Minister in his letter dated 6th of March, 2023.
"…all Government advertising must be through the Uganda Broadcasting Cooperation. Any Accounting Officer who deviates from this will be sanctioned including dismissal. Print media advertising should be done through the New Vision. I, therefore, urge all Accounting officers to strictly adhere to the directive," Museveni directed Nabbanja.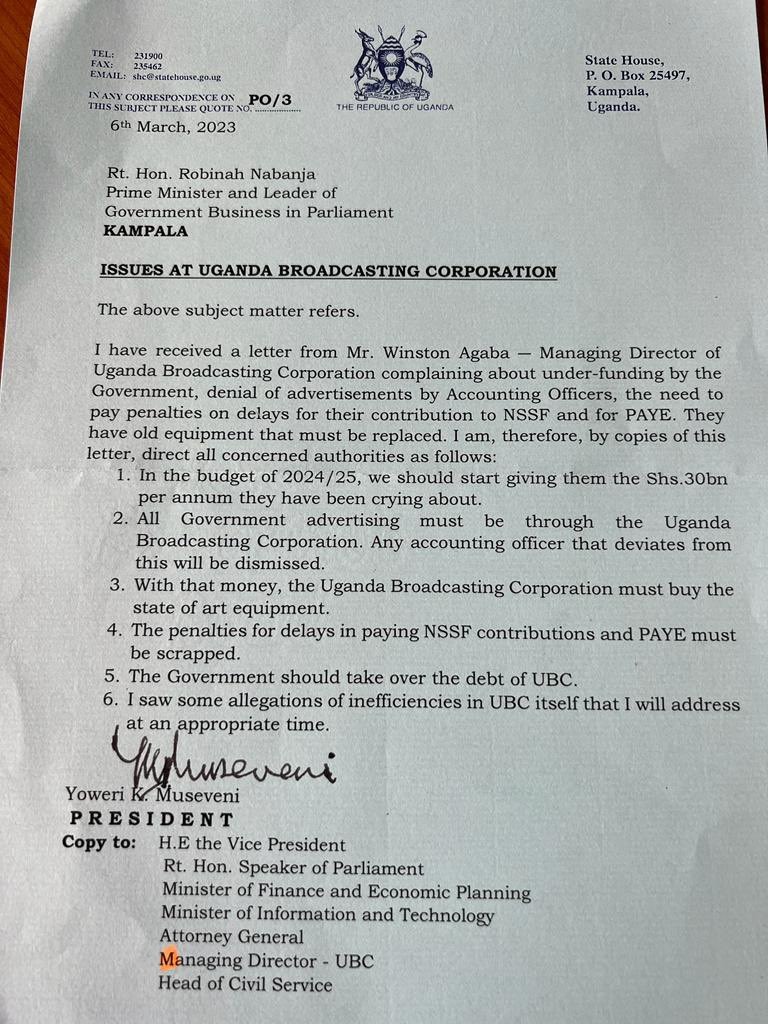 After hearing from several NAB members, Museveni accepted the appeal and asked Hon. Baryomunsi to meet with the NAB team next week to harmonize the position on how they will be considered for Government advertising spending.
He said that his directive was not intended to harm the private sector but to help revitalize UBC which has for long been battling debts.
These come after last month, NAB through its chairman Kin Kariisa wrote to the President asking him to withdraw the directive or else all broadcasters would stop offering services to all government activities.
"In light of the aforementioned, we are left with no option but to let you know that henceforth, the members of the National Association of Broadcasters shall not be obliged to cover any Government activity until the said directive is reversed," NAB warned last month.
PPU - PRESS STATEMENT ON H.E THE PRESIDENT'S MEETING WITH NATIONAL ASSOCIATION OF BROADCASTERS (NAB), ASKS THEM TO PROMOTE PATRIOTISM AND AVOID POLITICS OF IDENTITY -1