By Spy Uganda
The latest shocking news indicates that Mr Wamala Raymond, a director at SpyReports has been put under 'house arrest by heavily armed plain clothed men suspected to be security operatives.
SpyReports is an online newspaper and a member of the Independent Online Journalists Association-Uganda (INDOJA-U), an umbrella of online media in Uganda.
According to Wamala, the armed men surrounded his house outside his gate a few minutes ago and currently are not allowing anyone in or out. "My maid had just been blocked from entering, they're demanding that I should first come out for her to enter. She had gone to buy food outside," Raymond told INDOJA-U President Andrew Irumba Katusabe.
Mr. Irumba in a statement issued this evening revealed that when he asked Wamala what could be the source of the problem, he told him that the newspaper had published a story about an official in CMI who reportedly defrauded a Kenyan national $100,000 in the diamond deal.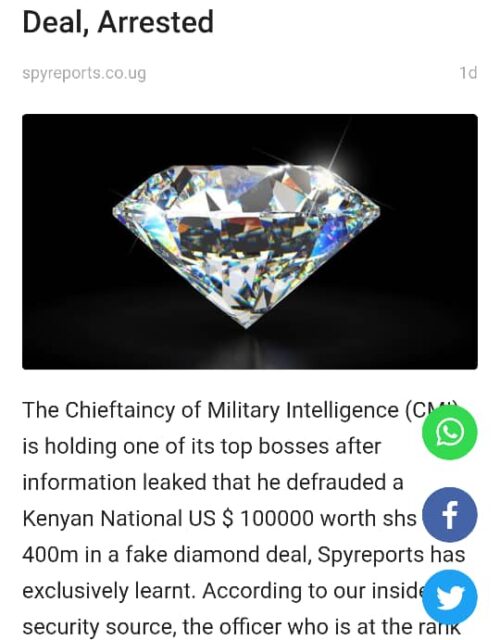 "I think it's about this story of CMI official, but I'm not the author, it's my colleagues. I know nothing about it. I don't know why me, he said before his phone went off mysteriously," reads INDOJA-U President's statement.
Mr Irumba has since asked the leadership of top security organs to use legal means against his member and involve the Association leadership to sort matters.
"As INDOJA-U, we want to ask the security organs to use legal means to solve such issues. They can also reach out to the leadership of INDOJA-U for positive engagement. I thank you," reads the statement. Watch the space…