By Spy Uganda
Kampala: Kampala's finest happening spot, Speke Apartments Wampewo says you don't have to hustle around the city looking for massage spas and restaurants yet you can get all in one place.
According to Speke apartments Wampewo, customers who book their stay at only $235 per night will enjoy a free Swedish Massage and complimentary breakfast for two people.
"It is nice finding a place where you can just go and relax. Book and experience a luxurious stay with us for the Weekend and enjoy a free Swedish massage with complimentary breakfast for 2. Call/WhatsApp :+256 752 711 704 for reservations" Speke Apartments Wampewo says
Speke Apartments offers accommodation that defines the new face of luxury with stunning living rooms, furniture fitted with softly padded upholstery, high-quality fixtures, furnishing, and appliances.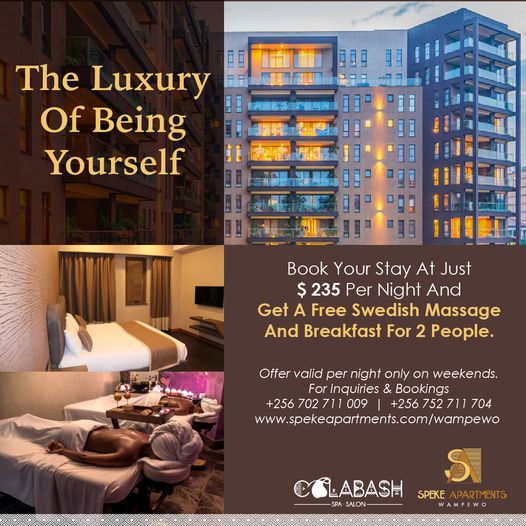 The interiors of the apartments are designer-inspired with pleasing furnishings, discerning décor and all the modern conveniences you desire. Not only that but also the open plan-one bedroom apartments which, are all air-conditioned are tastefully furnished and boast of an impeccably fitted kitchen with Beko appliances-cooker, oven and microwave.
In addition, the kitchen is also equipped with all modern cooking utensils and crockery and has a spacious but modest work area. The kitchen also has an extractor unit.
The apartment generously offers guests the opportunity to have meals on high stools at a bar counter, in the lounge or on the balcony.
The fact is, no apartment can compete with Tycoon Sudhir Ruparelia's apartments, when you enter the apartment lounge it's another unified continent found in Uganda with the wall-mounted plasma television set with links to DStv, subtle sofa sets and side tables.
Attention to detail has been made to the final finishings including drapery and furniture that give guests the aurora of that home comfort feel.
Another uniqueness with Speke Apartments Wampewo is that all apartments have access to complimentary WiFi and ample parking slots within the premises for residents and their guests. Also, guests at Speke Apartments Wampewo have complimentary access to use the swimming pool and gym which are within driving distance.