By Spy Uganda
Kampala: Uganda's finest hotel in hospitality-Kabira Country Club says you can now enjoy luxury relaxation in their swanky cottages at favorable rates as summarized below;
The hotel says its two bedroom cottage for four people is at UGX869,000 whereas 3 bedroom cottage for six people go for only UGX1,185,000.
The above rooms are on half board basis including; bed, breakfast, lunch, access to health club, free WiFi and daily mineral water.
Meanwhile, don't forget that this offer will end on 15th January 2022.
With its evergreen environment full of conducive air from the flourished trees housing the hotel, Kabira Country Club is ranked the top luxurious hotel in Uganda…have no doubt about this, just pass by you will testify.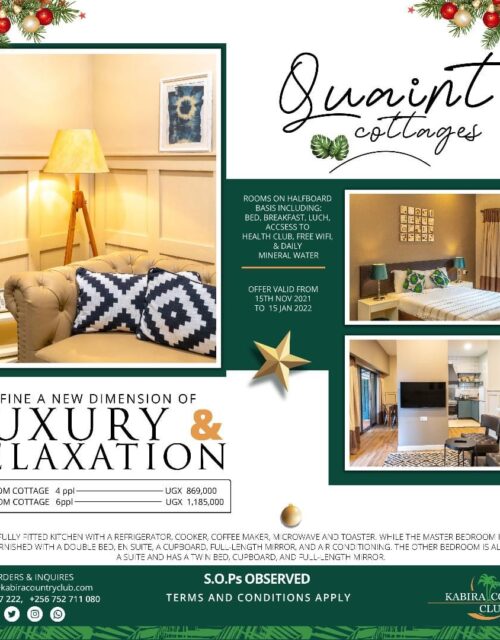 "At Kabira Country Club, we offer you exquisite accommodation tagged with exclusive services to suit your unique taste. +256 752 711 080/ +256 312 227 222 or visit www.kabiracountryclub.com to make a reservation," says the hotel management.
Kabira is surrounded by tropical species of flora and birds that are heard throwing trumpet lyrics to clients who normally drink in a well-distanced manner in a bid to curb the transmission of the novel coronavirus.
The hotel has a pub that overlooks the swimming pool and the courtyard extending from the restaurant, bar and coffee shop, giving a relaxing outdoor informal dining experience. Its proximity to the playroom and the swimming pool makes it ideal for all to dine.
The hotel's restaurant has a variety of drinks call it multi-cuisine with continental, African and Indian drinks located on the ground floor where calmness is the deal of the day.