By Spy Uganda
A card with details of Zari Hassan and Shakib Lutaaya's wedding has leaked online.
The duo first tied the knot in an Islamic traditional wedding popularly known as Nikah in April 16 2023.
"Zarinah Hassan & Shakib Lutaaya cordially invite you to share in the joy and celebration of their wedding day," read part of the card.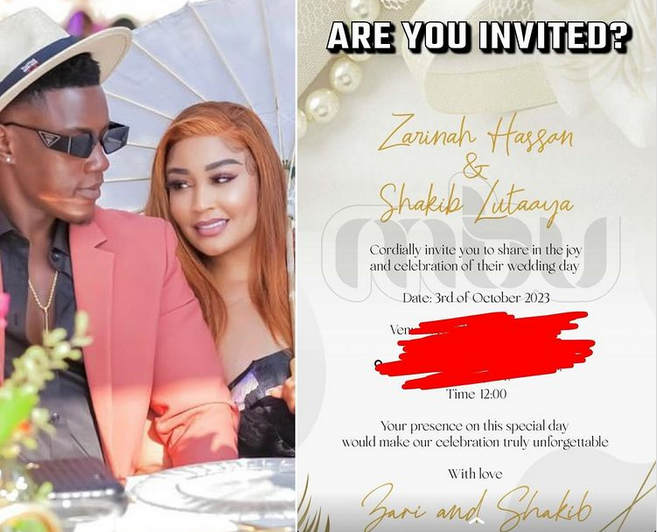 The wedding is set to be held on October 3.
The card reacted mixed reactions on social media online
Lubega976 said: "I wish them a blessed marriage, do what makes you happy."
Sharon_rukaaka said: "Congratulations to them ."
256_hyped said: "We wish them nothing but God luck ❤️."
Amsandra2 said: "Blessings in their marriage."
Liliangracepics said: "All the best to the Lutaayas."
Linshanmakeup said: Eeeeh. Why not Shakib and Zari regardless, congratulations."
Zari and Shakib tied the knot in a private Nikah ceremony in Pretoria, South Africa, on April 16. Both Zari and Shakib shared photos and videos from their Islamic wedding on Snapchat, and some of her relatives, her elder brother and sister, were present.
Dressed in Islamic attire, the lovebirds shared a video exchanging rings and then flaunted them on social media.