By Spy Uganda
Andrew Mark Asiimwe, aged 32, appeared before Grade One Magistrate Sanura Nambozo at Buganda road court, where he pleaded guilty to charges of impersonation and attempted electronic fraud.
According to Court records, Asiimwe, a staff of Bahamwe petrol station in Bwera, mpondwe Kasese district, falsely presented himself as Balaam Barugahara and created a fake Facebook account to defraud John Twinomugisha, among others, soliciting millions of money for the fictitious MK Girl Child Project.
Using the same Facebook account, Asiimwe was fooling his followers with promises that he would offer them job opportunities in Canada and Germany. He would charge his victims registration fees, Interpol charges, and visa fees.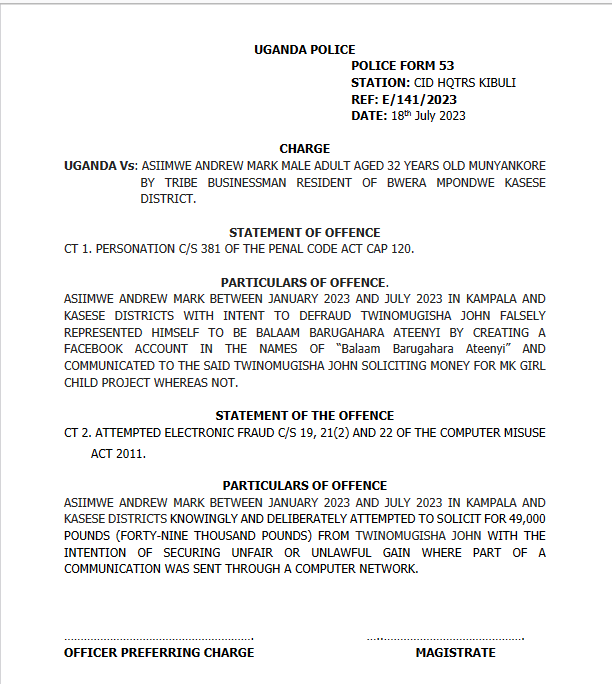 Additionally, Asiimwe, posing as a Major in the army, offered to connect victims with influential individuals in the Uganda People's Defense Forces (UPDF), Special Forces Command (SFC), and government for recruitment and better positions.
According to the retrieved chats that were presented before Court, the imposter has been referring the victims to a one Major Asiimwe on telephone number 0704653456 for help. For example, in one of the chats, a one Onegowun Eric from Nebbi inboxed on Facebook and told him he was a graduate who wanted a job in Internal Security Organization (ISO) or State House. The imposter, as seen in many conversations, referred him to Major Asiimwe who told him to pay Shs76,000. He would then be asked to also pay some airtime to a person he called Colonel Charles Oluka such that he trains for two weeks and get deployed to start work.
Records from security also indicate that the same person was arrested last year in June after opening a Facebook account in the name of Gen Salim Saleh, the coordinator of Operation Wealth Creation (OWC) and defrauded people in a similar way.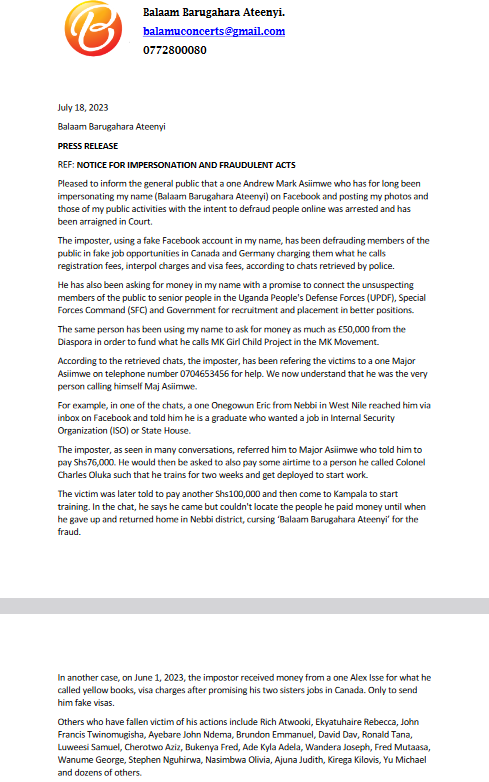 Some of the Ugandans who have fallen victim to Asiimwe's actions include Rich Atwooki, Ekyatuhaire Rebecca, John Francis Twinomugisha, Ayebare John Ndema, Brundon Emmanuel, David Dav, Ronald Tana, Luweesi Samuel, Cherotwo Aziz, Bukenya Fred, Ade Kyla Adela, Wandera Joseph, Fred Mutaasa, Wanume George, Stephen Nguhirwa, Nasimbwa Olivia, Ajuna Judith, Kirega Kilovis, Yu Michael and dozens of others.
Meanwhile, initially pleading not guilty, Asiimwe surprised the court by changing his plea and asking for forgiveness from Balaam, citing financial instability but all this could not save him as court had already decided to send him behind bars.
"It is true I used Balaam's name but I need serious help. I was staying in Mbarara and shifted to Kasese but things are hard for me. I used Balaam's name to get money and I have been defrauding people. I have a family who don't have anything to eat. I have looked for jobs but in vain. I am asking that atleast someone gets me a job. I am asking for forgiveness because I will never do it again," Asiimwe cried out before Court remanded him.