By Andrew Irumba and Ronaldo N Kalangi
TheSpy Uganda has in custody, credible Intelligence information that on the 2nd of July 2018 at around 9pm, Uganda's Telecom giant- MTN Uganda's Data center in Mutundwe,a Kampala surbab was surrounded by Security services, hacked into and servers takes at gun point!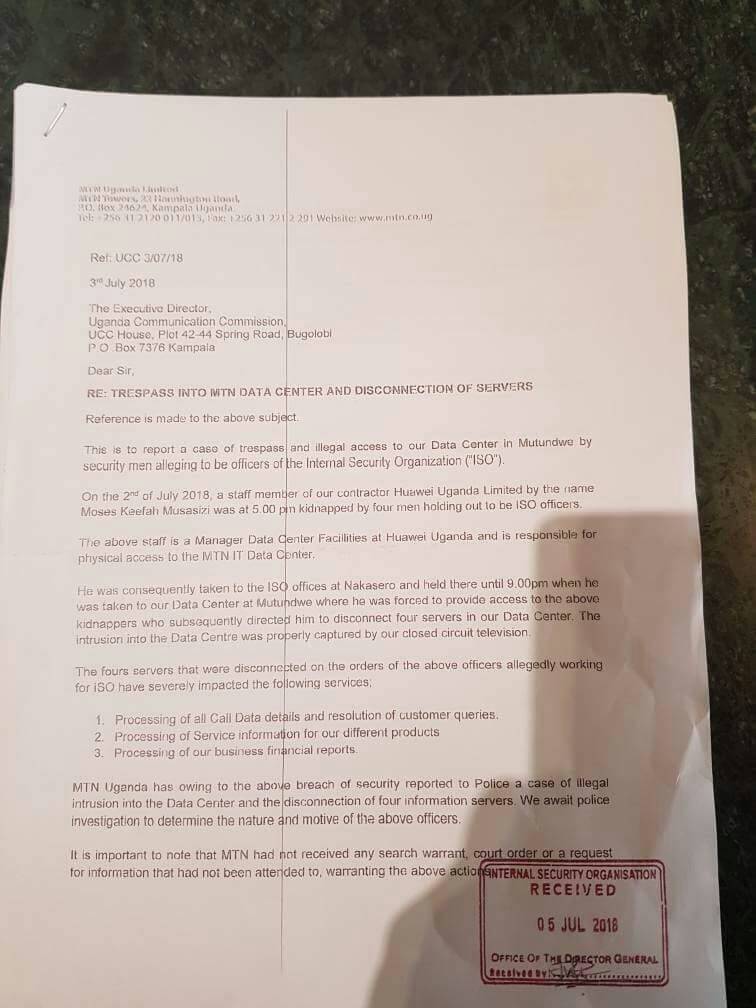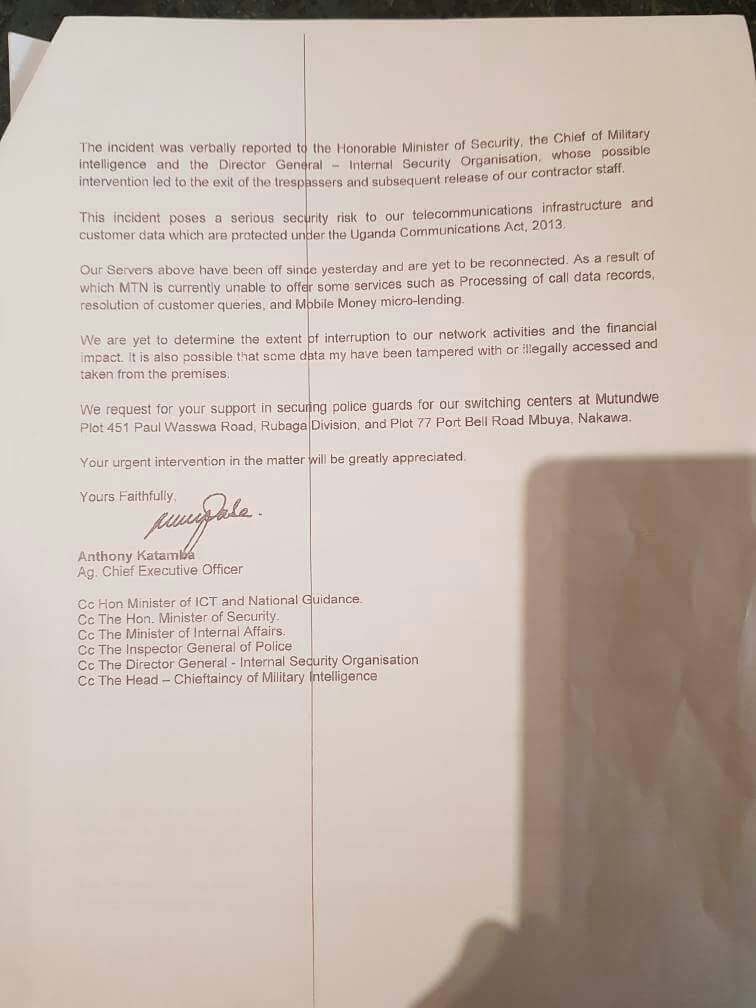 The highly trained Security operatives armed with IT experts, technicians, Telecom Engineers and commandos demanded that the server room be opened immediately, it's said that MTN refused to open the strong doors for the operatives to access machines and an order was issued to hack into the doors and open the strong room forcefully by the commanding officer.
"MTN security was overpowered by commandos who had powers not to listen to any 'nonsense' from anyone but arrest whoever interfered in the operation" our source said.
According to our source, it took close to five hours to break into the strong room,but they finally got in and quickly carried away servers at gun point.
President Museveni earlier this week, while commenting on the new social media tax (OTT) and Mobile money taxes that caused tantrums from the public disclosed that he had 'nailed' some Telecom companies who were under declaring taxes and said he had bought machines to monitor them. But our sources said that part of the purpose of the machines is also to monitor 'everything' including the 'flow of information'.
Our sources revealed that MTN was under declaring data revenues hence under paying tax at a tune of 2 billion. This incensed the bid man,hence ordering the raid. Remember,no one could have ordered MTN raid without the approval of the number one citizen, because it has a lot of political implications,the fact that South African president Ramaphosa is one of the shareholders, the source reasoned.
But the biggest reason why the Data base was hacked into is that, the security agencies were following up a tip off that Rwanda was using the Telecom giant's technologies to spy on Uganda. Infact, the pointers also pointed at the Kololo based Data center machines as one of the machines being used to spy on high profile Ugandans by Rwanda.
A list of taps on audit included, The President, Muhoozi Kaneirugaba, CDF David Muhoozi, CMI Chief Abel Kandiho, ISO Chief Kaka, Internal Affairs Minister Jeje Odongo, General Salim Saleh, General Tumukunde, General Elly Tumwine, Maj Gen Proscivia Nalweyiso, JATT Chief CK Asiimwe, and many other highly Placed decision makers in Museveni's 33 year old Givernement. Their communications and Locations were being monitored on an hourly basis by the telecom giant,MTN on behalf of Rwanda, our sources revealed.
According to our placed source with in security, the Telecom giant built a strong link to the Rwandan Embassy in Kampala handled by Noel Mocyo who is the intelligence officer in Rwanda at the Rank of SSP trained in Russia with his official cover as First Councilor.
MTN Uganda's Legal head and now Acting CEO Antony Katamba is highly implicated in the biggest scandal of all times, together with Amos Ngabirano on setting up this project at the inception.
For starters, Amos Ngabirano is the now troubled former ICT boss of Police who is being accused with his former boss Gen.Kale Kayihura of possible espionage.
ISO and CMI are currently analyzing data with a view of arresting and charging Katamba and his team with espionage. This will be the biggest MTN scandal in Africa and we can confirm that heads are poised to roll.
Meanwhile,yesterday a team from MTN Uganda went to State House and reported vandalism by security services, the President,armed with first hand information, looked at them in disbelief and gave them his usual signature 'smile, before they were shown exit!
This could point us to why Uganda Police had a secret office under Kayihura's reign and all President's calls were being recorded and some even exposed without his knowledge, and we can now know how Kayihura got information that an order had been issued to arrest him ahead of all other security gurus in the security circles.
Stay tuned here for more info.on this…..