By Spy Uganda 
Today, May 24th, 2022, Justice Stephen Mubiru has delivered another landmark ruling in the ongoing tycoon Patrick Bitature and Vantage loan dispute, in which he instead condemned Bitature's senior Lawyer Fred Muwema for misleading his client when he failed to give him proper legal advice, for which he pays heavily in millions of shillings!
To cut the whole 22 paged ruling short, the judge has instead ordered Muwema to pay all the legal costs to respondents (Vantage) rather than his client, for wasting their respondent's time!
"Costs will be ordered against counsel personally where counsel has acted improperly, unreasonably
or negligently, thereby causing the other party to incur unnecessary costs, in all the circumstances
it is just to make such an order," ruled Stephen Mubiru.
READ 22 PAGED FULL RULING HERE
He added, "This application catastrophically lacks a legal basis. The legal costs and time wasted in this litigation could have been avoided entirely if the applicants' advocates had discharged their duties to the expected minimum standards of professional competence. It qualifies as a "rare and exceptional" case where it would not be fair for the applicants to bear the costs. The costs must be met by the applicants' advocates in person."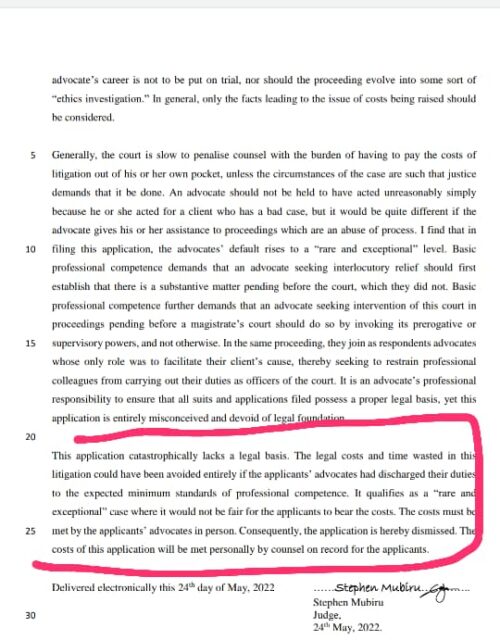 Ruling further states, "Generally, the court is slow to penalize counsel with the burden of having to pay the costs of
litigation out of his or her own pocket, unless the circumstances of the case are such that justice demands that it be done. An advocate should not be held to have acted unreasonably simply because he or she acted for a client who has a bad case, but it would be quite different if the advocate gives his or her assistance to proceedings that are an abuse of process. I find that in 10 filings of this application, the advocates' default rises to a "rare and exceptional" level."
The judge emphasized that if Mr Muwema had exercised his legal competence and professionally advised his clients, the legal costs and wastage of time would have been avoided.
Court documents show that in December 2014, Simba Properties Ltd and Simba telecom, executed an agreement (the Mezzanine Term Facility) with Vantge Mezzanine in which they borrowed USD 10m.
The securities executed for the said borrowed money, were in the names of the businessman's properties, which now stand to be auctioned. This ruling means that Patrick Bitature can ably be sued and the mortgaged properties sold by the lender, Vantage.
Background Of This Matter
Simba Properties Investment Company Limited (SPIC) (as borrower) and Patrick Bitature (as guarantor and promotor) borrowed US$10,000,000 (Loan) from Vantage to refinance a portion of the Simba Groups' existing debt and to fund the completion of Simba's Skyz Hotel in 2014 which loan matured and fell due for repayment in December 2019.
But instead of making efforts to repay the loan, the Simba Group and Bitature changed gears and asked for legal paperwork for the company that borrowed him noting that the company isn't legally registered in Uganda and therefore can't carry out any business, let alone borrowing billions of money from it.
Bitature's opinion was indeed cemented by Hon. Justice Musa Ssekaana of the High Court when he on 9th May 2022 declared in Misc. Cause No. 205 of 2021 Vantage Mezzanine Fund II Partnership vs Simba Properties Investment Co. Ltd, that Vantage Mezzanine Fund II Partnership is a non-existent legal entity that had no locus standi to file the suit.
"In the present case, the applicant contends that it is a partnership, which means that it must comply with the law which requires registration in order to have the capacity to sue or to be sued in Uganda. The applicant's status as a recognized entity in South Africa has not been proved to the satisfaction of this court since there is no single registered document that has been produced before this court apart from a few pages of the unregistered partnership agreement," High Court Justice Musa Ssekaana ruled on 9th May 2022 before he again trashed Vantage's judicial review application on the same matter.
READ ALSO: DTB Kenya Was Wrong To Lend Money To Ham In Uganda Without Our Licence-BoU Concurs With Adonyo's Ruling
He added, "In the same vein, this Court rejects the submission of counsel for the applicant, that foreign partnerships are free to operate in Uganda outside the regulatory registration requirements contained in the Partnerships Act, 2010 and the Business Names Registration Act (Cap 109). Therefore, the international partnerships or foreign partnerships just like the Ugandan partnership cannot be recognized once they are not registered since their identities are unknown and it may open the door wide for fraud in their transactions and dealings."
However, in Vantage's public notice issued this week, it contends that despite the above ruling, it is not ready to give up on squeezing Bitature in all angels to cough their money amounting to US$34,000,000 (loan and interests).
"Vantage will not be deterred by the Simba Group's and Bitature's 'continued abuse of court processes and public institutions, nor by their recent "PR campaign", in their ongoing efforts to avoid their creditors and lawful obligations. Vantage will persist in the recovery of its long-overdue Loan, exercising its rights against the Security if need be."