By Spy Uganda
Internationally renowned Zimbabwean Pan-Africanist and 2023 PAP Global Award recipient, Bishop Joshua Marara Maponga 111 is en route to Kampala ahead of Victoria University's 7th graduation ceremony slated for this Thursday 14, September 2023 at Kololo Airstrip.
According to Pan African Pyramid (PAP) founding Speaker and Chairman Andrew Irumba Katusabe, in charge of his itinerary in Uganda, Maponga will arrive at Entebbe International Airport on Tuesday night, and Thursday morning will be among the high dignitaries slated to speak to the graduands. The chief guest is expected to be the 1st Lady and Minister for Education and Sports, Hon. Janet Kataaha Museveni.
"He's actually already airborne from Harare to Nairobi using KQ today, then Nairobi to Kampala aboard Uganda Airlines. This is because there is no direct flight from Zimbabwe to Uganda, and those are some of the problems we've been discussing as Pan-Africanists. Africa has to work on its interconnections to ease the movement of people and goods," Irumba told our reporter.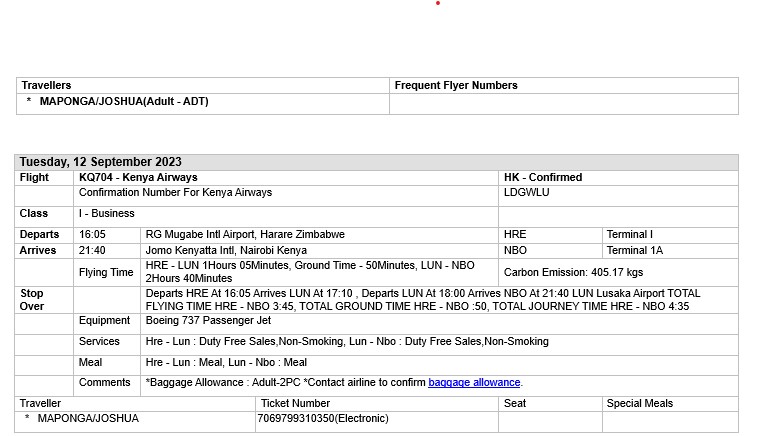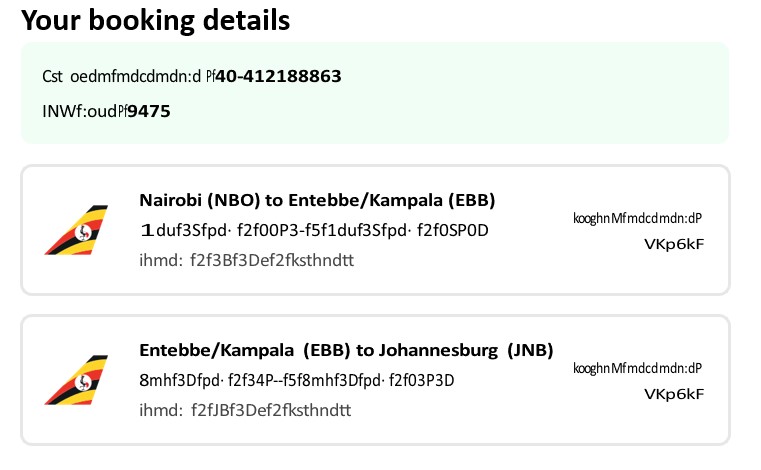 Maponga's Travel Documents
At the graduation ceremony, Maponga is expected to speak about the African education system that works for Africa. "If an education system teaches you that your problem will be solved by a white man, not yourself, then that's not your education, throw it away," teaches in one of his books titled "African Problems with African Solutions"
https://x.com/VUKampala/status/1696856795224936688?s=20
More About Maponga
Joshua Maponga is a renowned Zimbabwean-born preacher, philosopher, motivational public speaker, theologian, author, writer, musician, entrepreneur and internationally acclaimed unparalleled Pan-Africanist.
Joshua Marara Maponga 111, was born in Masvingo province, Zimbabwe in 1973. The 49-year-old moved to South Africa in his early days and later relocated to Swaziland before eventually traveling to the UK in 1998. The motivational speaker is the oldest child of Lazarus and Sibanda Maponga and 4 siblings. He holds a bachelor's degree in Philosophy and Personal Ministries from Andrews University in Michigan, USA.
Maponga, whose impactful preaching earned him the nickname "Creative Power House", is the founder of Farmers of Thought Institute and two other non-governmental Organizations based in Zimbabwe; The Indigenous Movement and The African Indigenous Movement.
Maponga has traveled widely and has quite a number of followers who believe in his philosophies. He's famous for many reasons; He's a Seventh-day Adventist church-ordained Bishop, a motivational public speaker, a community development enthusiast and a strong believer in Pan-Africanism.
Maponga grew up with his parents and from a young age showed a good sign of being independent and as such was able to follow his passion and traveled to places where he could fulfill his dreams. His quest for knowledge saw him travel between South Africa, Swaziland, UK among other countries.
Maponga's mind was originally set on engineering, and although he didn't eventually follow that path, he took part in the construction, and entrepreneurial training, which is an initiative of the international labor organization that helps to set up local talents as consultants for emerging manufacturers and consultants.
Maponga's father ventured into pastoral work, after his release from prison for his involvement in politics.
This led him to ensure that young Maponga stayed out of politics and followed him to his service in the church, and as such, Maponga Junior has been a pastor in the Seventh Day Adventist church for many years and his passion for the gospel endeared him to the congregation.
He enjoyed a wide followership and as time passed by, his impactful ministering caught the attention of senior church ministers, who later ordained him a bishop of the Pentecostal and evangelical community.
He continued to make an impact within the church and created his own approach to preaching the gospel.
Maponga's infectious oratory teachings about Pan-Africanism, the flow, the rhythm and his level of dedication to Pan-Africa ideals can only be equated to those of his forefathers in the movement, the likes of Martin Luther Jr., Malcolm X, Khalid Mohamad, Julius Nyerere, Nelson Mandela, Patrice Lumumba to mention but a few.