By Spy Uganda 
You may remember that few days ago, we reported about a case in which some Arua Regional Referral Hospital medics in connivance with some staff stole a government ambulance, Toyota Land cruiser Reg. No. UG 6812M and sold it in the Democratic Republic of Congo.
READ ALSO: Due To Low Pay? Five Arua Hospital Staff Steal & Sell Gov't Ambulance In DRC
The Ambulance was stolen on the 27th of March 2021. Police commenced investigations into the matter and the four security guards at the Hospital were arrested and charged in court with the offences of Neglect of duty c/s 114 a conspiracy to commit a felony c/s 390 of the Penal code Act Cap 120. However, no clear evidence was obtained as to who could actually have stolen the vehicle from its parking yard.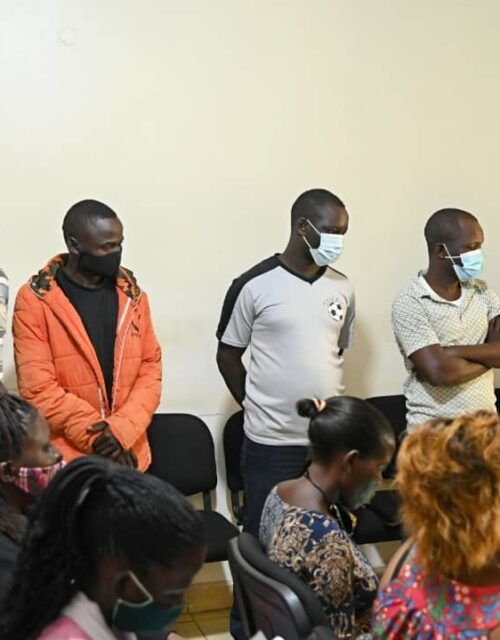 As a result of the above, on 8th December 2021, Baguma Moses who was believed to have been behind the theft of the vehicle as per intelligence information that had been gathered was arrested. He admitted to committing the offence and also disclosed other four suspects who were arrested, these were Wadia Alex, a driver at the Hospital, Ewaru Mathew, an Askari at the Hospital, Dramani Phillian, a driver working with the office of the Prime Minister and Ocatre Denis, a Dental Assistant.
Upon arrest, all the suspects admitted to having participated in the theft of the Ambulance, their charge and caution statements were obtained on top of the plain statements.
Upon learning about the arrests, the Oboth Yonas, the Senior Hospital Administrator left Arua and travelled to Kampala. He thereafter handed himself over to Police CID HQTRS and was detained. Thus making the total number of suspects to be six (06).
One suspect Acadribo Christopher is still at large. However, his statement is on record. Christopher at one time approached the investigators at the State House Anti- Corruption Unit and informed them that he knew where the Ambulance was.
He disclosed that he was with one Baguma Moses on the 27th March 2021 when the Ambulance was stolen. However, he never disclosed the details of how the theft did. Now the statements of the suspects indicate that he was part of the plan.
It's up on the above background that the Anti-Corruption Division of the High Court charged the five (5) suspects with offences of abuse of office, corruption, causing loss of public property, theft and conspiracy to commit a felony. They have been remanded to Kitalya prison until January 12th,2021.