By Spy Uganda
Former Land Forces Commander and  first son Gen Muhoozi Kainerugaba has appointed senior counsel Fred Mukasa Mbidde, the English master as his lead counsel to take on controversial Male Mabirizi in a matter he accuses the serving UPDF Officer of organizing and addressing political rallies and gatherings.
The City Hall Magistrate's court had scheduled a hearing of the case on July 17, 2023 before the principal grade one Magistrate Jane Tibagonzeka.
However, Mbidde has now applied to have the file transferred from the KCCA Court to Buganda Road Court for 'more experienced and professional management'.
While speaking to our Chief Spy Andrew Irumba Katusabe via phone call, Mbidde confirmed his appointment and vowed to teach Mabirizi a lesson of his lifetime. "I have received instructions from General Muhoozi to handle the matter. I have commenced my work with an application to have the file transferred from the KCCA Court to Buganda Road Court for more experienced and professional management given the high caliber and nature of the intended accused. I'm going to deal with this PALOOKA (whatever that means) for once and for all so he learns a lesson, if the past experiences have not sufficed already," Mbidde said.
Mbidde further added thus; "No legal stone shall remain un turned as to detente the General, so he can continue unenturrupted with the noble job of combing the nooks, alcoves and crannys of the country"
In his 13th July application to Buganda Road Court, Mbidde writes thus; "The above surtitle refers wherein we have instructions to deliver this humble address to your good office. The person in the private prosecution aforementioned is a known inveterate litigant, Court — happy and frolicsome with a multiplicity of suits including the instant claim. Matters of this nature if not well attended to, may turn court into an instrument of persecution against our clients. Needless to say that the above case is tainted with issues of impropriety on account of jurisdiction and procedure that require specialized and supervised judicial management fortified at your level. Your Worship, it's for this reason that we request for the transfer of the above case file to your office for proper management."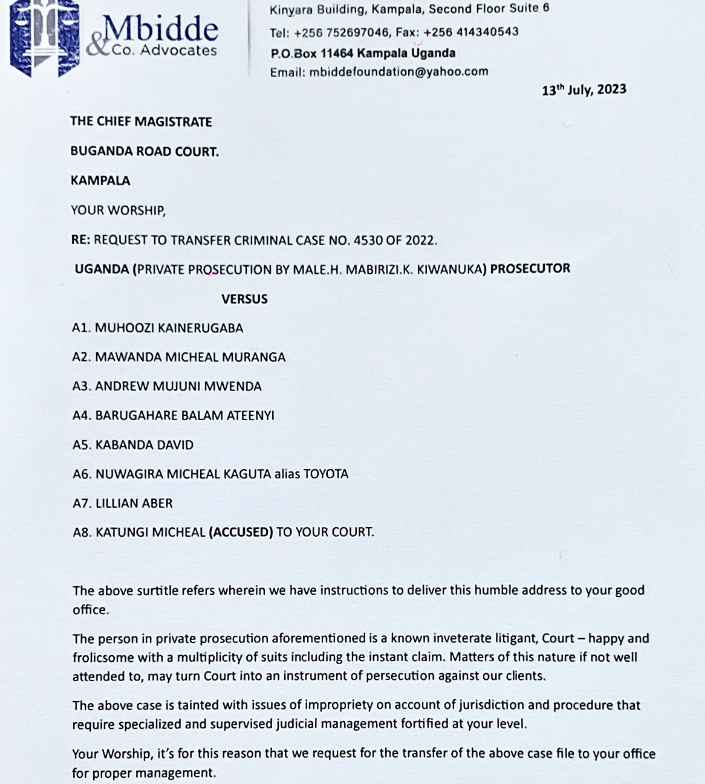 Background Of This Matter
Mabirizi initiated the suit in November 2022 alleging that Kainerugaba addressed a political gathering at Kololo Independence Grounds in Central Division, Kampala City, on October 11th, 2022, without resigning from the UPDF.
According to Mabirizi, this act contravenes section 99 of the UPDF Act, which prohibits serving military personnel from engaging in political activities. Mabirizi further argues that Kainerugaba's actions caused common annoyance and inconvenience to the public, thereby violating their rights.
If found guilty of the charges, Kainerugaba could face up to two years of imprisonment according to the Penal Code Act of Uganda. The act specifies that willfully disobeying written laws, which concern the public or any part thereof, constitutes a misdemeanor punishable by imprisonment unless otherwise stated.
Other individuals sued with Muhoozi are; Mawanda Micheal Muranga, Andrew Mujuni Mwenda, Barugahare Balam Ateenyi, Kabanda David, Nuwagira Micheal, Kaguta Alias Toyota, Lillian Aber, Katungi Micheal.
Mbidde talking to this site vowed," no legal stone shall remain unturned as to detente the General so he can continue uninterruptedly with the noble job of combing the nooks, alcoves and crannys of the country."
Why Muhoozi Trusted Mbidde's Law Firm
Mbidde & Company Advocates is a law firm on record for winning mega cases in Uganda at the East African Court of Justice.
Some of these cases that have since promoted Mbidde to a regional famous law pundit include; Ref No 6 2011: Mukasa Fred Mbidde and Others Vs EAC and the AG of Uganda, Ref No 2 of 2012: Democratic Party Vs Uganda, Kenya, Tanzania, Burundi and Rwanda (then the 5 East Africa Countries with EALA representatives); Ref No 5 of 2015: Mbidde Foundation Vs EAC (saving then Speaker, Rt. Hon Margaret Nantongo Ziwa, a Ugandan), Wani Santino Vs Republic of South Sudan; Burundi Vs EAC (Saving Speaker Rt. Hon Martin Ngoga, a Rwandese), In Uganda, Mbidde has won numberless cases and applications.
Now, it's so rare that a lawyer of such caliber can lose a shaky case against Uganda's mighty General Muhoozi Kainerugaba, meanwhile, let's step aside to watch and give you timely updates on this battle against controversial Mabirizi.
We advise Mabirizi to come with a dictionary to court as he will surely need it more often than a bottle of water and handkerchief! Watch the space….