By Andrew Irumba

The General Court Martial sitting at Makindye on Tuesday expelled lawyer Jimmy Muyanja indefinitely for misconduct! Muyanja is one of the lawyers representing jailed members of the notorious Boda Boda 2010 gang including their patron Abdallah kittata.
Muyanja has been representing 11 Boda Boda 2010 members who are standing trial in the army court martial over charges of unlawful possession of firearms and military equipment contrary to section 161 of the UPDF Act.
The suspects include Abdallah Kitatta, Matia Ssenfuka, Joel Kibirige, Hassan Ssemata, Jonathan Kayondo, Ssengooba Hassan, Sande Ssemwogerere, John Ssebandeke, Hussein Mugema, Fred Bwanika and Amon Twinomujuni.
The suspects appeared on Tuesday morning before the army court chaired by Lt Gen Andrew Gutti to continue with the cross-examination of a prosecution witness, Private Richard Kasaija. All was going well until Muyanja banged the table accusing the state prosecutor, Maj Raphael Mugisha of signalling to the witness on which questions to respond to during cross examination.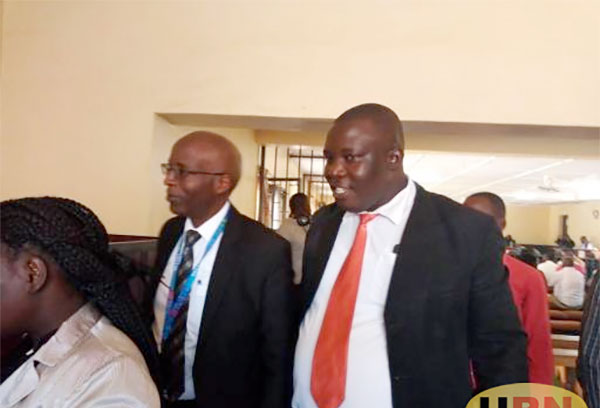 Muyanja argued that the witness was supposed to defend his testimony given that he is the one testifying against the accused persons. The lawyer had asked Kasaija to explain the events that unfolded when he arrested the accused persons on January 19th, 20th and 21st 2018.
But Maj Mugisha kept signalling to him on how to respond to the questions, which angered Muyanja prompting him to bang the table there by angering the Chairman Lt Gen Andrew Gutti who ordered for his immediate exit and warned him never to return back for as long he (Guti) is still the Chairman.
Gutti said his (Muyanja) indiscipline can't be tolerated in any court, he asked Military Police to escort him from the Makindye based court
In the previous court session, Gutti attempted to expel Muyanja and Shabban Sanywa on grounds of misconduct but reversed his order and advised them to behave appropriately. However Sanywa told reporters outside the court that the expulsion of their colleague wouldn't deter them from defending their clients.