By Spy Uganda
Kampala: Kabira Country Club Bukoto understands that saying I do is one of the most important and special occasions in every couple's life that's why their team is here for you when that special day finally comes.
Kabira Country Club provides the best spaces and a dedicated team to arrange your special bridal shower/wedding inline with your specific needs and preferences and all you need is to contact them and have your package customized accordingly.
"Seal your love with our exquisite wedding specials, Experience your dream wedding at Kabira Country Club as your backdrop, exchange vows and watch your dreams unfold. Get in touch with our Events team today 0707 780 145/ 0752 711 009" Management at Kabira Country Club says.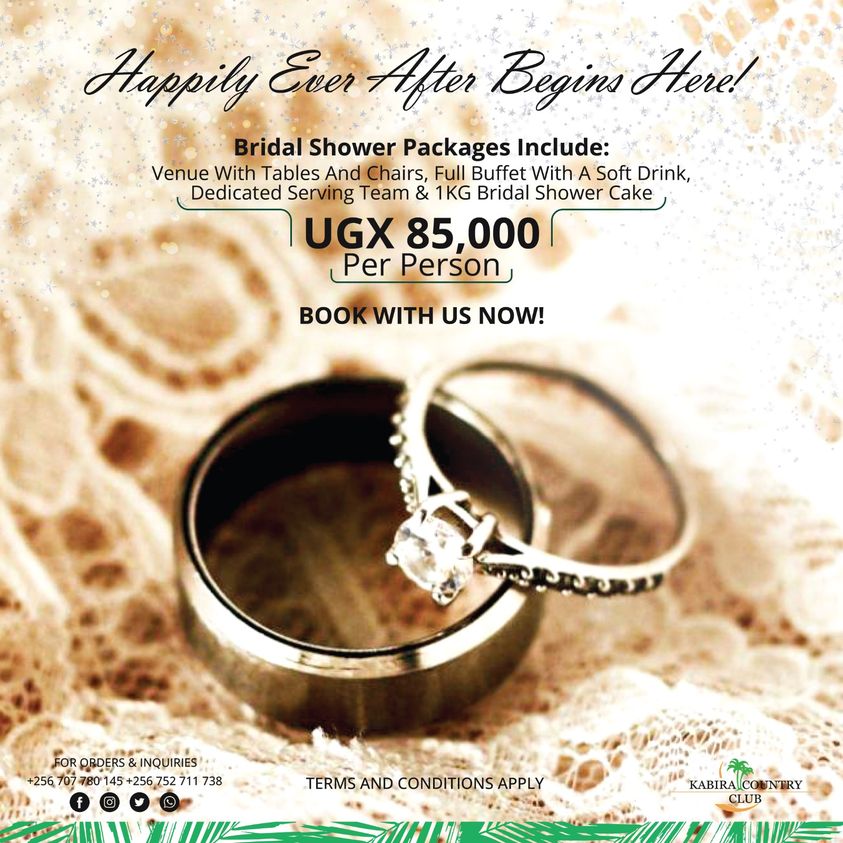 Kabira Country Club not only offers delicious meals, buffets, and dishes but also offers a relaxing and comfortable stay to its clients in its newly renovated rooms designed to complement its natural environment.
Kabira's restaurant has a variety of drinks call it multi-cuisine with continental, African, and Indian drinks located on the ground floor where calmness is the deal of the day.
All the above aside, the club offers state-of-the-art health club facilities which include a half Olympic size swimming pool, kids pool, Gym, Tennis, Basketball, Football & squash courts and also offers a perfect place to hold special events, weddings, and business meetings in Kampala.
Serving breakfast, lunch, afternoon tea, and dinner, Kabira Country presents contemporary and delectable dining from the menu and buffet with a mouth-watering array of food from around the world.
Kabira is surrounded by tropical species of flora and birds that are heard throwing trumpet lyrics to clients who normally drink in a well-distanced manner in a bid to curb the transmission of the novel coronavirus.
The hotel has a pub that overlooks the swimming pool and the courtyard extending from the restaurant, bar, and coffee shop, giving a relaxing outdoor informal dining experience. Its proximity to the playroom and the swimming pool makes it ideal for all to dine.