By Frank Kamuntu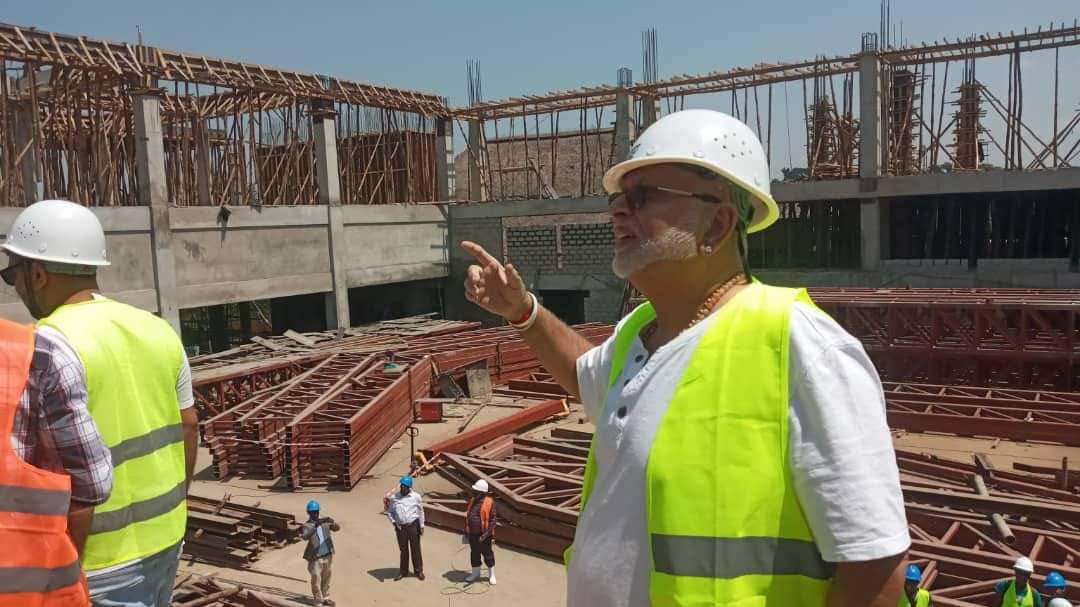 The Ruparelia Group of Companies Chairman Dr Sudhir Ruparelia has today addressed the press and gave a progressive report on construction of multi billion Speke Convention Centre.
At the same presser, Dr Sudhir who was accompanied by his youthful son Rajiv Ruparelia, also gave an update on this project's environmental conversation plan on Lake Victoria.
Dr Sudhir noted that the construction of one-of-a-kind, state-of-art 4400-seater Speke Resort Convention Centre is on schedule and will be completed in time ready to host the 19th Summit of the Non-Aligned Movement to be held in January 2024 in Kampala, Uganda, and indeed our Spy, who inspected the project today confirmed this that Sudhir's exceptions are possible.
"Ruparelia Group, through our two subsidiaries, Speke Hotels and Meera Investments, is sparing no effort to ensure that we deliver this key strategic national facility on time," Dr. Sudhir told the media on a tour of the facility.
Sudhir Trashes Allegations Of Degrading Lake Victoria
During the same guided tour of the project, Dr Sudhir also used the opportunity to clarify the on going rumours on social media that they were degrading and or refilling the lake. Sudhir said they were securing their own part of land affected by the historic unprecedented rise in Lake Victoria levels in 2021 and 2022, by putting stronger boundaries to protect the Hotel from future floods.
"I think, if there are indeed genuine environmental awards in this country, we should be the biggest winners of those awards annually. Because there's no body who is echo friendly than me. I have invested billions of money in environmental protection initiatives, including creating man-made green belts," Sudhir boasted.
He added, "Being adjacent to Lake Victoria is one of the unique attractions of this facility. It is an asset that we guard jealously," Dr. Sudhir told the media, adding: "Ahead of the August-December rainy season, we are only upgrading and securing (against flooding) of our grounds that were affected by the May 2022 unprecedented rise in Lake Victoria levels."
While on the tour, the Group Chairman also took media and other stakeholders on an on-the-spot fact-finding tour of the entire facility to clarify some online allegations that the Group is refilling Lake Victoria as part of the construction, based on what was seen on ground, the rumors are false and baseless.
Uniqueness Of Speke Resort Munyonyo Convention Centre
The Ruparelia Group, entered into a joint venture with the Uganda Development Corporation (UDC) and are constructing the state-of-the-art convention centre to not only host the none Aligned Movement (NAM) Summit and China's G77,  but will also boost the country's Meetings, Incentives, Conferences & Exhibitions (MICE) potential and competitiveness.
The Convention Centre is being developed on a 105-acre luxury resort complex that already has two luxury lake-side resorts– Speke Resort Munyonyo and Munyonyo Commonwealth Resort, also owned by the Group.
The three iconic properties combined, bring to Uganda's hospitality sector about 40 indoor meeting and banqueting facilities of various sizes, with a capacity to host 19,000 people! This is in addition to several other outdoor venues. Away from meeting venues, the complex boasts of 476 accommodation rooms, including 54 presidential suites and 3 ballrooms.
In addition to the 4400-seater auditorium, the convention centre will also have a multipurpose hall, 12 high-end conference/breakaway meeting rooms and a floating restaurant that can host more than 900 guests, with an extraordinary view of Africa's largest freshwater lake⏤Lake Victoria.
As part of the larger preparations, the entire facility is also undergoing some indoor and outdoor refurbishments and upgrades.
See Pictorial Below