By Spy Uganda

John Winston Katende one of the few senior lawyers in the city with experience of over 50 years, has today launched a life-changing book dubbed 'Man of Many 'Firsts" at Aristoc Bookshop at Acacia Mall in Kampala.

The launch of this book which was authored by senior researcher Ronald Nabimanya was graced by former Chief Justice Bart Katureebe Magunda as the guest of honor.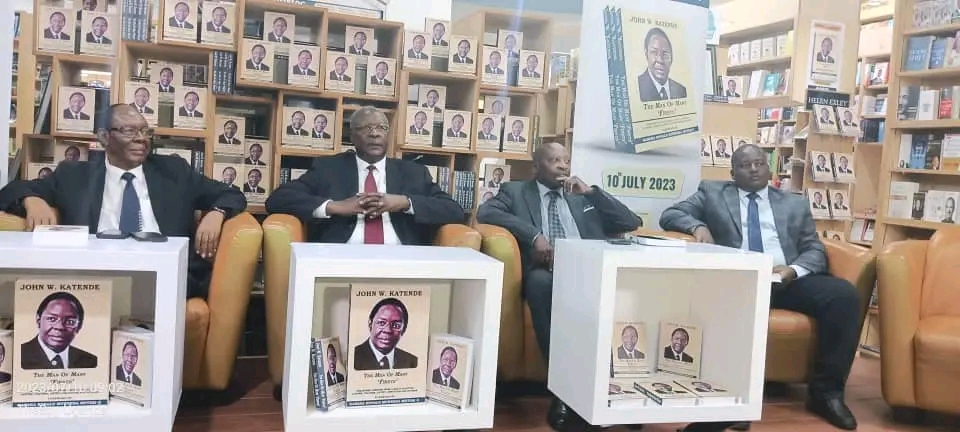 The book which is already on market at all Aristoc Bookshop branches, details that in his career, Katende has been involved in any and everything that has to do with law and legal practice in Uganda. And surely if you ask any judge or legal practitioner in Uganda, they concur that without doubt, Katende is one of the finest lawyers in the country's history.

Mr. Nabimanya says that he was triggered to collect information about Katende and compile it into a book so that the young generation can be inspired by such a law pundit whose life journey confirms that all things are possible.

"I started searching and reading about Katende many years ago. 2yrs back, his life journey touched me and triggered me to write a book about him. Being a man who doesn't like publicity and media, I found it a bit hard to convince him to allow me to write this book until I won his soul and he finally accepted," says Nabimanya adding, "I started gathering inspiration material and approached 36 famous people in this country to have them contribute to this book which I hope will inspire more young people."

In his part, Katende, a man of few words commended Nabimanya to write about him when he is still alive saying that many people's history comes out when they are dead.

He called up all Ugandans to rush into various branches of Aristoc Bookshop and get a copy of this book he believes will change many people's lives.

On there other hand, former Chief Justice Katureebe praised Katende's uniqueness which has seen him keep the Katende & Ssempebwa Advocates law firm afloat for over 50yrs.
"Personally, I have known Katende since 1972 when I joined Makerere University where he was my lecturer. During his days as our lecturer, Katende was a perfectionist and he used to put our class on alert and so entertaining, no boredom at all," said Katureebe.

He also praised Katende for being a successful businessman who started for his wife Margret Katende the Spectrum Restaurant and Aristoc Bookshop which has branches countrywide.

The Katende You Didn't Know

As already mentioned above, Katende is one of the two founding and senior partners of Katende & Ssempebwa Advocates law firm which he partners with Prof. Frederick Ssempebwa. His experience spans over fifty (50) years of practice in Uganda and the East and Central African region.

As a law student at the University of Dar-es-Salaam in Tanzania, class of '69, his classmates included:
The current Vice President of Uganda, HE Right Honourable Edward Ssekandi
Former Chief Justices of Uganda; Benjamin Odoki (2001-2013)
Former Chief Justice of Kenya; Johnson Evans Gicheru (2003-2017)
Former Chief Justice of Tanzania; Augustino Ramadhani (2010-2017)
Former Principal Judge of Uganda; James Ogoola (2004-2016)
Former Attorney General of Kenya; Amos Wako (2013-2017)
Former Justice of the Court of Appeal of Uganda; Caroline Okello
Katende had the unique distinction of being the youngest student in his class pretty much throughout his academic career, while at the same time excelling as one of the best students in his classes, winning numerous awards along the way.
Katende graduated top of this distinguished law class and was awarded full African Fellowship Scholarships to study his Master of Laws (LLM) at either Oxford University in the United Kingdom or Harvard University in the United States of America. He chose Harvard and became one of the very first Ugandan graduates with an LLM from that elite institution.
Katende has lectured law at Uganda's premier tertiary institution, Makerere University, teaching 'Introduction to Law' and the 'Law of Business Associations' throughout the 70's.
He has authored many a learned treatise including 'The Law of Business Associations in East and Central Africa' which is one of the leading texts in all the law schools across East and Central Africa. The 2 students he selected to work as his research assistants on the book were John Patrick Amama Mbabazi – who went on to become the Prime Minister of Uganda and John Sentamu – who went on to become the Archbishop of York in the United Kingdom.
Many of his students have gone on to have exceptional careers as lawyers, judges of the Supreme Court, Court of Appeal and High Court, company secretaries, politicians, and businessmen including but not limited to:
Chief Justice of Uganda, Hon. Bart Katureebe
The Speaker of Parliament, Hon. Rebecca Kadaga
Rtd Supreme Court Justice Karokora
Justice Amos Twinomujuni
Justice Constance Byamugisha
Justice Steven Kavuma
Justice Augustine Nshimye
Justice Stella Arach Amoko
Justice Moses Mukiibi
Rtd Justice Edmund Sempa Lugayizi
Justice Lamech Nsubuga Mukasa
Justice Ibanda Nahamya (currently Judge of the International Residual Mechanism for Criminal Tribunals (Mechanism))
Justice Vincent Kibuuka Musoke
Justice Atwoki Rugadya
Justice Margaret Oguli Oumo
Justice Ralph Ochan
Justice Vincent Zehurikiize
Julia Sebutinde, currently a Judge in the International Court of Justice
Hon. Khiddu Makubuya
Hon. Amama Mbabazi
Archbishop John Sentamu
Gen. Kale Kayihura
Hon. Sam Kuteesa
Peter Kabatsi
Elly Karuhanga
Elijah Wante
IGP Okoth Ochola
Hon Medi Kaggwa
Hon. Maria Matembe
He has also served as an external examiner for the Universities of Dar-es-Salaam, Zambia, Malawi, and Nairobi for several years. His distinguished career in the academic field is rivaled by equal merit in the practice of law. He has been involved in a lot of groundbreaking and law-creating litigation that has significantly contributed to the evolution of jurisprudence and legal practice in Uganda.
Outside the courtrooms, John has been involved in the structuring and planning of many of the largest commercial ventures in Uganda and he continues to routinely advise leading commercial concerns in Uganda on a day-to-day basis.
He has over the years developed expertise in the areas of Corporate and Commercial Litigation, Mediation and Arbitration, Corporate and Commercial Law, Capital Markets, Banking & Finance, International Trade, Mergers & Acquisitions.
He has served in various capacities as a Director or as Chairperson of the Boards of several large domestic and multinational corporations. For over thirteen (13) years, John was the Honorary Attorney General and Chief Legal Advisor to the Kingdom of Buganda and to His Majesty the Kabaka of Buganda. He was also the Chairperson of the Buganda Constitutional Review Commission.
Katende was honored to have sworn in the King of Buganda, His Majesty Kabaka Ronald Muwenda Mutebi at his coronation on 31st July 1993.
Katende was awarded 'Ekitibiwa ky'Amafumu n'Engabo' by the Kabaka of Buganda in 2011 for his outstanding contributions to the kingdom. This is the highest honor that can be bestowed for service in the Kingdom of Buganda.
On the 31st March 2017, John was recognized by the Uganda Law Society (ULS) and awarded the ULS' first 'Distinguished Service Award' at the Uganda Law Society Annual General Meeting held in Entebbe, Uganda on the 31st March 2017.
He was also, one of the first 3 lawyers in the history of Uganda to be inducted into the ULS inaugural 'Roll of Honour'. This award is given to lawyers who have distinguished themselves in the profession, have a proven track record of being excellent attorneys with stellar reputations and have also made significant contributions to jurisprudence or contributed to the development of a particular area in law.
On the 28th of March 2018, John was awarded the Special Rank of Senior Counsel (the highest honor in the legal fraternity) by the former Chief Justice of Uganda, Hon. Bart Katureebe.
Hobbies
John is a Renaissance man: a playwright, artist, director, and producer. In 1977, he starts a drama group, now known as "The Ebonies" which grew to become the largest drama group in East Africa to date.