By Monica Kobusiinge 
Kampala: Uganda National Examinations Board (UNEB) has come out to clear the air following The Spy Uganda's publication on how the board had not clearly informed Ugandans on their readiness to conduct the national examinations.
READ ALSO: UNEB Clashes With Ministry Of Education Over Planned Reopening Of Schools
The publication came after UNEB's revealed that since there was no any formal communication from either the President or the Minister of Education & Sports, they had no idea about the planned reopening of schools or conducting end of year exams.
It is against that background that the media had started publishing the UNEB's comments that seemed to be a clash between them and the Ministry.
READ ALSO: Min.Miyingo Presents Bill Before Parliament To Reform UNEB Act, New Law Suggests 10 Yr Jail Term For School Heads!
However, in a bid to clarify the matter and bury the controversies, UNEB has since issued a new statement saying they are not in any clash with the Ministry and are ready to conduct the national examinations although they are still waiting for Government's guidance.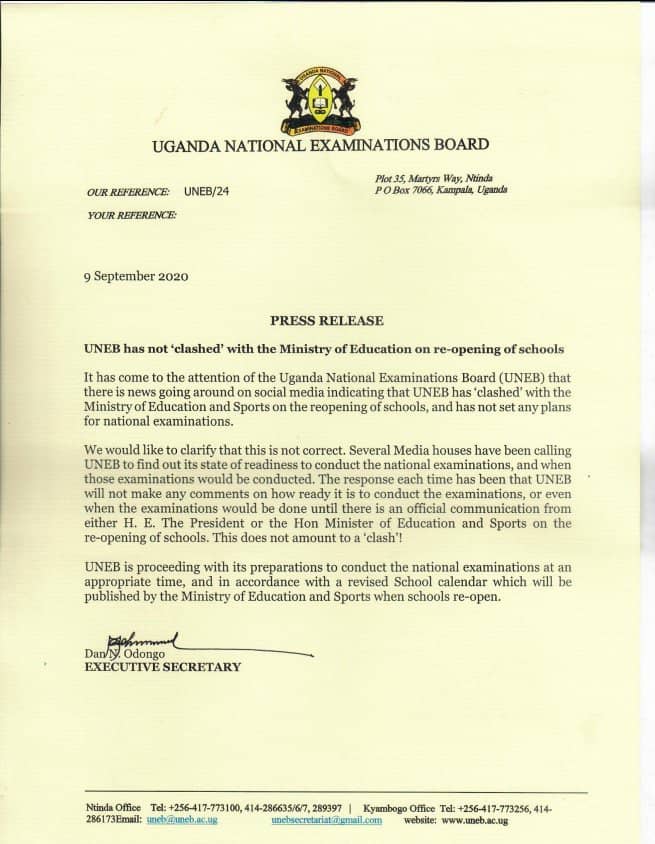 READ ALSO: Janet Museveni Tasks Finance Minister Kasaija To Release Capitation Fund For Reopening Of Schools
Read UNEB's full Statement. 
"It has come to the attention of Uganda Examinations Board ( UNEB) that there is news going around on social media indicating that UNEB has clashed with the Ministry of Education and Sports on reopening of schools, and has not set any plans for national examinations, we would like to clarify that this is not correct.
Several media houses have been calling UNEB to find out its state of readiness to conduct the national exams and when those exams would be conducted.
The response each time has been that UNEB will not make any comments on how ready it is to conduct the examinations, or even when the examinations would be done until there is an official communication from either H.E the president or the Hon. minister of education and sports on the reopening of schools .
This does not amount to a 'clash'. UNEB is proceeding with its preparations to conduct the national examinations at an appropriate time, and in accordance with a revised school calendar which will be published by Ministry of Education and Sports when schools reopen."