By Spy Uganda
Bugolobi: The Uganda Communications Commission (UCC), a communications regulator-now seating in Bugolobi Kampala Uganda has ordered Next Media Service's Sanyuka TV to cough $520 in total; $260 for distributing prohibited content and another $260 for noncompliance to minimum broadcasting standards all relating to singer Omulangira Suuna's saga.
"The commission finds Sanyuka TV to have breached the minimum broadcasting standards, standards for general broadcast program MORNING EXPRESS that aired on the 27th of August 2021 and in accordance with its mandate under sections 5(l) (i) of the Uganda Communications Act 2013," partially reads UCC's 'ruling'.
All these stem from allegations that on August 27th, 'Morning Express' presenters, Kayz Wako, Mako while hosting blogger, Isma Olaxess aka jajja Iculi, reportedly branded Suuna a witch and claimed he has a shrine where he practices witchcraft.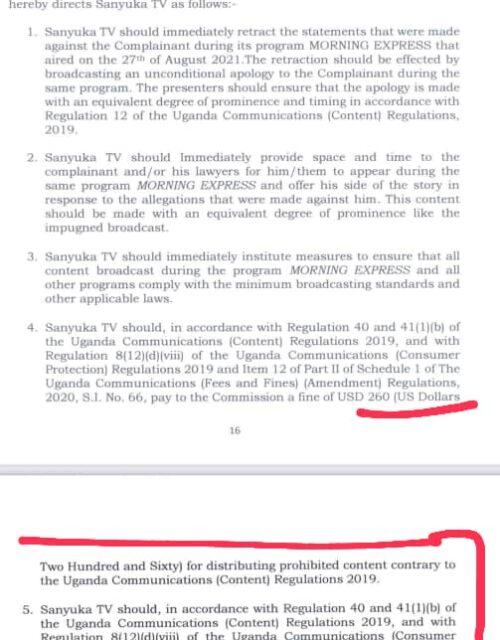 The above annoyed Suuna who ran to UCC and ordered them to apologize or drag them to court. Having refused to publicly apologize, Suuna through his lawyers dragged them to court, where they were charged with offensive communication and criminal libel and remanded them to Kitalya prison. Later they were released on bond but the case is still in court.
Now, UCC tribunal has ordered Morning Express' presenters to retract statements made against Suuna and host him on the same program to give his side of the story.
Mean while, broadcasters and the general public are still wondering why a Government Agency based in Uganda charges in dollars when Uganda is a sovereign country with its own legal tender.
Last month, during NAB's AGM, a member and proprietor of 90.8 Metro FM Captain Francis Babu took a swipe at the commission for continuing to charge members exorbitant fees and in dollars, to which they promised to change and convert into shillings.