By Spy Uganda
Things continue to turn dark for jailed 'fraudulent' socialite Olimu Charles aka Sipapa after his legal team announced that they will no longer represent him in any court matter.
Counsels from Elgon Advocates law firm state in a letter to Sipapa that the nature of his case is gravel capital, and given the nature of evidence involved, it requires a high level of sophisticated technical expertise to have strong defenses which need facilitation that their client has failed to provide.
"As a Counsel would have to spend sleepless nights reading the law in order to ably represent you. That kind of preparedness must be facilitated and remunerated," the letter partially reads.
The socialite was arrested two weeks ago by police officers at the Directorate of Crime Intelligence for breaking into the residence of one Jacob Arok in Kawuku-Bunga in Kampala on August 28, 2022, and robbing over a 1.6billion.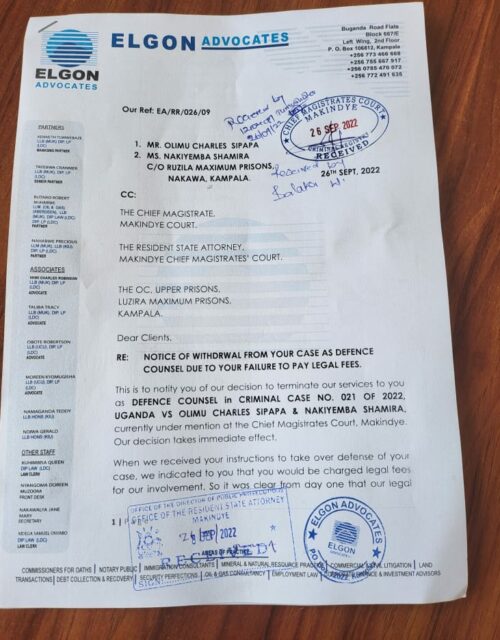 "When we received your Instructions to take over defense of your case. We indicated to you that you would be charged legal fees for our involvement. So it was clear from day one that our legal services to you were not free or PROBONO. To our disappointment. You have not paid even a single coin to the legal firm as legal fees," adds lawyers in their letter.
They say despite repetitive demands to their client including several visits to him at Luzira Maximum Prisons where they discussed the subject of legal fees, nothing has been effected in regards to payment of legal fees.
"In the circumstances, we are left with no other option but to withdraw our services and efforts. Please feel free to share out address with your next Lawyers to contact us for your files," they concluded.