By Spy Uganda
The Uganda Police force has banned all roadblocks along major roads and highways across the country following President Museveni's directive to have them removed citing the delaying movement of goods.
Museveni's concern over roadblocks frustrating faster movement of goods and causing unnecessary traffic congestion was revealed by Prime Minister, Robinah Nabbanja while meeting the presidential chief executive officers' forum in Kampala last week.
According to Nabbanja, Museveni told her to coordinate with commanders of the relevant security agencies to ensure roadblocks are removed so that the citizens and business trucks can move freely.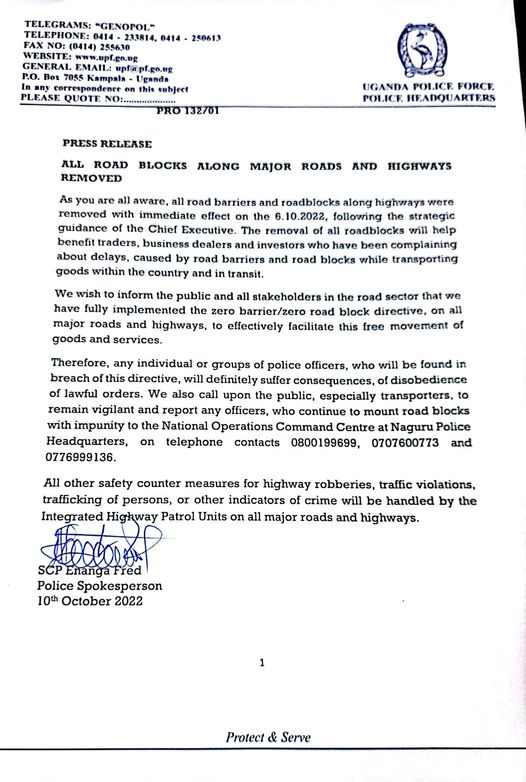 Following the directive, Police spokesperson Fred Enanga on Monday revealed that all roadblocks have been removed and urged citizens to report any police officer who will be found manning any checkpoints so that commanders can take action.
"We wish to inform the public and all stakeholders in the road sector that we have fully implemented the zero barrier/zero road block directive, on all major roads and highways, to effectively facilitate this free movement of goods and services" Enanga said.
"Therefore any individual or groups of officers who will be found in breach of this directive will definitely suffer consequences, of disobedience of lawful orders. We also call upon the public especially transporters to remain vigilant and report any officers who continue to mount roadblocks with impunity to the National Operations Command Centre on telephone contacts 0800199699, 0707600773 and 0776999136," he added.
Security agencies especially Police and Army mounted checkpoints and roadblocks during two years of partial and total lockdowns intended to control the spread of Covid19. Many of these roadblocks were maintained even after the country resumed full operations.
Recently, the same or several other checkpoints and roadblocks have been created by armed men with military and police uniforms and a number of people have been robbed on gun points. Police have in some cases arrested soldiers manning illegal roadblocks where people have been robbed and others killed or severely injured.
The order to remove roadblocks has come at a time when the public could no longer tell which is a genuine checkpoint since even night and day robbers have been appearing wearing uniforms of security forces and armed with sophisticated weapons.