By Spy Uganda
Kampala: Are you looking for the perfect accommodation in the city? Bukoto Heights apartments is here to give you a memorable experience away from home.
"Experience luxury in the lap of nature with our specially designed family abode and indulge in the choicest indoor and outdoor activities for a memorable time during your corporate staycation at Bukoto Heights Apartments.Call us+256 200 977 776 / +256 759 711 427 to place your orders " Bukoto Heights Apartments says.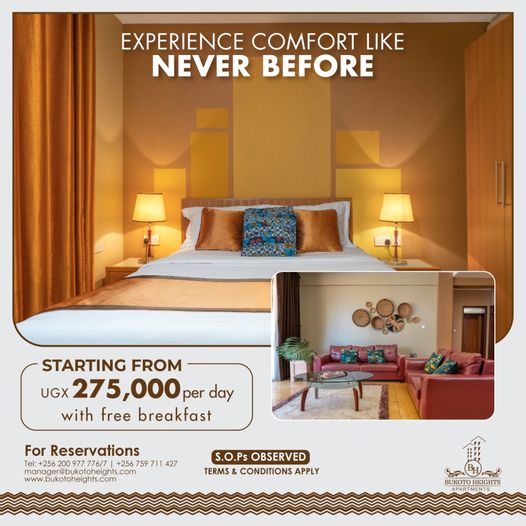 According to the management, at Only UGX 275,000 Per day, customers will have a big room Size with high-speed internet, an in-house bar and a cafe with free breakfast.
Bukoto Heights Apartments have serviced apartments in the heart of Kampala offering a home environment that is inviting and comfortable, making short and long stay a very enjoyable experience.
Bukoto's range of accommodations suits all guests, whether you are a business traveller that requires a standard apartment, travelling leisurely with your partner and require a luxuriously spacious apartment or have even taken the kids along for the ride and require family accommodation.
READ ALSO: Here Is What Makes Your Weekend Fabulous While At Speke Apartments Kitante
At affordable rates and in close proximity to all amenities, Bukoto Heights Apartments can meet all your accommodation needs with its 97 brand new tastefully furnished modern apartments making it a real home from home.
With premium design and decor, guests can maintain the independence they enjoy at home, with all the comfort and amenities of a full-service hotel in Kampala's northern suburb of Bukoto.
READ ALSO: Ruparelia Group Officially Launches Kitante R'd Speke Apartments
With stunning views of the greater Kampala cityscape, Bukoto Heights apartments combine gracious hospitality with contemporary style. The family-run nature of the apartments delivers truly personal service. Pass by and taste the beauty of these apartments.