By Spy Uganda Investigations Desk 
Entebbe International Airport: You see, one good thing with our brothers and sisters from 'De Nodern Connec-coni' is that they tell you the truth truth, how you react to it is totally your business! This is exactly what the former Arrow boys commander and now State Minister of Works and Transport Hon.Musa Micheal Ecweru did to Uganda Airlines suspended top honchos last week!
READ ALSO: Suspended Uganda Airlines Staff Allegedly Involved In Fake Job 'Recruitments' To Defraud Unsuspecting Job Seekers
While appearing before Parliamentary Committee on Physical Infrastructure Thursday last week, state minister for Works and Transport Hon. Musa Micheal Ecweru, revealed that the suspended top honchos of the National Airlines Company will not return to their jobs because preliminary report so far implicates them beyond repair. Ecweru was representing his boss Gen Edward Katumba Wamala who is still nursing wounds after escaping assassination attempt few weeks ago in Kisaasi, a Kampala suburb.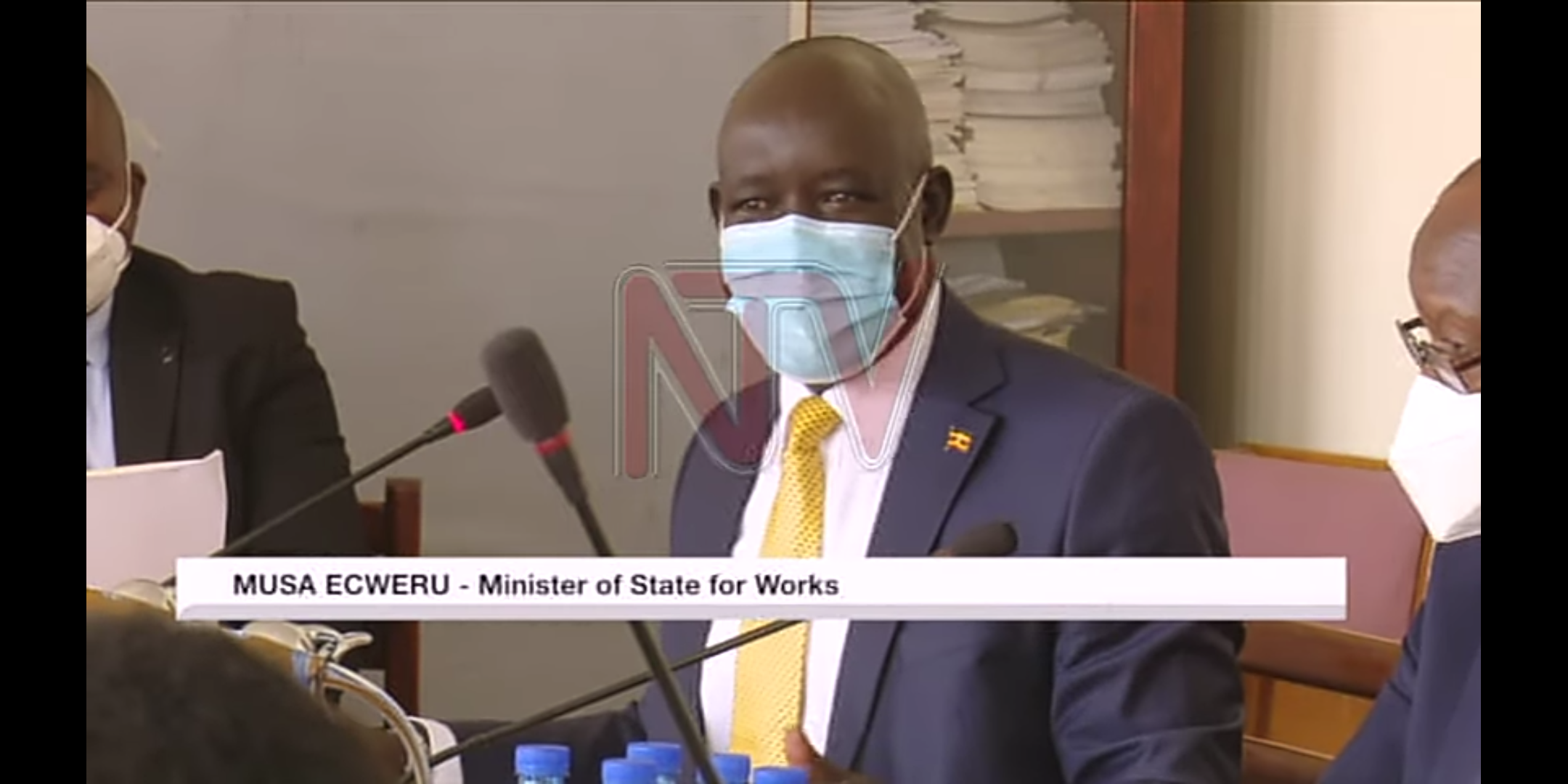 "We shall do everything possible to ensure that the next board is comprised of professionals. Infact, we're now engaged with Attorney General's office and the office of the president to ensure that we do everything in a right way not to give chance to the suspended group incase they go to court, and incase they do, we must ensure that we're on the right side of the law, but they're not returning," Ecweru revealed.
READ ALSO: Investigations: Suspended Uganda Airlines Officials Received $10,000 Weekly As Kickback From Fuel Supplier-Insider! 
Although the media was thrown out of the tightly guarded closed door meeting, our ever alert spy inside eves dropped minister Ecweru confiding in the committee members that the president had already 'shared preliminary report with his boss [Gen Katumba] and that the report was very bad'.
"You know His Excellency the president ordered for a forensic investigation report and he has already shared with my boss (Gen.Katumba) and the report is bad, we can't allow them to return, that's a closed chapter, now we're looking at how we're going to move forward," he added.
READ ALSO: Investigations: Suspended Uganda Airlines Officials Received $10,000 Weekly As Kickback From Fuel Supplier-Insider! 
According to preliminary report, amongst the biggest 'grey' areas the president is angry about, is that the the former Chairman board, Mr.Perez Ahabwe was allegedly being paid fat monies three times more than he was probably supposed to get.
This, according to report, was possible because in return, Ahabwe also okayed the top honchos including CEO and Andrew Tumusiime to 'award' themselves hefty somes of monies and their Chairman wouldn't whip them into line since they would first wet his beak.
Ecweru, who doubles as Amuria County MP was accompanied by permanent secretary MoW&T Waiswa Bageya, Under secretary Namugambe Capt. Wegoye Director Security and Safety and Uganda Airlines Ag CEO Jeniffer Bamuturaki.
on the other hand, the committee that interfaced with Ecweru led team was headed by its able chairman and Kigorobya County MP, who is also former state minister of Public service Hon. David Karubanga, accompanied by Sarah Opendi (Tororo WMP), Elijah Okupa (Kasilo County MP) among others.
It's worth noting that President Museveni in May 2021 fired the Airlines top managers including the Chief Executive Officer (CEO) Cornwell Muleya, a Zambian national on a three-month suspension, and then ordered for forensic investigations on a number of allegations, among them; using national carrier to smuggle alcohol into Somalia, an Islamic state, nepotism, corruption among others.
READ ALSO: Inside Source! How Museveni Burst Mafia Cells In Uganda Airlines Who Smuggled Alcohol Into Islamic Mogadishu Risking The National Carrier
"You see that team of Muleya and his managers had created a complicated working environment for any employee who tried to intercept their deals, and had Museveni not intervened by showing them an exit gate, today we would be with a different story for Uganda Airlines," revealed a source at the national courier then who preferred anonymity.
After firing Cornwell's team including Andrew Tumusiime, who would go around bragging that he works closely with President Museveni, yet it's the same man from Rwakitura who sent him packing and ordered for full investigation against him and his team, before he brought back Ms.Jennifer Bamuturaki, whom the then CEO Muleya had fired after her six months probation period, claiming she couldn't match with his 'brilliant' team he wanted to assemble to run business at the airport.
Also, after firing Cornwell's team, Museveni immediately deployed no nonsense investigator Brenda Wadri from State House to investigate the rot in the Airlines and so far what has been discovered about the suspended team, is not only shocking but horrific, a source said.
"We have since found out that the suspended team had connived with a section of business mafias in town to run down the airlines by awarding themselves huge deals, kickbacks and commission at the expense of taxpayers money estimated at Shs100 billion," said a parliamentary commissioner.
READ ALSO: 20-Year Break Ends! Uganda Airlines Resumes Flights To Johannesburg
It's upon this that parliament sought to understand how it all started and what measures are now being taken to ensure smooth running of the airlines under the stewardship of Ag CEO Jennifer Bamuturaki.
What You Need To Know About Jennifer Bamuturaki The New Ag CEO Uganda Airlines!
Jennifer Bamuturaki previously worked with East African Airlines as Country Manager-Uganda for 5 years, Aghakan's Air Uganda as Commercial Director for 7 years, Uganda Airlines-6 months as Commercial Director before she was fired by then CEO Muleya, a Zambian national, only to be returned by president Museveni as Ag CEO in May this year. She has a span of over 13 years of experience in the airline industry.
Before joining the airline Industry Jennifer also worked at Golden Tulip Uganda and Sheraton Hotels as Director Sales and Marketing. She also has 1-year of experience in the tours and travel Industry.