By Andrew Irumba
Havana: The president of the Republic of Uganda, H.E Yoweri Kaguta Museveni has heaped praises on Cuba's role in the anti-imperialism struggle, singling out the country's former leader El Comandante Fidel Alejandro Castro Ruz's contribution to Angola. Castro was on August 26, 2023 posthumously awarded as MOST DISTINGUISHED PAN-AFRICANIST OF ALL TIMES by a Pan-African organization based in Uganda, The Pan-African Pyramid, at their 6th edition of the awards.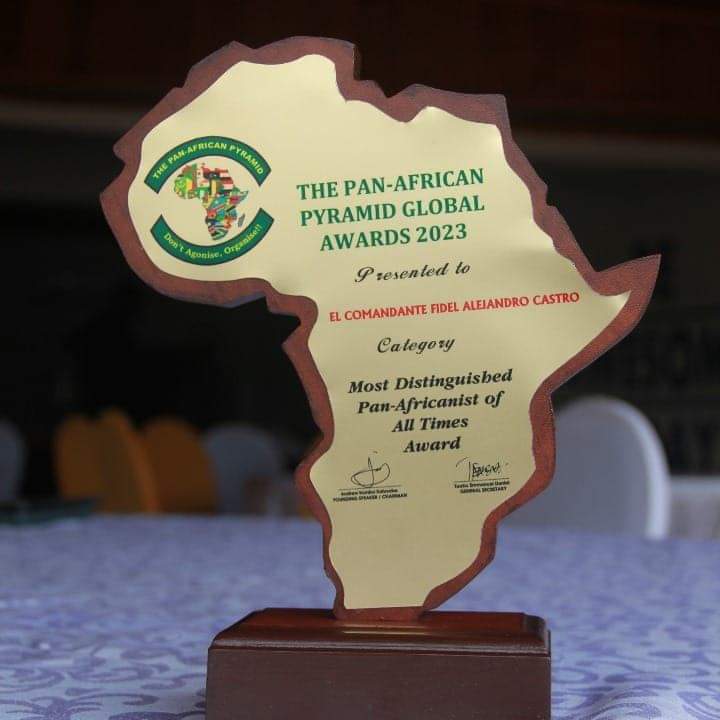 The President's remarks are contained in his speech to the G-77 summit being held in Cuba's capital Havana.
The summit which has drawn participants from 114 countries, is held under the theme; the Importance of Science, Technology and Innovation to the Developing Countries."
Vice President Jessica Alupo who is representing the president at the two-day summit, delivered the president's speech.
"I salute the heroic role of the Cuban People and Party in the anti-Imperialist struggle, especially your role in Angola," President Museveni's speech reads in part.
In the 1970s and 80s, Cuba under Fidel Castro Ruz, sent troops to Angola to help the country fend off an invasion by South Africa's apartheid regime forces.
G77 or Group of 77, is a coalition of 134 developing countries, designed to promote its members' collective economic interests and create an enhanced joint negotiating capacity in the United Nations.
The President also paid tribute to the Cuban government for sending doctors that "helped us to start the now famous Mbarara University of Science and Technology."
Mbarara University was established with the help of Cuba with four of its first five members of staff coming from Havana.
Speaking on the theme of the summit, President Museveni said the ruling NRM party has for a long time now been educating Ugandans about the same.
"We tell them that man, from the beginning, was uniquely designed to be a science discoverer. Why? It is on account of the 3 characteristics of man, as homo Sapein Sapien. These are: a hand that can hold tools and do work; a superior brain with many convolutions of the cortex; and bipedalism – ability to walk on two legs and, therefore, liberating the head to think and the eyes to see far," the president said.
He added, "It is, therefore, suicidal for any country to lag behind in Science and technology. The phenomena of slave trade, colonialism, neo-colonialism, etc., were all due to Africa lagging behind in science and technology, a mistake reinforced by other weaknesses (sectarianism, poor organization, etc.). Therefore, Uganda is not about to repeat that mistake. That is why we emphasize science education and our government supports many scientific innovations by our Scientists."
The President also pledged to co-operate with all friendly countries in developing science, technology and innovation.
A day after her arrival on Wednesday, Vice President Alupo who is accompanied to Havana by Foreign Affairs Minister, Gen Jeje Odongo, officiated the reopening of Uganda's embassy in Cuba's capital. The island nations's Vice President Salvador Valdez Mensa was among those present.
H.E Elizabeth Musaazi is Uganda's ambassador to Cuba whereas H.E Tania Perez Xingues is Cuba's Ambassador to Uganda, Rwanda and Burundi.
The two countries enjoy warm diplomatic relations that were established in 1974.