By Spy Uganda
Government of Uganda, through National Agriculture Advisory Services (NAADS) has this financial year earmarked a whooping shs5.2 billion towards the growing and promotion of new cash crops; Macadamia, Hass avocado and Cashew nuts. This was revealed last week by NAADS head of communications and public relations Khadija Nakakande who led a group of journalists from Kampala for a guided tour in Tooro and Busoga Sub-regions with an aim of promoting the same to the populace. "When we were growing up, the main cash crops that our teachers taught us were Coffee and cotton. But the world is not static, it's evolving. I have brought you here so you can see with your naked eyes that Macadamia, Hass avocado and Cashew nuts are the in-thing now that the public need to pick interest in already," she said.
One would say Hass Avocado and macadamia are Uganda's newest export crops as the country hopes to reap big from not only the highly value fruits, but also the value chains they command. For example; from Hass Ovacado, one not only has raw food, but can also extract cooking oil with less cholesterol (Cholesterol is a waxy substance found in your blood. Your body needs cholesterol to build healthy cells, but high levels of cholesterol can increase your risk of heart disease. With high cholesterol, you can develop fatty deposits in your blood vessels). Hass Ovacado is also used in production of women's skin beauty products, hair shampoo among others. The residues of both Hass avocado and macadamia are high on demand for production of manure which is again returned into the gardens to organically decompose and add value to the soils for better yields.
The government, through Public private partnership (PPP)  is already supporting farmers of the above mentioned across the country with 70% cost sharing, where Government through NAADS pays 70% of the cost of the seedlings and the farmer only contributes the 30%. Government provides free agronomy and advisory services free of charge to all farmers in this sector. NAADS also plays a role in connecting the farmers to external markets abroad with better price negations,not forgetting engaging Government on policy and regulatory issues on behalf of the farmers.
NAADS passes the money through what they termed as "nucleus" farmers. This is the type of large scale farmers scattered across the regions of Uganda with capacity to grow, produce on high scale. Such category of farmers must also have capacity to propagate (manufacture) high quality seedlings in large amounts to distribute to other prospecting farmers in their respective areas. "When there is anew farmer in your area, this nucleus farmer is supposed to supply them seedlings and guide on many issues as may arise. Government directly pays that nucleus farmer shs7,000 and shs5,500 per each macadamia and hass avocado seedling respectively supplied to anew or old farmer. And the farmer only contributes shs3,000 and shs2,500 per each seedling as mentioned above respectively," added Nakakande.
The eight nucleus farms include; Musubu, Besmark, Royal Plants,Njojo farm, Humuza Agro, Kanyisa farm, Avocare Nursary and Amafh farms spread across Uganda's regions.   
We visited Royal Farms, Besmark Coffee Ltd, and Musubi Farms.
Since Government started supporting Hass avocado farmers over 100,000 farmers have established orchards. As of today, Uganda has a total acreage of 5,340 hectares of hass avocado with expected annual production estimated at 47,232,000kgs. In the next 5 years, Uganda is expected to be producing a minimum of 344832 metric tons of hass.
Our reporter Mr Andrew Irumba who is also on this guided tour by NAADS shared that farmers like Mr.Brian Ceruiyot in Kanala Sub-county, Kitagwenda District are among those who have invested heavily in this agribusiness and if all goes well he will be minting millions in the near future.
Brian's Hass Avocado farm seats on 800 acres of land, of which 285 acres are already planted and now in production stages. Brian told our reporter that he spent approximately shs3B in purchasing land and has so far spent shs400m on buying seedlings.
However, Brian noted that although the farm is promising to give him good yields, he still grapples with the challenge of expensive irrigation system which may cost him about Ugx800m.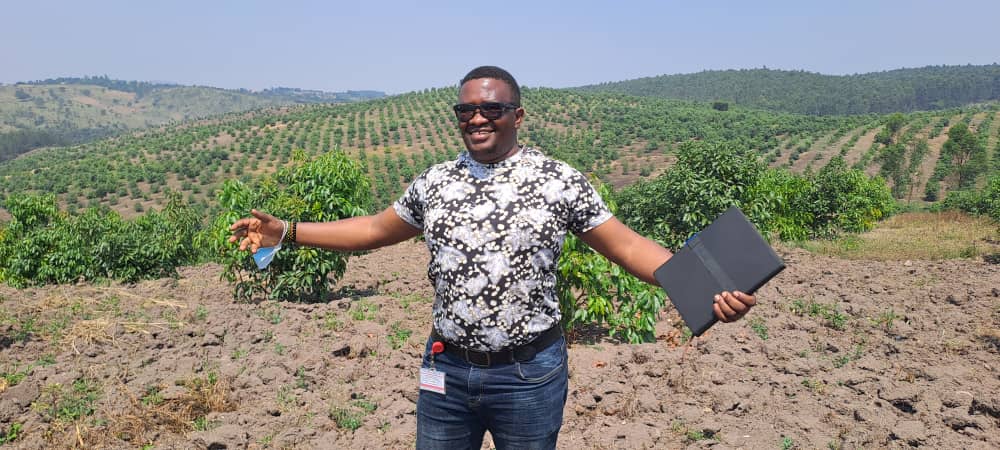 "The good thing however is that NAADS is helping Hass Ovocado farmers like Brian to buy seedlings at a reduced price and other agronomy services. Under NAADS project, a farmer can now buy each seedling at Ugx2,500 instead of Ugx8,000 privately. The intervention covers both Hass Avocado and Macadamia," says our reporter quoting some farmers he interacted with.
It's worth noting that in this financial year, NAADS was allocated shs20.5B to among others, promote the growing of Has Avocados and Macadamia.
How Hass Avocado Entered Uganda
Coffee farming was the economic lifeline of Uganda for years until the industry started declining due to unstable market prices. But 10 years ago, an avocado boom swept across Uganda brought about by skyrocketing global demand and prices for the fruit. Hass avocados are now replacing coffee crops in many rural areas of Uganda.
The avocado's expansion in Uganda began in 2013 when farmers exported just above 4 tons of avocado. The industry has since exploded, reaching a record high of 469 tons in 2020 according to figures from the United Nations Commodity Trade Statistics Database (UN Comtrade.)
Uganda exports Hass avocados mainly to the European Union (EU) and the Middle East. Smallholder farmers in Uganda have praised Hass avocado as the answer to poverty.
Pictorial Of Journalists On Guided NAADS Tour In Tooro Subregion