By Andrew Irumba
The National Association of Broadcasters has announced that it will not give coverage to all government activities anymore-TheSpy Uganda reports.
In their meeting held on Wednesday, NAB members announced their decision following a presidential order that all government adverts should go to Uganda Broadcasting Corporation (UBC) and Vision Group, which are state owned Media houses.
"…..all Government advertising must be through the Uganda Broadcasting Cooperation. Any Accounting Officer who deviates from this will be sanctioned including dismissal. Print media advertising should be done through the New Vision. I therefore urge all Accounting officers to strictly adhere to the directive," reads Museveni's directive.
President Museveni's directive following  complaints from Winston Agaba, Managing Director UBC about the under funding to UBC coupled with denial of advertisements by government agencies, as well as the need to pay penalties for delayed contribution to NSSF and PAYE, and the need to replace the old equipment for the broadcaster.
However, the broadcasters' body protested Museveni's directive, saying it is unfair to the private media sector.
Now in their latest decision, NAB says it has no option but to stop offering their free coverage. 
"In light of the aforementioned, we are left with no option but to let you know that hence forth, the members of the National Association of Broadcasters shall not be obliged to cover any Government activity until the said directive is reversed," says NAB in their letter announcing their decision.
"Our protest as an industry is that, the implementation of the said directive in your circular will not only contravene the 1995 Constitution of the Republic of Uganda but also set a precedent that goes against Government's policy that champions a Private Sector-led economy," adds NAB.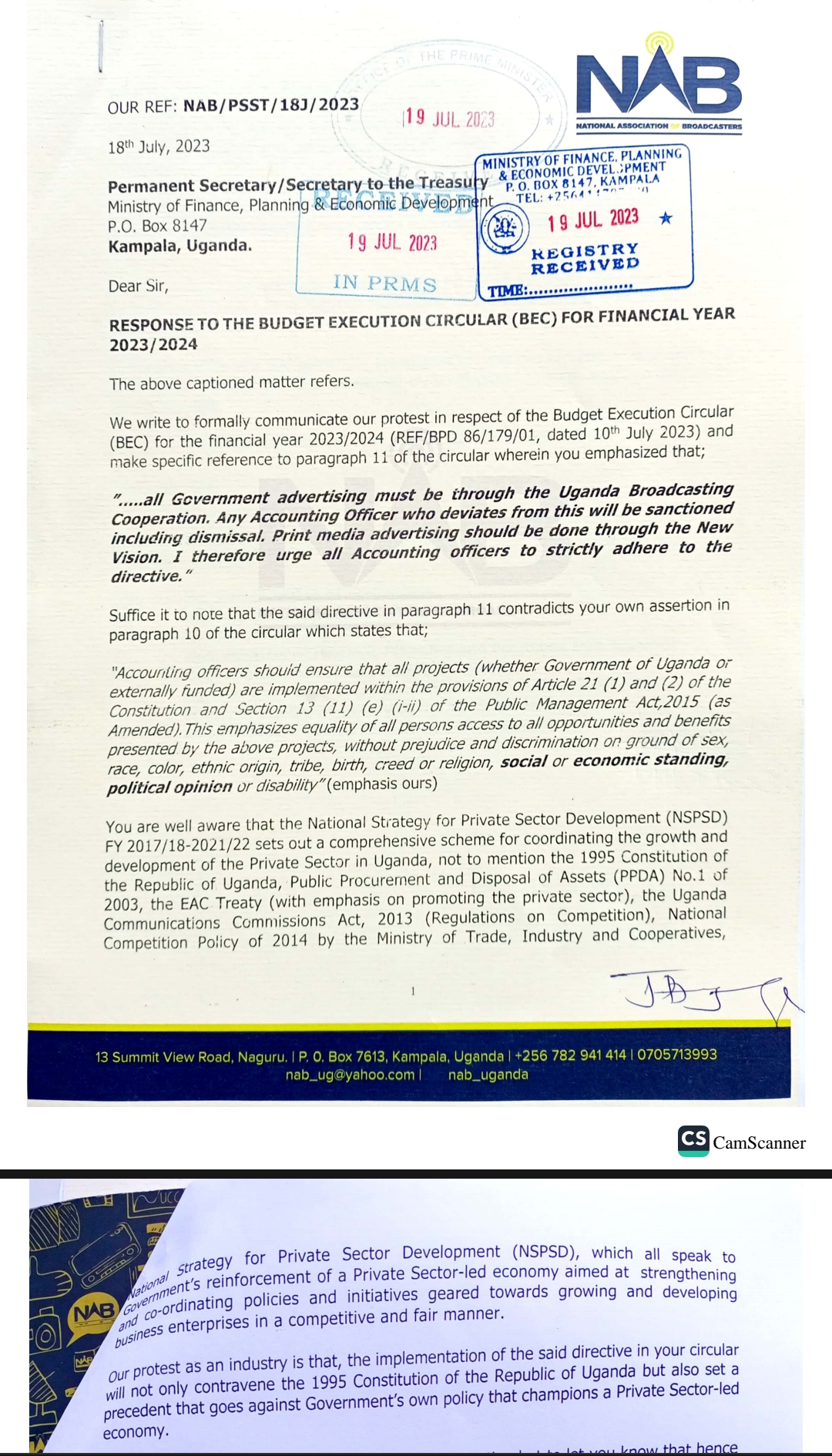 NAB however says it's available for dialogue with government to smoothen the relationship.
"In the spirit of service and patriotism, we request to meet you and any other government official who may be relevant to the subject matter to find an amicable solution for all stakeholders," further states NAB.