By Spy Uganda
Kampala: Mr Aggrey Kibenge, the Permanent Secretary in the Gender ministry, has directed senior officials of the Equal Opportunities Commission (EOC) whose contracts have expired to hand over office immediately.
READ ALSO: Thanks For Your Scandals, But Leave Please: Permanent Secretary Wants EOC Boss Ntambi To Handover Office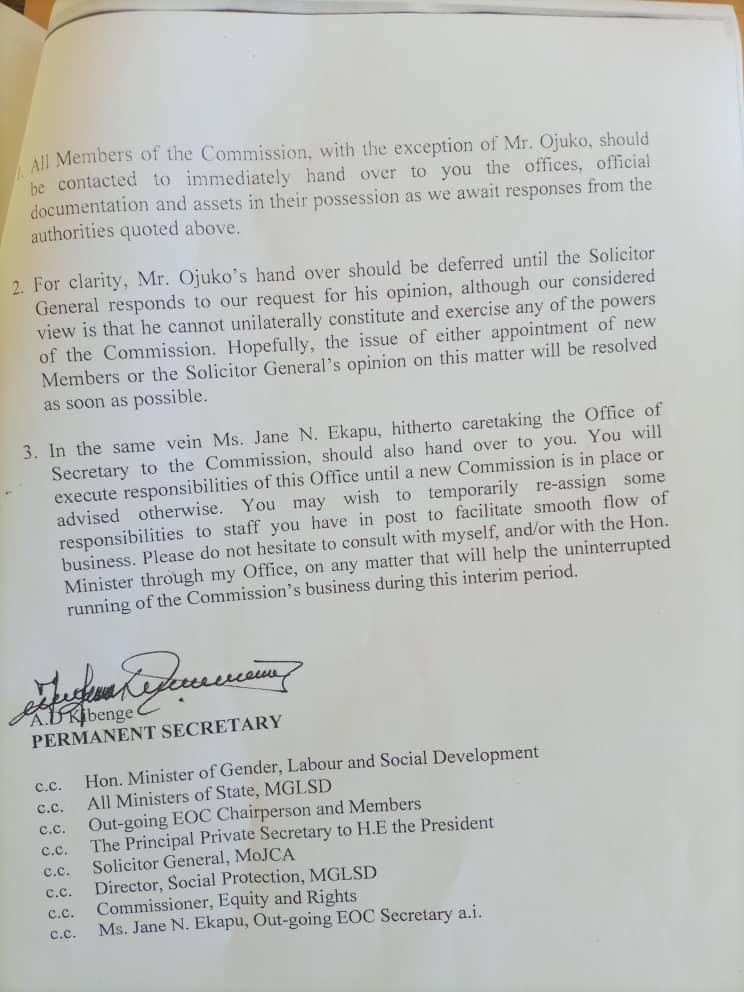 The contracts for the EOC commissioners, including the chairperson, Ms Sylvia Muwebwa Ntambi, expired in January and the President has not communicated his decision on whether or not he will renew some of them. Three commissioners including Ms Ntambi are, however, eligible to be reappointment for another five-year- term. The other two commissioners are not eligible for reappointment.
READ ALSO: Equal Opportunities Commission Boss Sylvia Ntambi Charged Over Corruption
Other commission members are; Mr Joel Cox Ojuko, Mr Patrobas Sirabo Wafula, Ms Zaminah Malole and Mr Dennis Nduhura.
According to Kibenge, the commissioners were supposed to hand over office on February 5 but this ceremony was postponed.
READ ALSO: EOC's Muwebwa Ntambi Charges Pushed To High Court As State Gathers Horrific Evidence Against Her
However, in a February 19 letter to the Under Secretary in the Gender Ministry, the officials, with the exception of Mr Ojuko should hand over the handover immediately. Mr Ojuko had complained that his contract runs out in July 2021 and not January 2021 as the other officers. The PS said Mr Ojuko can meanwhile remain in office as they look into his matter.
"All Members of the Commission, with the exception of Mr. Ojuko. should be contacted to immediately hand over to you the offices, official documentation and assets in their possession as we await responses from the authorities quoted above," Mr Kabenge said.
READ ALSO: Too Greedy & Corrupt To Serve In Gov't: Troubled EOC Ntambi On Tenterhooks As Furious DPP Interdicts Her
"For clarity, Mr. Ojuko's handover should be deferred until the Solicitor General responds to our request for his opinion, although our considered view is that he cannot unilaterally constitute and exercise any of the powers of the Commission. Hopefully, the issue of either appointment of new Members or the Solicitor General's opinion on this matter will be resolved as soon as possible. In the same vein Ms. Jane N. Ekapu, hitherto caretaking the Office of Secretary to the Commission, should also hand over to you. You will execute the responsibilities of this office until a new Commission is in place or advised otherwise. You may wish to temporarily re-assign some responsibilities to staff you have in post to facilitate the smooth flow of business. Please do not hesitate to consult with me, and/or with the Hon. Minister through my Office, on any matter that will help the uninterrupted running of the Commission's business during this interim period," he added.
READ ALSO: Slippery Equal Opportunities Commission Boss Ntambi Remanded To Kigo Prisons Till November 4 Over Corruption Charges
The letter is copied to the Minister of Gender, Labour and Social Development, All Ministers of State, MGLSD, the outgoing EOC Chairperson and Members, the Principal Private Secretary to the President, and the Solicitor General, among others.
Sources close to State House said the President is still consulting widely on whether to renew the contracts of the EOC officials and cannot be rushed since the law gives him leeway to either reappoint the three elected commissioners or pick other qualified Ugandans to run EOC.
Sylvia is grappling with corruption charges which were leveled against her in 2020.
Background Of The Matter
Ms Ntambi, Ms Kamahoro and Mr Mpitsi between January 6, 2019, and April 30, 2019, allegedly conspired to defraud the government of more than Shs9m. Under the charge of abuse of office, Mr Mugabe, Mr Mpitsi and Mr Kwihangana are accused of abusing their authority when they fraudulently processed, requisitioned and approved Shs29m in January last year purportedly for undertaking sensitization programs in Karamoja Sub-region whereas not.
READ ALSO: Mp Petitions Lt. Col. Nakalema To Intervene In EOC Boss Ntambi's Failure To Appear Before Court
In a separate count, Ms Kamahoro, Mr Mpitsi, and Mr Olwor in December 2018, allegedly processed, requisitioned and approved Shs19m purportedly for the development of the first and second draft of Equal Opportunities Commission HIV/Aids workplace policy, knowing their acts would cause government a financial loss.